Posted on
NO TIE THIS TIME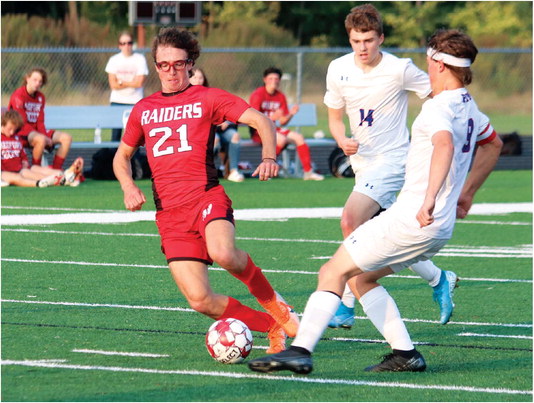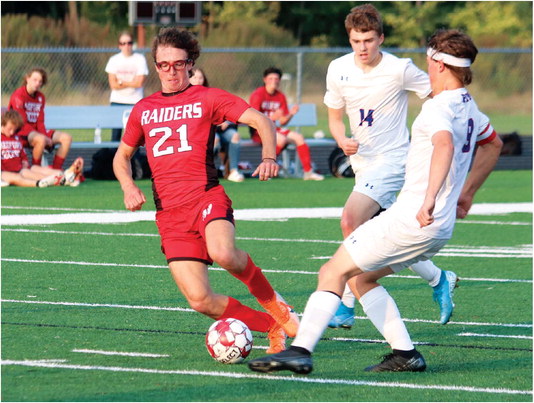 MEDFORD BOYS SOCCER
Raiders dominate Pines 3-0 in opener
In 2019, Northland Pines and Medford played to a pair of 1-1 ties on the soccer pitch and finished with equal winning percentages in Great Northern Conference play to share the league title.
There was nothing equal about Tuesday's 2020 season opener at Raider Field.
It took about 15 minutes, but once the Raiders were able to open up some passing lanes and start putting pressure on the Eagles' defense they never stopped while earning a 3-0 win.
It was the program's first varsity win over Pines since a 4-3 victory in Eagle River on Sept. 22, 2016 and sets up a pivotal early showdown tonight, Thursday, at potential GNC title contender Rhinelander. The game kicks off at 7:30 p.m. at Mike Webster Stadium.
"It feels great," senior captain Owen Wipf said of the first win over Northland Pines his classmates have been a part of. "Our first half wasn't the greatest, but in the second half we really played well. We started playing our game. We saw a lot of chances."
"We started talking a lot more, starting taking more shots and getting them on goal," said senior Colton Gowey, who notched Medford's first goal of the season with just 2:02 remaining in the 45-minute first half.
Head coach Nate Bilodeau felt coming into the game that ball possession was going to be one of Medford's strengths in this shortened season and that certainly was the case in game one.
"That's the area with the most heavy traffic," he said. "It's got the most players in there, it's messy, everybody's kicking for the ball. That's where we lean on our two captains, Owen and Zach (Rudolph), to really maintain that possession and make sure we don't turnover the ball. That's the worst spot to turn over a ball. You can give it up on the wings, but you can't give up the middle of the field because it's a quick one touch and a shot."
Medford let a couple solid chances get away in the first 10 minutes. But starting with an Aaron Schield shot that went high after a centering pass from Wipf and a back tap by Kale Klussendorf at the 16:43 mark, the scoring chances came seemingly from every direction and kept Pines' standout senior goal keeper Colby Kruse busy.
The Eagles dodged the bullets until a Schield corner kick from the right side of Medford's offensive formation near the end of the first half. Quinton Tlusty sent a shot off that corner kick that was denied, but the Eagles weren't able to completely clear the ball from trouble. It found an open Gowey and he buried a quick shot for a 1-0 lead that Medford carried into halftime.
"We were kind of scrambling in the beginning of the game and then we kinda calmed down," Gowey said. "We got a few crosses in and I was able to get a nice shot off and get us going."
"We've been doing a lot of conditioning at practice," Wipf said. "When they're starting to get tired, we're pounding on them trying to rush the ball and trying to force mistakes. Space opened up, we found the space and got a lot of crosses. Just a lot more space, easier to see."
Wipf's direct kick a minute into the second half came close, but was denied by Kruse. However, at 49:41, a ball handling mistake by the Eagles led to a quick 30yard shot by Klussendorf that he nailed to stretch the lead to 2-0.
From there, Medford's defense took over, making sure Pines got no cheap goals to get back into it. The efforts of senior defender Ty Baker as his new linemates, Vincent Seidel, Braydon Machon and Caden Tessmann were key to the shutout and senior goal keeper Brady Hupf only had to make a couple of saves, including one on a solid direct kick by Owen Uebe at 78:30.
"You could probably count on one hand the amount of shots on goal they had," Bilodeau said. "It's huge because our defense is really young with the exception of Ty." "That was awesome," Wipf said. "If we can do that every game there's no doubt we'll win every game. They were solid. Brady played a great game in goal. He was in the right spot at the right time all the time."
Klussendorf capped the scoring at 82:14. Baker sent a ball in front of the net that found Rudolph's foot. His shot was deflected by Kruse, but it bounced right to the waiting Klussendorf near the left post for an easy tap in.
"Happy but never satisfied," Bilodeau said. "There are still, obviously, areas to improve upon. We have to finish. We have to put the ball in the back of the net. I thought the goals we did score were great goals. Great opportunities to shoot and we took advantage of the opportunity. But there were so many times where the ball would go rolling across an empty net and there's no one there to put it in. There's things we can improve on, which is good."
After the Rhinelander game, Medford hosts Columbus Catholic Monday in a 6:30 p.m. non-conference game and Lakeland Tuesday in a 7 p.m. GNC contest. The Raiders go to Lakeland on Sept. 24.