Posted on
Great day for a run at Rib Lake's Marawood CC Quad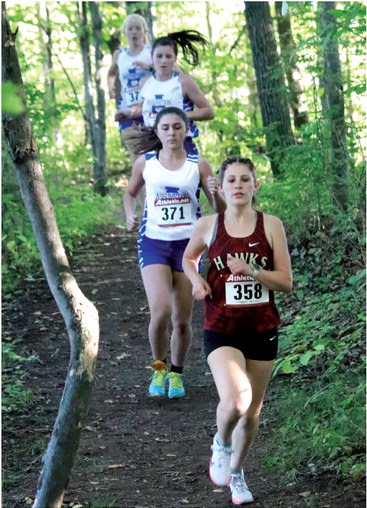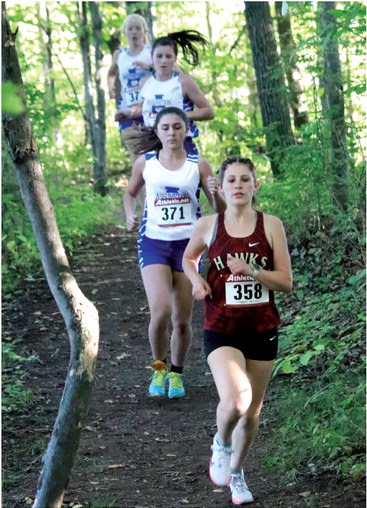 HAWKS CROSS COUNTRY
Prentice-Rib Lake's Adam Blomberg starts to gain some separation against Auburndale's Gavin White Eagle on a downhill stretch of the Rib Lake course during Thursday's meet. Blomberg finished second in the boys race, while White Eagle was fourth.
On a gorgeous early fall afternoon in Rib Lake Thursday, the Prentice-Rib Lake Hawks continued to cut times in a Marawood Conference Quad with rival Phillips and not so familiar cross country foes, Auburndale and Wisconsin Rapids Assumption.
The story of the night was an outstanding race to the finish between Hawk Serena Moore and Assumption's Ainara Sainz de Rozas. Those two pulled away from the pack early and traded the top spot the rest of the way. Moore threatened to grab the lead on the last downhill stretch on the north side of the course, but Sainz de Rozas held her off and eventually created enough space to earn a winning margin of three seconds.
"Another meet and another excellent second-place finish for Serena Moore," co-head coach Dalton Webster said. "She fought her way to a 20:39."
Moore's time was easily her best of 2020. It was 21 seconds ahead of third-place finisher Cristin Casey of Assumption. Assumption's Grace Dolan was fourth in 21:23 as the Royal totaled just 28 points to beat Auburndale by 21. Phillips was third with 77 and the Hawks, with just five available runners, had 88 points.
Leah Thums finished 17th in a field of 35 runners with her time of 23:49. Kylee Goodrich was 22nd in 25:56, Lydia Holm placed 26th in 27:23 and Nadia Czahor took 33rd in 33:25. Thums, Holm and Czahor all knocked off big chunks of time from their previous races.
"We aren't far behind Phillips," Webster said.
The Hawks had a second-place finisher in the boys race too, but that one wasn't as close. Auburndale's Carl Lundgren set the pace early in wave one and cruised to a winning time of 17:41. Adam Granberg was 59 seconds behind in 18:40, almost two minutes faster than a week earlier at Timm's Hill. He was 11 seconds ahead of Auburndale's Charles Jewell. Auburndale's Gavin White Eagle and Mason White Eagle, both 19:10, completed the top five and helped their team score just 23 points to easily win the meet. Phillips had 49 points, the Hawks had 58 and Assumption was incomplete.
"Adam Granberg showed what training in the summer and working hard at practice can do with his second-place time of 18:40," Webster said.
Dual-sport athlete Dominick Classen, after spending an hour at football practice, pushed himself to a seventh-place time of 19:39. In a field of 34 runners, the Hawks' Alex Schantner was 16th in 20:45, Reese Isaacson was 19th at 21:08 and Will Hartke was the fifth scorer, placing 20th in 21:20.
Ben Peterson added a 26th-place time of 22:31, Aiden Hartke was 29th in 24:32 and Anthony Schuetz made his 2020 debut, taking 34th in 33:22.
All of the boys set season-best times.
With seven of the top 13 finishers, the Hawks won the middle school boys race with 24 points, beating Phillips (45), Auburndale (61) and Assumption (incomplete). Jack Regier was second in 11:22, Kaleb Scott was third in 11:25, Jackson Schutt was sixth in 11:41 and Josh Hartke was seventh at 12:07.
The girls had just four entrants. Kylie Orysen was seventh in 12:58, Abbie Schutz took 27th at 16:25, Amy Espinoza placed 30th in 17:02 and Kate Schmidt was 35th in 18:48.
The Hawks competed in the Stratford Quad and got individual victories from Moore and Granberg. Full results, however, were not available at press time.
Prentice-Rib Lake is at the Marathon Quad on Sept. 24 where it will run against the host Red Raiders, Athens and Phillips.