Posted on
Emma Winter, Emily Rodman and ….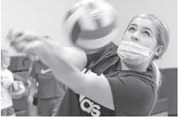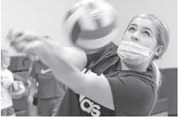 Emma Winter, Emily Rodman and Reagan Reinhardt round out the junior core. All three saw some varsity time last year. That court time will increase dramatically for them this fall.
"They have played for me long enough and know what I expect," Anderson said. "They have played some varsity and understand their roles with Emma and Emily being lefts, Molly setting and Reagan acting as libero. Emily Rodman has the biggest challenge as she has always been my utility player. She does anything and everything I ask. Emma, Molly and Reagan have been playing their spots on JV so I am hoping it is an easier adjustment for them."
The leaders said there is a chemistry present with the upperclassmen that they can definitely build from. That being said, communication, as always, was a key focus in week one.
"We are all pretty close, so we can all work well together, so I think that's a plus," Kennedy said.
With just seven core players, they all know they're going to play, which they said is an interesting dynamic.
"I think it takes some pressure off, but I think it also puts some more pressure on because, on the court, we know if we make a mistake there's no one for Barb to put in so she's going to be on us," Hopkins said. We know it's for all good reasons."
"We had lots to do and a little time to do it before our match on Tuesday," Anderson said. "We tried to incorporate some conditioning, but mostly it has been running an offense and working on defense. Skills have not had time to get refined." Anderson said the restrictions and guidelines put in place over the summer by the WIAA and locally made it too difficult to create organized opportunities for the girls to play. "Practicing over the summer did make a huge difference in past years," Kennedy said. "It doesn't feel like it does, but now that we haven't done (summer work), it's like 'my word,'" Hopkins said of the rust-shaking process. Anderson noted there are some younger girls who could get some time with the varsity ranks. Sophomores Kamy Annala and Rhonnie Jo Scheithauer and freshman Josie Scheithauer and Danielle Mann have shown some things early on.
"Kamy could help in a variety of ways, and Rhonnie Jo will give us some needed height," she said.
Due to the WIAA-imposed late start to the season and the current precautions that go along with holding matches, the 2020 regular-season schedule was forced to be condensed into what amounts to a Marawood Conference-only plan.
At first in August, the conference was eyeing a double round-robin play within each division. But with Chequamegon opting out and moving volleyball to spring, conference officials decided a single round-robin among the entire league would offer more guaranteed chances to play if health issues arise in some locales.
Rib Lake is also limiting attendance at home matches, giving each player four tickets to distribute to family members.
The Marawood figures to offer plenty of challenges. Newman was a Division 4 state qualifier last fall, Abbotsford and Stratford were divisional champs, while Prentice and Marathon were runnersup. Phillips, Athens and Auburndale are typically solid squads.
For Rib Lake, the main goal is to improve each day and enjoy the ride, however long it lasts.
"For me, it's just the improvement of the team and how we're willing to work together," Kennedy said. "Going into the season, I'm pretty positive."
"If we can just make things happen, it will be a success," Bube said.
"I hope that everyday and every match you will see us growing as a team, improving our skill set and competing," Anderson said.