Posted on
Swimmers drop road dual to Rhinelander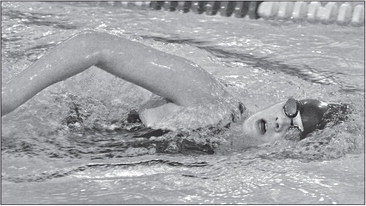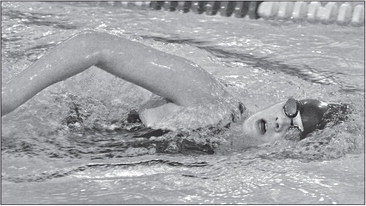 The Abbotsford/Colby swim co-op competed in their first road dual, and second meet, last Thursday.
They travelled to Rhinelander to take on the Hodags, a deep and loaded team that won the Great Northern Conference and qualified for state after winning the WIAA D-2 sectional meet last year.
Rhinelander won the dual, ousting Abby/Colby 135 to 35, but Abby/Colby didn't let the Hodags intimidate them, and multiple swimmers chopped off seconds compared from their home dual time against Antigo on Sept. 3.
"Rhinelander has some great athletes on their team," coach Monica Tesmer said. "We had 12 personal bests last night, and still have people trying different events. Some swam very well."
The 200-yard medley relay team of Zanza Haemer, Hailey Meyer, Morgan Weber and Josie Hoppe placed third in their time of 2:26.83. The relay team of Ivee Conley, Thea Fellenz, Olivia Krause and Lilly Graun finished fifth in 2:42.50.
The second event featured the 200-yard freestyle. Brooklyn Filtzkowski took off four seconds from Antigo's meet to finish fourth in 2:26.90. Paige Klement was right behind, placing fifth in 2:34.26.
In the 200-yard IM, a pair of swimmers picked up more points for the co-op. Krause was fourth in 3:09.93, and Conley placed fifth in 3:22.39.
The eight event of the night was the 50yard freestyle varsity race. Three swimmers took part, with Lanie Hediger leading the way with a fourth place result in a time of 28.81. Lexi White was fifth in 29.92. Graun was sixth in 31.13.
Abby/Colby had another three swimmers in the 100-yard butterfly, with Weber taking fourth in 1:19.23, Hoppe in fifth in 1:29.77 and Krause in sixth in 1:31.63.
Hediger and White continued to lead the way for the swim co-op, scoring five points with Hediger's third place finish in 1:05.25 and White's fourth place time of 1:08.05.
Filtzkowski added another top three finish for Abby/Colby, placing third in the 500-yard freestyle race. Filtzkowski dropped an impressive twelve seconds off her time from her first meet of the year, finishing in 6:36.66.
Conley added another point to the coop's cause in the 500-yard freestyle, placing fifth in 7:41.97.
Abby/Colby fielded three teams in the 200-yard freestyle relay. The team of Klement, Weber, White and Hediger was third in 2:00.94 while the team of Hoppe, Graun, Krause and Filtzkowski was fourth in 2:08.15.
The team of Haemer, Fellenz, Meyer and Conley was sixth in 2:17.08.
The 18th event of the evening was the 100-yard backstroke. Klement and Haemer each scored points by recording top five results. Klement was fourth in 1:21.15 and Haemer took fifth in 1:21.29.
The final individual race of the night, the 100-yard breaststroke, Weber finished fourth in 1:31.05, Meyer earned fifth in 1:42.49 and Fellenz was sixth in 1:47.67.
The meet culminated in the 400-yard freestyle relay, with Abby/Colby recording its highest finish as the team of White, Filtzkowski, Klement and Hediger took second in 4:36.10. The team of Hoppe, Haemer, Graun and Meyer was fourth in 5:04.75.
Tesmer said conditions were tough, with the water being cold and the swimmers tired from the long bus ride to Rhinelander, but she said the swimmers are getting better with each passing day.
"The girls are improving their times and working hard at practice."
The swim team will be back at home this Thursday, hosting Tomahawk. The meet will start at 5:30 p.m.