Posted on
Rain or shine, this race is mine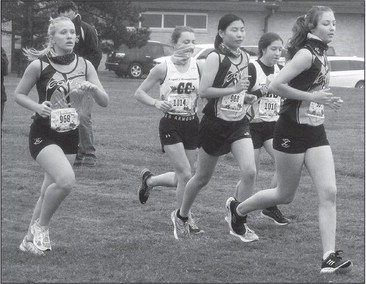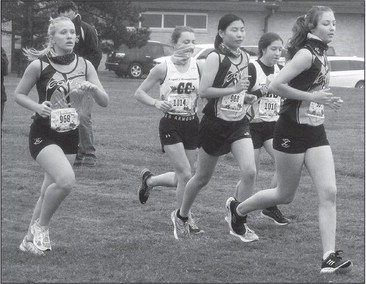 "It was really swampy, and it added a lot of weight on your shoes. It was a rough one."
Those were the words Talon Severson used to describe Saturday morning's running conditions. Grey skies and rain that ranged from a steady drizzle to a downright downpour blanketed the 2020 Colby/Abbotsford Invitational.
The soggy, sodden course was just one of several obstacles both teams overcame in Colby over the weekend. The boys team swept five of the top ten spots to secure victory by a score of 25 to Loyal/ Greenwood's 31 and Spencer's 71.
The girls were even more dominant, taking six of the top ten positions to finish with 23 points to Loyal/Greenwood's 35. Spencer did not field enough runners to record a team score.
A total of 10 runners - six girls and four boys - finished with seasons bests. There's a feeling on both teams that the best is yet to come.
"We're a lot better off," Severson said, comparing Saturday's home meet to the meet at Frey Field. "I think everyone cut quite a bit of time off."
One of those runners who is clearly enjoying the new season is junior Sergio Camargo. After an injury-shortened 2019, Camargo is back with a bang.
Chase Oehmichen led all runners with a time of 17:59.7, but for the second straight meet, Camargo finished as the second for Colby/Abby, placing fourth in 20:11.7, only a few secon from his personal best on Sept. 3. Considering the conditions, he was pleased with his results.
"It's nice to start the new season with a PR. I mean, my main goal was to try not to get hurt," Camargo said with a sheepish grin. "My goal is to try to be second runner, and then maybe see if I can keep up with Chase."
Camargo's teammates Talon and Matt Mateer finished side by side in fifth and sixth place. Severson ran 20:34.3, while Mateer is quickly regaining the form he flashed last year, dropping 42 seconds off his first race to finish in 20:36.4.
Freshman Carter Roth set a new personal best, slicing 28 seconds from Sept. 3's meet to finish ninth in 21:09.6.
Richard Streveler and Ryan Nelson were Colby/Abby's sixth and seventh runners. Streveler was 12th in 21:50.2 and Nelson was 17th in 23.42.8. Braxton Smith crossed the finish line in 23:55.6, knocking off 16 seconds from his first meet to take 18th.
The Colby girls cross-country team remain led by Willow Oehmichen, who was second overall behind state qualifier Savannah Schley. Ohemichen completed the 3.1 mile course in 22:52.3, with Daisy Feiten right behind in 23:07.5. It's a strange season for Feiten. It's more than just the masks that Feiten is getting used to during this year.
For Feiten, perhaps the hardest part of competing in a season marred by COVID- 19 is getting used to running alone.
"I'm glad we're competing," Feiten said. "But it's weird with only a few teams, and I'm getting used to running by myself for most of the meet. I usually run with people, and now I'm by myself. " All five of Colby's scoring runners placed inside the top ten. Finishing third on the team on Saturday was Trinity Severson in 23:41.4. Mercedes Sarkkinen came next, placing sixth in 25:10.8.
Freshman Casey Reynolds recorded a personal best, lopping off 33 seconds to place ninth in 25:50.7. Payton Roth was sixth on the team in tenth place in 26.16.
Freshman Regan Schraufnagel competed the course in 27:38.8, good for 13th. Gianna Mundt was 15th in 28:01.6.
Hanna Meier and Elizabeth Winters rounded things out, placing 17th and 19th in 28:43.3 and 30:51.
Another meet is in the books, and with so many runners improving, Feiten is hoping that could mean some hardware down the road.
"I'm excited to improve from last season, hopefully break 22 at least and get All-Conference," Feiten said about her goals. Her goals for the team are higher.
"I'm excited to see if we can win conference again. It gets me nervous, but I feel like the freshmen, especially Casey [Reynolds] and Regan [Schraufnagel] I'm really excited for them. I feel like each meet we'll improve more and more, but right now we're just happy to be back."
Each team will have the chance to improve this Saturday at the Loyal Invitational. Races are set to begin at 10 a.m., with the boys running first, followed by the girls at 10:45 a.m.