Posted on
Edgar has a new leader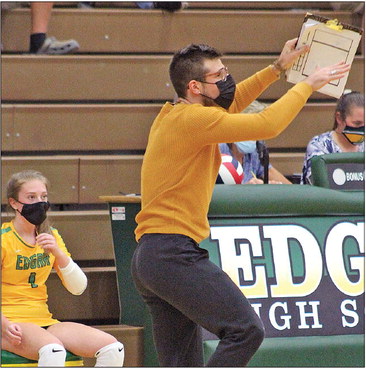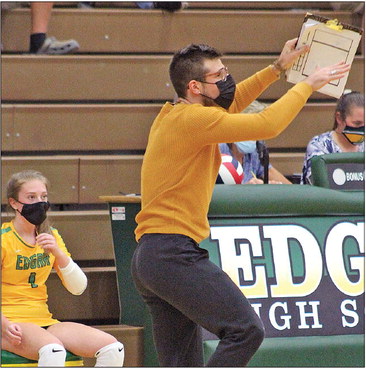 Krebsbach takes over as varsity volleyball coach
By Casey Krautkramer
Evan Krebsbach brings his intensity and passion for the sport of volleyball to the Edgar varsity sideline this season.
He replaces Edgar teacher Courtney Neumann as the Wildcats' varsity volleyball coach this fall while she's on maternity leave.
Krebsbach brings to Edgar a wealth of experience as a varsity assistant volleyball coach for highly successful programs' Stratford and Wausau Newman. His plan to take a break from coaching this fall quickly changed with Tom McCarty, Edgar High School principal, asked him to be the Wildcats' varsity volleyball head coach.
"I knew the answer in five minutes of being asked the question," Krebsbach said. "There was still such a fire in my belly to teach the game of volleyball, to empower young female athletes and to show and lead by kindness the love of the sport in which I think is the most rad. Knowing Edgar has athletes and young talent to work with, I was in.
"Alongside me are two incredibly strong and influential women, one being new Edgar teacher Heidi Olson who'll coach the JV1 squad and Kirstin Christianson coaching the JV2 team. Kirstin has been in some form a part of Edgar's volleyball program for the last 40 years, and with that she brings a lot of integrity, passion and love for the game which are three things I so very much value in a leader."
Krebsbach is pleased with the amount of talent the Edgar volleyball players possess this season.
"We return a solid number of girls to our program and we'll look to Reagan Borchardt's experience and talent, along with Mckenna Guden's multi-sport leadership to be present daily in the gym," he said. "We bring in a very talented freshman class that is excited and competitive to show the high school ranks what they got in them; you may see some on the varsity court.
"With graduating so many seniors and a coaching change, I think we're looking at this opportunity to really identify ourselves and work to grow in the game of volleyball both physically, mentally and emotionally. There are some up-and-coming players who are working hard to see the volleyball court such as Isabelle Huehnerfuss, Kendlyn Dahlke and Olivia Urmanski. It's a completely different type of volleyball season, given the circumstances; we're just very grateful for the opportunity to play this year.
Vast experience
Krebsbach helped Stratford varsity head coach Brooke Kafka, who's a childhood friend of his from growing up in Milan and graduating from Abbotsford High School, guide the Tigers to back-to-back WIAA Division 3 state championship appearances in the 2017 and 2018 seasons.
Stratford's volleyball team finished the 2017 season with a 40-2 match record after losing to Eau Claire Regis in the state semifinal. The next year, Stratford was state runners-up after falling to defending state champion Lake Country Lutheran. The Tigers finished the 2018 season with a 44-1 match record, which is the best record in school history.
Last fall, Krebsbach was a varsity assistant volleyball coach for Wausau Newman head coach Betty Lange. Wausau Newman lost to eventual state champion Clear Lake in a WIAA Division 4 state semifinal match.
He's grateful to his mentors, Kafka and Lange, for helping him improve his volleyball coaching skills.
"Coaching alongside Brooke and our two different styles gave me a freedom and a voice; we balanced each other out pretty well," Krebsbach said. "Coaching with Betty Lange at Wausau Newman was life changing for me. I like to think I carry some 'Betty magic' with me on the sidelines. The sport of volleyball has been good to me and the programs I've been with were nothing short of incredible, and I bring them with me to Edgar."
Krebsbach developed a love for volleyball when he was only two years old.
"In high school, I was a member of the club volleyball program Wisconsin Ice, and after high school moved to the San Francisco area and I played club indoor volleyball all over the northern California coast," he said. "Later on, I moved to Los Angeles and got introduced to playing beach volleyball. I played in some beach volleyball qualifi er tournaments on the Association of Volleyball Professionals (AVP) and California Beach Volleyball Associa- tion (CBVA)."
This fall, Krebsbach and the Edgar varsity volleyball players he's coaching are making the best they can out of wearing masks during practices and matches.
"I'm absolutely using masks as a team bonding exercise, in which we are all dealing with this together and we all need to take care of the ABCs to get to the XYZ's," he said. "'We are required to wear masks during matches until the statewide mandate is over at the end of this month, and I truly believe the girls and us coaches will have a newfound appreciation for playing volleyball, which we sometimes take for granted."
Edgar's varsity volleyball team got off to a great start to the season on Tuesday night. Edgar shut out Wisocnsin Rapids Assumption, 3-0, during its home match.