Posted on
Raiders come up short, but play well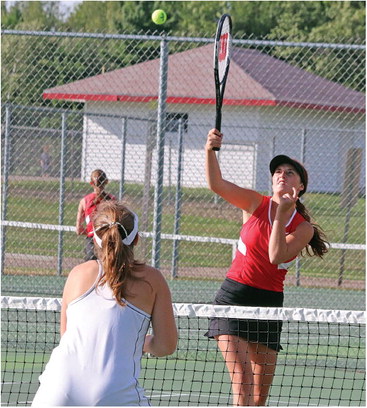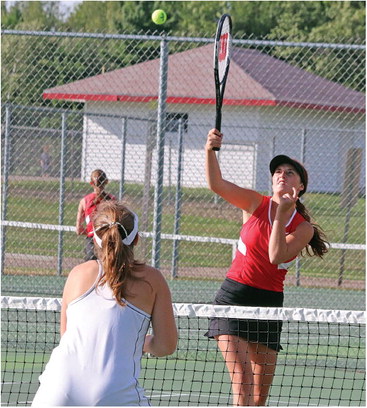 MEDFORD GIRLS TENNIS
The search for the season's first dualmeet win continues after the Medford Raiders lost 5-2 to Newman Catholic Thursday in Great Northern Conference competition.
The outcome on the MASH courts swung with the results of two three-set matches, both won by the Cardinals, who improved to 2-1 in GNC meets and 3-2 overall. Medford slid to 0-3 in the GNC and 0-7 overall.
Head coach Jake Bucki saw some positives in the meet, particularly from his veterans.
The Raiders got one win in singles play. That came in flight two, where junior Sophie Brost outlasted Newman's Natalie Townsend. Brost won the first set in a tiebreaker 7-6 (3) and then won three straight games to reverse a 4-3 deficit and take the second set 6-4.
"Sophie played very steady and got her nicest win of the year," Bucki said.
At number-one, senior Brooke Sommer knew she'd have her hands full with 2019 state qualifier Becky Larrain. Larrain quickly swept the opening set 6-0, but Sommer dug in during the second set, pushing several games to deuce points and winning a couple before Larrain prevailed 6-2.
"Brooke played her best set of the year against a potential state champion," Bucki said.
Lindsey Wildberg battled through a lengthy first set against Newman's Ruby Haupt and won it in a tiebreaker 7-6 (3). But Haupt regrouped and took the next two games 6-1, 6-3 to win the match. In flight four, Newman's Destiny Lo was a 6-1, 6-1 winner over Autumn Higgins.
Medford's number-three doubles team of Kenya Mann and Makayla Motte breezed to a 6-1, 6-1 win over Gabby Hackett and Calli Groth to secure the Raiders' second win of the day.
The Raiders' number-one team of Jordaan Clark and Kelsey Jascor came out on the short end of a well-played match against Newman's Grace and Ava Sukanen. Clark and Jascor jumped ahead with a 6-3 first-set win. The Sukanens bounced back with 6-0, 6-3 wins to take the match.
At number-two, Newman's Elizabeth Clancy and Elizabeth Kroening held off Myah Smith and Eryka Seidl 6-4 in the first set and then coasted to a 6-1 win in the second set to complete their straightset win.
Things aren't likely to get much easier for Medford today, Thursday, when it visits Stevens Point Pacelli for a 4:30 p.m. GNC dual. The Cardinals are off to a 2-1 start in league play and are 4-1 overall, including a 5-2 non-conference win over Newman Catholic on Aug. 22.
The Raiders will get some important court time Saturday when they, along with Pacelli and Ashland, visit the Lakeland Quad. Play is set to start at 9:30 a.m. The Raiders host Columbus Catholic (1-2, 1-4) on Tuesday at 4:30 p.m. and visit winless Phillips (0-3 GNC) on Sept. 17.