Posted on
Swimmers open 2020 against Antigo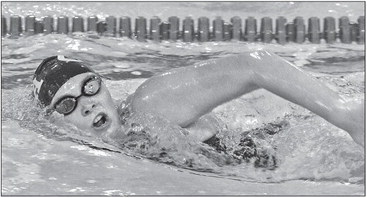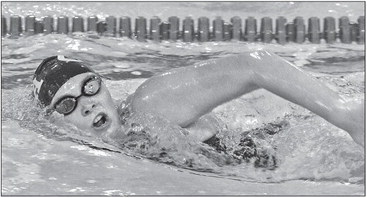 The Colby/Abbotsford swim co-op kicked off the fall sports season in style, pushing the Antigo Red Robins to the brink in their first dual home meet of the year.
For the first time since COVID-19 made its much reviled appearance in March, students from Abbotsford and Colby were finally able to take part in a live, WIAA sporting event, albeit one where masks were mandatory.
"It's a little crazy wearing the masks," Colby High junior Lexi White admitted. "It definitely does have an affect."
School facilities, including pools, remained closed throughout the spring and summer, and as a result many swimmers have only had a handful of moments in the water. Times were a bit slower compared to last year, but for many, the times didn't matter as much as finally being able to compete as a team.
"It feels crazy that we are back. I did not think it was going to happen at all. I'm just so surprised and happy that we get to be here," Colby High senior Brooklyn Filtzkowski said after the meet.
Filtzkowski led a strong charge against Antigo, and enjoyed several top three finishes. But with just 12 swimmers on the co-op this year, Abby/Colby had a hard time keeping up with the bigger and deeper Red Robins squad, dropping their home dual 85 points to 71.
The swimmers know full well they are one of the smaller, if not the smallest, team in the Great Northern Conference, but they aren't fazed.
"We're starting the season off well, and I feel like the girls are putting in a lot of hard work," White said. "We're all just trying the best we can in our individual races, and we're working really hard to drop our times and get faster."
The swimmers kicked off the first dual meet of 2020 with the 200-yard medley. Lanie Hediger, Olivia Krause, Lily Graun and White finished second in 2:18.46.
Filtzkowski and Paige Klement took first and second in the next race, the 200yard freestyle in 2:30.09 and 2:33.25, earning 10 points for Colby/Abby.
The co-op earned more points in the 200-yard IM after Krause nabbed third in 3:12.79. Ivee Conley took fourth in 3:16.80.
White and Hediger were second and third in the 50-yard freestyle, in a time of 28.52 seconds, and 29.09 seconds.
The fifth event of the evening was the dive competition. While it was a nonscoring event, Morgan Weber ended with 124.95 points after her six dives, and Zanza Haemer had 119.30 points.
Weber picked up another first place finish for Colby/Abby in the 100-yard butterfly, winning the event in 1:14.80.
White picked up Abby/Colby's third victory, edging her opponent by two tenths of a second in the 100-yard free-
SWIMMERS style with her time of 1:03.62. Graun was right behind, taking fourth in 1:15.64.
Three swimmers competed in the 500yard freestyle. Filtzkowski was second in 6:48.81, Hediger was third in 7:00.40 and Conley placed fourth in 7:37.81.
Filtzkowski is still bidding to set the school record in the 500-yard freestyle, but these days she's all about enjoying her time in the water, knowing that the year could be over at any minute.
"Every meet I know I'm going to get sentimental about it because this could be the last one. I just try to have fun, give it whatever I got, and be happy with that," she said. "I still get really bad nerves, but I know how to calm myself down and I know how to use them. It might not seem like that with my times starting out, but if our season keeps going, I think it will start to show."
The co-op took two of the top three results in the 200-yard freestyle. In first place was the relay team of Klement, Weber, White and Filtzkowski with their time of 2:01.30. The team of Haemer, Graun, Krause and Conley earned third with their time of 2:12.86.
In the following event Klement took second in the 100-yard backstroke in 1:22.78 and Haemer was fourth in 1:25.64. Krause placed fourth in the 100-yard breaststroke in 1:41.21.
In the final race of the night Colby/ Abby's Weber, Filtzkowski, Klement and Hediger earned second in the 400-yard freestyle relay in their time of 4:38.43.
The first race is in the books, and the next scheduled meet for the swimmers is this Thursday in Rhinelander at 5:30 p.m. With COVID-19 still very much a threat, the swimmers are doing their best to stay focused "I can't express how grateful I am, especially as a senior," Filtzkowski said. "It's not even about the times and points, it's just about the family. I really missed everybody. I missed being in the water, I missed my coaches. So what I am focusing on right now is just enjoying every second."