Posted on
Rocket runners adjusting to strange season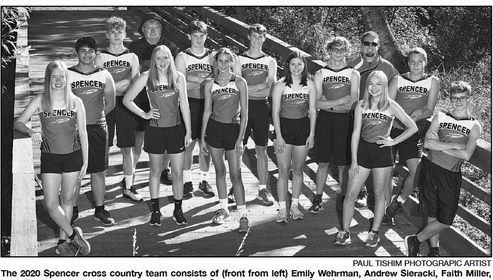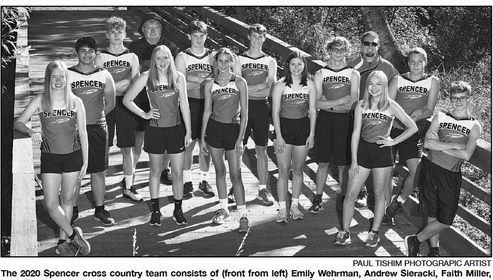 It has been a different and challenging start to the fall sports season for the Spencer cross country team. Facing delays, lower numbers and fewer meets, the team has had to overcome a lot in its first few weeks back together. But Coach Jason Miller is confident that his athletes will be able to learn how to adapt and also have some fun along the way.
The first setback for the Spencer athletes, Miller said, started before the cross country season even began. As many of his athletes also play spring sports, he said the lack of those sports this year and no contact over the summer months left many of the runners badly out of shape to start off this season.
"We were a week late," he said. "We started on the 24th. Practices have been fairly normal, everyone was a little out of shape. We weren't able to do our usual summer stuff, so we've had to catch up on that."
PAUL TISHIM PHOTOGRAPIC ARTIST To make up for the lost time, Miller said they have had to change up practice a little bit. Focusing more on getting some miles in instead of the usual practice of improving the team's speed, he said it has been a balancing act of knowing when to push the kids and how much.
"It's a lot," he said. "Normally we are working on speed conditioning, now we are more in having to do more things in a shorter amount of time. You can't go too much or you will get injured. It's a balancing act, but they have been doing very well."
With one meet already under its belt, Miller said the team has been able to get a better idea of how the rest of the season is likely to go. To better prepare them, he said the team has been working a lot more on pacing their races against a clock rather than neighboring competition, because that competition will likely not be there during a race.
"It's more of a challenge," he said on having less teams at each meet. "With no one around you to push you (during a race) you have to learn to go by your time and work on your pace. We are definitely focusing on that a lot more. Doing it a lot more at practice. Your pace will be based on your watch."
As for the meets themselves, Miller said they have been rather hard to come by. In the past, he said Spencer often ran races against kids in both the Cloverbelt and the Marawood conferences. This year, the Marawood is keeping its events to itself, leaving Spencer with a lot more holes in its schedule than they would like.
"Meets are an issue, to find a meet or host a meet," he said. "We haven't been able to schedule meets more than a week or two out. Some of the conferences we compete against in meets decided to keep to themselves, we lost all of our Marawood Conference meets as a result."
Meets are not the only thing the Rockets have lost this season. This year's team is also lacking any freshmen members. Spring was the time to get those kids on board, Miller said, and without having the opportunity to recruit this year, he expects numbers will continue to suffer.
"We are definitely down," he said. "Normally I would have been recruiting during track, talking to the middle school kids. None of that happened, there was no summer contact at all. We weren't able to do anything. There are kids who are afraid to come out due to this thing, I think all sports will be down this year. We are probably going to have a couple down years because of this. It will take a couple years to bring us up to what we were."
There are five girls on the team this year for Spencer. Faith Miller, Haylee Hopperdietzel and Alizabelle Carman are the three seniors on the team. They will be joined by Emily Wehrman and Leah Zastrow, who are both juniors.
The Spencer boys have one senior this year to lead the team in Cameron Nieman. He will be joined by the team's three juniors: Kaizer Eickleberry, Noah Schultz and Caleb Rucker. The team also has three sophomores in Andrew Sieracki, Malachai Anderson and Austyn Kohls.
The Rockets competed in their first meet against Marshfield Columbus on Sept. 1. They participated in another meet on Sept. 8 at Frey Field. The team will next compete at Colby on Sept. 12 and have another meet scheduled on Sept. 24 at Frey Field.