Posted on
Numbers down for Loyal-Greenwood cross country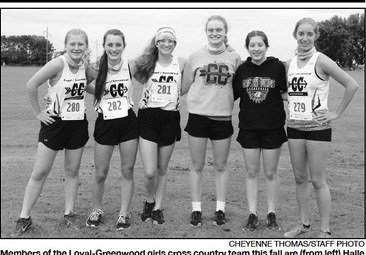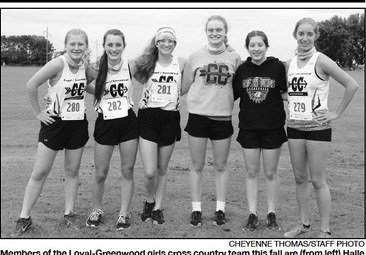 The meets may have changed a bit, the numbers may be fewer, but the members of the Loyal-Greenwood cross country team this fall are set to be as competitive as ever as the team is eager to get the fall sports season back up and running.
Coach Jim Genteman said there have been a couple challenges to returning to the field this fall as new rules and guidelines have been put into place, but most of the changes haven't affected the athletes in a big way.
"Since we are outside all the time, it is not as difficult to keep the proper distance that the school officials are requiring," he said. "Practices seem to be the least affected."
Meets, however, are another story entirely. With schools usually limiting participation from other schools to five teams and other schools not hosting their typical meets, Genteman said it has been a real challenge finding places to go to run. So far, they have managed to schedule seven meets, but would like to find ways to get more races in this season.
"The meets are limited to four or five teams and sometimes no middle school race," he said. "This also means you might, and we have, been bumped out of a meet. So we are looking for more meets and will also be hosting a second meet later in the season. We are also used to having a team meal the night before a meet, which is impossible to do with the restrictions."
In addition to the lost meets, there is some uncertainty around whether or not later season events such as conference, sectionals and state meets will be held, and if so, what they would look like. For now, Genteman has adopted a wait-andsee approach, but is hopeful the sports season will get better as time goes on and officials get more of an idea of what they can and can't do.
"As far as I know, conference, sectionals, and state have not been officially canceled," he said. "I'm not sure if restrictions will be lifted as time goes on."
This fall, there are six girls and seven boys out for the Loyal-Greenwood team. Having only gained two freshmen on the entire team after losing two seniors, two foreign exchange students and three others, both the girls and the boys have just enough for their teams.
"There are a total of seven missing from last year," said Genteman. "There were two seniors, two foreign exchange students, and three that chose not to come out. There are currently six girls and seven boys out at this point."
The girls team will consist of seniors Savannah Schley and Rylan Lindner, both athletes Genteman said will do very well this fall. They will be joined by sophomores Halle Aumann, Aubre Robida, Leah Scherer and Maci Bogdonovich.
"The girls team should be very competitive in most meets, since we will be mainly running against conference competition," said Genteman. "The girls team is led by seniors Savannah Schley and Rylan Lindner. They both were allconference performers, while Savannah took 12th at state. They are both excellent runners and role models. The other four girls are all sophomores. They feed off each other at practice and meets. They're a good group of girls."
The numbers for the boys are a bit more evenly scattered between grade levels. The team will be led by seniors Jaden Ruggles and Seth Genteman. The team also has two juniors in Ashton Palms and Avrey Horvath and Vaughn Zettler is the team's only sophomore. Cody Eckes and Connor Genteman are the team's freshmen.
"The boys will be in the middle of the pack," said Genteman on his expectations for the boys team. "Seth Genteman and Jaden Ruggles are the two seniors on the team. They should supply leadership and stability to the team. Avrey Horvath is a junior that is coming off a very good season that includes first team all-conference and just missed going on to state. Ashton Palms is another junior that is showing promise coming into this season. Rounding out the team are sophomore Vaughn Zettler and freshmen Connor Genteman and Cody Eckes."
The Loyal-Greenwood team held itsfi rst meet at home on Sept. 1 and went to a second meet in Spencer on Sept. 8. The team's next meets will be in Colby on Sept. 12 and Neillsville on Sept. 15.
CHEYENNE THOMAS/STAFF PHOTO
Granton has three cross country runners
Granton athletes participating in cross country this fall in a cooperative program with Neillsville are (from left) senior Kristin Strey, senior Ashlee Piskow and freshman Abby Schoessow.
CHEYENNE THOMAS/STAFF PHOTO
CHEYENNE THOMAS/STAFF PHOTO