Posted on
Cross-country off to blistering start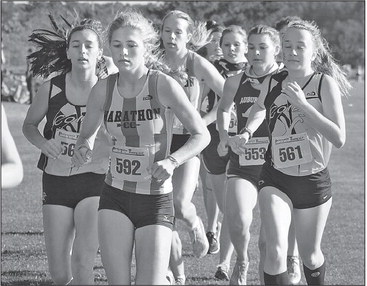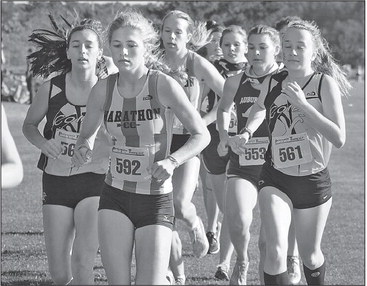 Famed physicist Isaac Newton once said "An object at rest, stays at rest. An object in motion, stays in motion." It's a good thing Newton never met the Colby/ Abbotsford cross-country co-op. If he did, he'd have to revise his theory.
Even without a track season this spring, the boys and girls cross-country teams haven't lost any speed. Their feet quickly ate up the course at Frey Field just outside of Spencer on Thursday at the Marathon Invite in the co-op's first official meet of 2020.
"It feels good to be back. Going through that withdrawal wasn't fun, coming back out and doing what I love, it was a lot of fun," Chase Oehmichen said afterwards.
It was a smaller field than usual, with the WIAA enforcing a new set of guidelines to keep COVID-19 at bay, with schools limiting the amount of teams at each meet. But those teams that were in attendance boasted plenty of All-Conference and state qualifying runners.
Auburndale won the boys meet with 34 points, and Marathon won the girls meet with a team score of 33.
The Abby/Colby co-op held their own, with plenty of top 20 performances as the girls placed third with 66 points. The boys earned fourth with 75 points.
The Colby girls cross-country team runs alone this year after disbanding their partnership with Abbotsford. With not a single member from Abbotsford on the girls team, there truly was no co-op, as all eleven ladies who laced up their shoes and put on their bib numbers are from Colby High.
Colby was led by the one-two punch of Willow Oehmichen and Daisy Feiten, who each placed inside the top ten at Frey Field. Oehmichen was fifth overall in her time of 22:20.2. Feiten followed less than a minute later, taking ninth in 23:03.
Finishing third for Colby was Trinity Severson, who took twelfth overall in her time of 23.42.5. Mercedes Sarkkinen and Casey Reynolds rounded out the final two scorers for Colby, with Sarkkinen earning 24th overall with a time of 25.24.8, and Reynolds taking 28th in 26.23.2.
Payton Roth and Reagan Schraufnagel were the last varsity runners for Colby. Roth was 31st in 27.01.9 and Schraufnagel earned 32nd in 27.24.1.
Gianna Mundt ran her way to 36th place in a time of 28:30.2, Ella Halopka finished 37th in 28.32.1, Hanna Meier was 40th in 29.06.3 and Elizabeth Winters took 44th in 30:47.7.
Chase Oehmichen, a senior at Colby High, is running with high-octane intensity. After missing out on the 2019 WIAA state meet by handful of places and seconds, he's looking to make his mark on the sport in his final year.
If last week was any indication, Oehmichen's senior year has all the hallmarks of a special one. Chase started the meet in perfect position, and was leading through part of the race, but was overtaken by Auburndale's Carl Lundren, a state qualifier at last year's WIAA D-3 state meet, in the final stretch of the 3.1 mile course.
Chase finished second in 18:16.8,
CROSS-COUNTRY just six seconds behind Lundgren. He was pleased with his performance, but says he's still tinkering with his running strategy, and working on getting the most out of his senior year.
"Still finding that last kick in the last mile, being able to push past limits and really dig deep. It's those little things that I think are really going to help me out."
The Colby/Abbotsford co-op is still in effect for the boys team this year, and all five of the scoring runners finished inside the top 30.
Sergio Camargo was unable to finish last year as he was sidelined with an ankle injury, but he's making a strong case for All-Conference in 2020 after placing twelfth overall, and ninth as a scoring runner. Sergio shattered his previous personal record of 21:07 from last year by crossing the finish line in 20:03.7.
Talon Severson was less than thirty seconds behind Camargo, placing 18th overall in 20:32. Abbotsford High's Matt Matteer made the most of his first meet. After struggling halfway into the race, Mateer powered past the finish line to take 28th overall in 21:18.
Richard Streveler and freshman Carter Roth came in side by side. Streveler and Roth were 29th and 30th with identical times of 21:37.6.
Ryan Nelson showed his improvement from a year ago, coming in at 39th in 23:10.9, less than 30 seconds from his PR. Braxton Smith was 47th in 24:11.5.
With several runners at, or having set personal bests last week, Oehmichen feels the boys team is in a good place, and is encouraged by the results and strides made by his teammates from a year ago.
"I thought the team's performance was really good, especially for the first meet of the year. We were all really looking forward to this one, and I think we gave them a good fight. If we can keep having races, I know our times will improve, and hopefully we can have conference and surprise some teams at the end of the season."
Both teams will be back in action this weekend when they host the 2020 Colby Invite on Saturday, Sept. 12. Races are set to start at 10 a.m.