Posted on
OFF TO A FAST START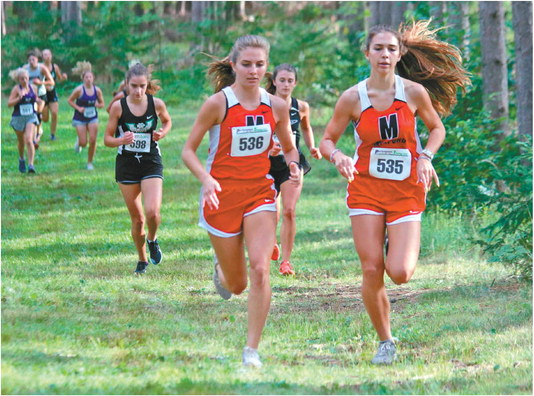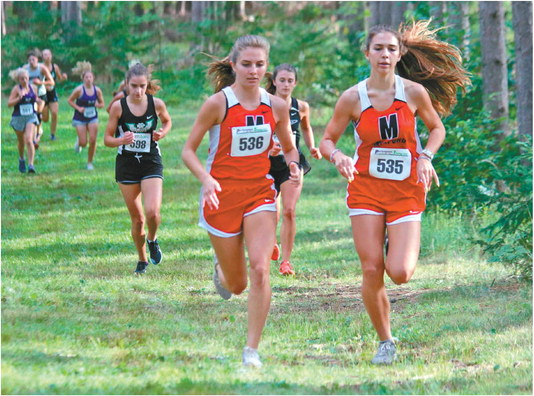 MEDFORD CROSS COUNTRY
No staggering by Medford in first official meet
The starts of Tuesday's races looked different, but the finishes were what mattered most for the Medford Raiders, who swept the team titles at the Mosinee Cross Country Invitational, which featured six of the seven squads from the Great Northern Conference.
The girls were dominant, putting six runners among the top 10 finishers and that was without one of their runners, Alexis Fleegel, who was held out as a precautionary measure with a sore knee. The Raiders finished 24 points ahead of runner-up Lakeland.
The boys squeaked past Lakeland by a 54-60 margin to bring home the championship plaque as junior Joey Sullivan blew by the rest of the 50-runner field and won by a 44.7-second margin over Lakeland's Casey Van Hefty.
"I think we're looking pretty good," Sullivan said. "I mean our times have improved a lot from our last one (Thursday)."
"We had four guys in the top 14, so we're taking a good chunk of the top spots," senior Logan Searles said.
The boys race was first and marked everyone's initial experience with a staggered start, which is expected to be used commonly this fall to help runners maintain some distance on the course. The boys left the starting line in four different waves, slowest to fastest, consisting of nine to 15 runners.
"Some runners loved being able to chase down others over the course of the race, while others disliked it as they were split from other individuals they normally pace off of," Medford head coach Kevin Wellman said. "The teams took to the line and left the start line in two-minute intervals. As a spectator it was almost impossible to know who was winning or how a team was doing as you didn't know which wave that runner was in and what wave the other runners around them started in."
Sullivan started in the last wave and still was among the first few to hit the finish line. His time was 16:56.7, well ahead of Van Hefty's 17:41.4. Lakeland's Scott Balas was third in 18:05.7.
Tanner Hraby earned a medal by taking ninth in 19:03.9, while Nick Steliga and Searles were 13th and 14th in 20:15.9 and 20:33.2. The team's senior addition, Jack Tlusty, slammed the door on the T-Birds by coming in 17th as Medford's fifth and final scorer at 21:02.1.
Logan Gubser (21:09.2) and Tristan Price (21:12.4) weren't far behind in 20th and 21st place.
"It's nice because you get to catch up to people, but it's kind of annoying when you're getting to the end and you see times on the board but you're not 100% sure what it is," Searles said of the staggered format. "There was always someone ahead, where I could pick it up a little bit so I can catch up to that dude."
"Yeah, you don't know your time, but I liked it because there was always someone in front of me," Sullivan said. "It made you feel really fast when you go by so many guys."
Searles said starting early in the second wave felt like an advantage for him.
"I think it takes away some of the pressure at the beginning of the race," he said. "I think you don't start out too fast."
Being really fast hasn't been a problem for Sullivan in his first two races as he's been out in front by wide margins.
"It's a good start," Sullivan said. "I would say I ran a lot during the summer which makes a big difference. I didn't put in as much in other years, but this summer I did run a lot."
Rounding out Medford's 11-man crew were Nathan Willman in 36th place at 22:38.2, Andrew Krug in 38th place at 22:46.9, Lucas Borman in 46th at 24:40 and Ethan Mottle in 49th at 29:31.7.
Everyone's times were significantly better than they were in Medford's home scrimmage Thursday with Prentice-Rib Lake. The hot weather Thursday was a factor, but the boys said they like the course at the Nine Mile County Forest Recreation Area because it is relatively straight and flat.
Rhinelander was third in the boys standings with 71 points, followed by Mosinee (104), Antigo (104) and Northland Pines (122).
Girls impress
Dramatic time drops were also turned in by all eight of Medford's entrants in the girls race, six of whom brought home medals for their top-10 finishes.
Senior Alicia Kawa led the charge with a third-place time of 20:19.9, while freshman Meredith Richter came in fourth at 20:49.6. Possibly the two most improved performances from Thursday's scrimmage came from senior Ellee Grunwald and sophomore Brooke Rudolph, who ran confidently from start to finish and took sixth and seventh in a field of 61 runners with times of 21:29 and 21:36.2.
Bryn Fronk was the fifth scorer, taking ninth in 21:53.7 and Jennifer Kahn was 10th in 21:54. Freshman Ella Daniels added an 18th-place time of 23:06.7 and Natasha Butt was 44th in 28:18.4.
"We're looking really good," Kawa said of the team's early-season statement. "I think it helped (our confidence) because Lakeland beat us a few times last year, so this really puts us back up."
"We just need to keep working hard and keep it up," Fronk said.
Richter has been the early-season surprise, showing in two races she fits right in with Medford's experienced and accomplished varsity group.
"I'm a little surprised but it's fun," Richter said. "It's a good team. I like everybody. It's good."
This trio of girls said they didn't mind the staggered format once they got into the race. Their race featured five waves of eight to 16 runners at the starting line.
"At first I was kind of upset and didn't really like the thought of having to wait and run behind people," Kawa said. "But now that we had it, I think a lot of people liked it."
"It was different," Richter said. "You're not just running against other people, you're running against a time."
Medford outscored Lakeland 29-53 to take the top spot. Mosinee (79) and Rhinelander (91) were a distant third and fourth. Northland Pines (134) and Antigo (162) were fifth and sixth.
Pines freshman Nora Gremban won the race in 19:48.9, just ahead of Lakeland's Kate Melms (20:07.5).
The notable GNC school absent from the meet was Tomahawk, a team that figures to be a girls and boys contender in October. The Raiders will see how they match up with the Hatchets soon enough. At this early stage, it's still just about getting better.
"This year I'm really just focused on beating my times every time," Fronk said. "As long as my team members are doing good that's all that really matters."
"Each individual today ran their heart out and the times reflected that with some great early-season times," Wellman said.
The Raiders are next scheduled to race at Rhinelander next Thursday, Sept. 10. Again, all GNC schools but Tomahawk are scheduled to attend that meet, which starts at 4:30 p.m.