Posted on
Unknowns provide challenges, but swimmers ready to take them on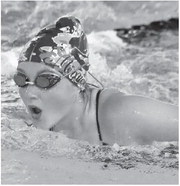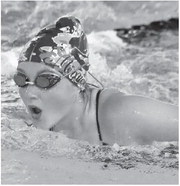 MEDFORD GIRLS SWIMMING PREVIEW
The Medford Raiders lost an important part of their girls swim season with their first three meets being canceled and, right now, they have no idea how to prepare for the end.
But that's OK in a roll-with-the-changes kind of season they are going to experience. Like every other team in the school, conference and region that has the go-ahead to compete this fall, they're just happy to be swimming.
The 15-member squad started practice on Aug. 17 in preparation for a laterthan- usual first meet that arrives Sept. 3 when the Raiders host Mosinee in a Great Northern Conference dual meet that starts at 5:30 p.m.
Having nearly three full weeks of practice before the first meet is odd, but sixth-year head coach Betsy Meinel said the Raiders are using the time to their advantage and perfecting technique earlier than they normally would.
"It's been nice to go back to the basics and rework those and break bad habits now as opposed to October. It's a lot easier," she said during the team's early-morning practice on Aug. 25. "(The season's) completely different. Our first meet's next week which is about a week after when it normally is. This week would've been the Menomonie Relays and then we would've had Marshfield Relays and Merrill. We lost three meets. But it's been good. It's our year of perfection. There isn't much you can control. If we can swim perfectly then that's something we can control.
"And it's a good goal," she added. "We don't know what's going to happen at the end of the season. At least now we have a goal. This is how we want to swim. If we achieve that and we make it to October, we succeeded."
All eight programs in the Great Northern Conference intend to move forward with their swim seasons, putting seven dual meets on everyone's intended schedule. At this point, nothing is on paper beyond those duals for Medford. Any determination from the WIAA on a postseason format probably won't come until October. For now, the annual seasonending conference meet is off, but Meinel said there are whispers among coaches about an effort to reinstate it if things go better than expected this fall in regards to the COVID pandemic.
"I've heard all sorts of things," she said. "I just wanted to get in the pool. Let's just get to the water and then everything will fall into place."
In the water, the Raiders start 2020 with a roster that is a couple of swimmers deeper than it was a year ago when the team finished 5-2 in league duals, fourth overall in the conference and ninth at the WIAA Division 2 Wisconsin Rapids sectional.
Nine of the swimmers are returning letter winners, giving Meinel and assistant coach Morgan Wilson a good foundation to build a meet lineup from.
Leading the way will be seniors Erin Bergman and Morgan Ball, both of whom are three-year letter winners. Both were part of last year's GNC-award winning 200-yard medley and 400yard freestyle relay teams. The medley team, which set a school record of 1:53.66 at the sectional meet, went on to place 16th at the WIAA Division 2 state meet and Bergman added her third career medal in the state 100-yard backstroke with a sixth-place finish.
Bergman is the school's record holder in the backstroke (58.53 seconds) and the 100-yard freestyle (54.62 seconds). Ball set the school record last year in the 100yard butterfly (1:02.15) at the sectional and spent a lot of time early last season in the 200-yard individual medley.
"I think they're going to be great, I really do," Meinel said. "I'm very happy we had this season for them. They've put in a lot of work over the last three years and off-seasons. They've earned their senior year. I'm glad they get that spotlight. In the pool, out of the pool. They're both great. They're kind of the coach when the coach isn't always there. I see big things from them both inside and outside the pool."
How far the team goes in 2020 will largely depend on the improvements of the junior and sophomore classes, which Meinel said have been noticeable in the first two weeks.
The five-member junior class features Kami Razink, a strong sprinter who swam the freestyle leg in the record- breaking medley relay effort last fall. Maddie Williams was Medford's number-two backstroke swimmer last year behind Bergman and filled spots at times in the individual medley and 50yard freestyle. Lacey Brandner was the Raiders' top scorer for the season in the 200- and 500-yard freestyles, where Shaniah Brandt most often added key points as well.
The newcomer in that class is Lydia Pernsteiner, who switched from volleyball and, Meinel, said is off to a good start.
Aiden Denzer, Kirsten Weix and Olivia Rau are the returning sophomores. Denzer had a strong finish to last year in the individual medley, posting a 2:30.4 at the sectional that was the team's best time for the season in that event. She earned time in all of the specialty strokes at one time or another.
"We're trying to find breaststrokers," Meinel said. "That's a big one. I think Aiden's going to step up into that role. At one point I had five breaststrokers, but they all graduated on me."
Weix finished last year in a distance role and scored well. She filled a 100-yard freestyle spot in several early meets. Rau filled a breaststroke spot in several meets as a freshman and cut 10 seconds between her first and last 100-yard freestyle times.
The freshman class has potential and includes the last of the Bergman sisters to come through the program, Colby, as well as Jackie Williams, Jordyn Johnson, Breanna Kraemer and Kaya Fortin. Right now, the challenge for the coaches is to figure out who fits where. Later, it will be how to prepare for an unknown end to the season. "We have to kinda decide before (October) what we want to do because that's going to affect our taper and how we plan the end of the season," Meinel said. "I'm normally planning for that in the last week of September. That's when we start. It's definitely changing how I coach. Not for the bad. It's just different. I feel like I just don't have the answers for the questions they're asking. I don't think anyone does." Rhinelander is the defending GNC champion. Medford visits the Hodags Sept. 24. Lakeland was last year's runner-up and visits Medford Oct. 15. Tomahawk is another key rival that's scheduled to visit Medford on Oct. 1. The meet with the Ladysmith Co-op is usually one to watch as well. Medford goes there Sept. 10.
"It doesn't change a lot," Meinel said of this season's goals. "Two school records would be great. That's kind of been our average. We're kind of spoiled that way. Now I just have to figure out a different way to do it because we don't know if we're going to have taper or anything like that. I'm not saying we can't break them without taper. That's still the goal."
Medford's Maddie Williams works on her backstroke technique at the start of Tuesday morning's team practice at the MASH pool.
MATT FREY/THE STAR NEWS
Kirsten Weix is one of three returning sophomores on the Raiders' 2020 girls swim team.