Posted on
Thankful to play, Raiders' goal is to improve day by day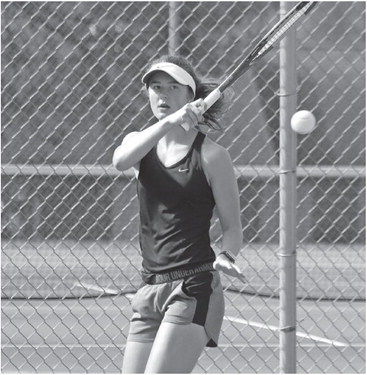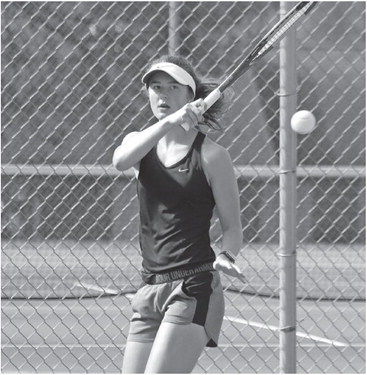 MEDFORD GIRLS TENNIS PREVIEW
The Medford Raiders face a daunting schedule to start the 2020 girls tennis season.
But right now, they're just happy to have a season to start.
After seeing the boys spring season canceled, the girls were excited and thankful to get the go-ahead and start their fall season Aug. 17. After a strong week-plus of practice, the varsity took a 4-3 loss at Lakeland Tuesday in Medford Area Senior High's first official athletic competition since the WIAA state gymnastics meet in early March.
While the toughest stretch of the reduced 2020 schedule is now right in front of them, the Raiders are taking it the only way head coach Jake Bucki knows and has always preached to his teams –– one day, one match, one rally at a time.
It's a message he said sinks in easier in a year like this, where playing each day isn't guaranteed.
"As coaches we've talked about focusing on improvement, just day to day," Bucki said Friday.
"Getting that message to the girls sometimes can be a challenge because they are thinking out one week, two week, three weeks or the season. Whereas this year, I think it's just natural that they're taking it day by day, because it is what it is. I think it's easier from that sense. Hey, you just need to improve from yesterday."
The Raiders start the new year with a roster of about 25 players, five of whom are returning letter winners from the 2019 team that placed fourth in the eightteam Great Northern Conference with a 4-3 mark and earned a 14-10 overall dualmeet record. Medford was a solid fifth out of 17 teams in sectional competition.
Those five letter winners form the nucleus of this year's varsity squad. After that, there are several candidates to look at. Unfortunately, this year won't offer as much time and opportunity to see the younger players in action. Early JV tournaments in Wisconsin Rapids and Wausau West were canceled.
The varsity lineup starts with what Bucki anticipates could be a solid singles crew. Senior Brooke Sommer fills the number-one position, junior Sophie Brost slides into the second spot while juniors Lindsey Wildberg and Kenya Mann are penciled to fill the third and fourth spots, though which spot was still to be determined.
Sommer was 7-4 in number-two matches last fall before moving to doubles for the stretch run. She and the graduated Kailee Mann went 14-6, won the GNC's flight-two doubles title and advanced to the WIAA Division 2 sectional championship match in that flight, which they lost in two close sets to Ashland.
Brost and Wildberg played some early doubles matches together before setting into singles play. Brost went 4-9 in flight two singles, while Wildberg played some matches at three and four.
Senior Jordaan Clark and junior Kelsey Jascor fill Medford's top doubles position after their outstanding 2019 season in the third flight. They went 19-4 together and made a run to the sectional championship match, which they lost 6-7, 6-7 to the team from Eau Claire Regis.
Senior Paige Entenmann and junior Emmalee Clarkson are upperclassmen on the roster as well.
Positions on the flighttwo and flight-three doubles teams were up for grabs to start the season.
"Our singles lineup will be solid," Bucki said. "Doubles I would only expect, with being young, would improve throughout the season if we get through it. We've got a bunch of athletic girls. Those two and three teams, if we can get some athletes that can get balls back and put points away, that's huge. So the next goal is to get them to be doubles ready. Know where to go, know what your partner's doing, know what the other team's doing, where to have your eyes and that comes with time."
Some of the emerging candidates are sophomores Myah Smith, Eryka Seidl, Autumn Higgins, Makayla Motte and Christine Czeshinski. Bucki said a freshman class that goes about 10 deep has so far been highlighted by players like Masaeda Krug, Marcy Razink and Morgan Strebig.
"The improvement has just been steady each day," Bucki said of everyone's first-week efforts. "Just getting into the recognition of being on the court again. The awareness is there after four or five days of practicing and hitting. Really, a lot of the practices with the older girls have just been hitting and watching them hit. They are taking it seriously. They're not goofing off or anything like that. A lot of it is watching them hit around in warmups and then just having them play matches just to get used to how a match works.
"The younger girls, the sophomores, now it's trying to get them to see how a match really works," he added. "Last year was all new. Now it's getting comfortable so you can just go focus on playing. Some of them will be stepping up for us."
The most challenging stretch of meets starts today, Thursday, when two-time defending Great Northern Conference champion Rhinelander visits the MASH courts for the Raiders' home opener at 4:30 p.m.
From there, it's off to the Altoona Quad on Friday where the Raiders will face Amery, Altoona and Onalaska Luther, all programs that have won recent WIAA Division 2 sectional championships.
Medford heads to defending sectional champion Eau Claire Regis Tuesday for a non-conference dual before settling in for mostly GNC play for the remainder of the regular season, starting Sept. 3 with last year's third-place team, Newman Catholic, according to the current schedule.
"We'll see some of the best competition, which is good," Bucki said. "It gives those young girls an idea of this is where we can be at the end of the season. So I'm excited for that."
In the conference, Rhinelander, as always, is a favorite. The Hodags are under new leadership as Matt Nichols replaces long-time head coach Bob Heideman. The Hodags have to replace several GNC award-winning seniors from a year ago. Antigo was the runner-up last year, finishing 18 points behind the Hodags in the final standings. Newman Catholic features one of the area's top singles players in junior Becky Larrain and Stevens Point Pacelli brings back the GNC's top doubles team from a year ago in state-qualifying juniors Ella Schroeder and Marissa Stolt. Pacelli finished 20 points behind the Raiders in last year's GNC standings.
"Our conference is good competition for up here. I love it," Bucki said. "This year, who knows. That's going to be the majority of our schedule."
The post-season format is uncertain right now. The WIAA should have a better handle on that sometime in September. For now, the Raiders will take having a practice or meet each day and roll with wherever that takes them.
"It's amazing to be out here. It really is," Bucki said. "You see it in the girls, you see it in the coaches. The girls are working hard. We just talked about how to be appreciative of it and we're very fortunate. Looking across the state, so many schools are unable to do this. I really just told them to appreciate it and work even harder because of it.
"As far as goals, it's kinda the same," he said. "It's always to improve. Improve each day. You don't get to hit the last ball. The ball you just hit out, you don't get to re-hit that one at all. So look forward. I feel like our attitude has been very positive. I think part of that is just natural with finally being able to do something."