Posted on
Hawks to run in Medford today, anxious to see what follows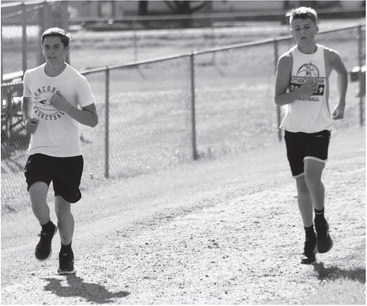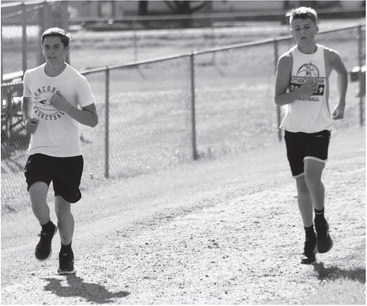 HAWKS CROSS COUNTRY PREVIEW
S
While no one is quite sure what to expect from this fall's cross country season, one thing was certain during the first week for the Prentice-Rib Lake Hawks.
Everyone is happy to be back.
"The kids are definitely excited to be back involved in school events," said Dalton Webster, the third-year head coach from the Rib Lake side of the co-op. "Cross country practice was the first inperson school event since March 13. I am glad to be getting started. Hopefully we can put together a decent season of meets for the kids, albeit different than what our normal schedule looks like. It likely will be more, smaller meets which can be a bit challenging, but on the bright side it likely will mean more opportunities to host meets."
The Hawks, who have been practicing since Aug. 17, will get their first taste of competition today, Thursday, with a 4 p.m. scrimmage against a strong Medford program on the Raiders' new home course. The scrimmage fills a hole left by the cancellation of the always-anticipated season opener at Timm's Hill, a facility that just couldn't hold an event of that magnitude in this time of social distancing.
From there, the Hawks are awaiting an amended fall schedule, which is likely to feature smaller than usual groupings of teams and mostly Marawood teams. A season-ending conference meet and a post-season format from the WIAA also fall into the "to be determined" category.
When we last saw the Hawks, their girls were running through snowflakes while finishing 16th at the WIAA Division 3 state championship race in Wisconsin Rapids last Nov. 2. A few things have changed since then, most notably a coaching change on the Prentice side of the co-op as Gabe Sandoval has taken over for Lisa Schantner. Sandoval was a volunteer assistant with program last fall.
Three of the five members of that girls team graduated as did the boys' top runner, Peyton Enders, who came up eight seconds and one spot short of qualifying for state at last year's South Shore sectional.
"After volunteering with the team last year, I wanted to get more officially involved in the cross country team as a way to share my passion and knowledge of running with the high schoolers and middle schoolers in the area," Sandoval said. "My hope is to be a positive influence in their lives and to pass on the lessons that I've learned through training and competing in distance running."
Sandoval and his wife Leah moved to the area from Chicago over two years ago. He is a business manager at Forest Springs and grew up in North Carolina playing lacrosse. He competed in the sport at Wheaton College and got into running after that.
"The first week definitely has us coaches very excited for the upcoming season," Sandoval said. " While there were several who put in miles over the summer, everyone has been working hard with the training and workouts we've given them thus far. We're especially encouraged by starting with a larger team than last year. With a few new runners who are already great athletes, we think we have Hawks
a lot of potential as the season will progress and everyone's fitness continues to improve."
The boys start the new year with more depth and experience, while the girls bring back standout Serena Moore, a three-time state qualifier and junior Kylee Goodrich, who ran at state last fall.
"Our first week of practice looked good," Webster said. "We had great weather and the kids worked hard."
The boys roster to start the season includes six Rib Lake representatives and some strong returnees from Prentice. Among the key faces back from 2019 are juniors Adam Granberg, Alex Schantner and Reese Isaacson of Prentice and sophomore Ben Peterson of Rib Lake. Junior Will Hartke of Rib Lake returns after a one-year break.
Granberg and Schantner were commonly among the Hawks' varsity scorers a year ago with Granberg consistently posting 18- and 19-minute times after the first meet and Schantner getting as low as 19:41.1 at the sectional. Peterson had two sub-19 races in mid-season. Isaacson finished his year with a season-best 20:55.4 at the sectional. Hartke improved a lot in 2018, cutting more than four minutes off his times from first to last meet.
Dominick Classen could be a new sophomore to watch. Sophomore Michael Borchardt and freshmen Aiden Hartke and Jackson Blomberg also have been working with the Rib Lake runners as new additions.
"On the boys side, Adam Granberg has some big shoes to fill with Peyton graduating, but I know he is up for the challenge," Webster said. "We have lots of returners on the boys side with Adam, Ben, Reese and Alex. Dominick Classen looked really good in practice last week for his first week of cross country. Him and Adam Granberg will be a solid onetwo punch for us in boys races. We're excited to have Will Hartke back running this year too after taking last year off. Michael and Jackson will be solid in those always important four and five spots."
The Hawks finished sixth in the Marawood Conference last year and sixth in the sectional, though there were just 13 points away from state-qualifying second place.
Though it's uncertain what the end will look like this fall, Moore is looking to cap her noteworthy career with the Hawks with a big senior season. Her first three years have included two topthree Marawood Conference finishes, three top-five sectional finishes and two top-30 state placements. Goodrich returns for her third year after ending her sophomore year with some of her best times at conference, sectional and state. Sophomore Nadia Czahor of Rib Lake is among the additions to the girls squad, along with juniors Leah Thums and Lydia Holm, sophomore Leslie Vance and freshman Stacey Gustafson of Prentice.
"Serena is definitely going to be our senior leader on the girls side," Webster said. "Serena has put in a lot of work over the summer and is coming into the season in great shape. I know she would like to get her times back into the low 20s or 19s this season. Kylee is also returning from last year's state team and while not quite as fast as Serena, she is just as much a leader with her positive attitude and work ethic."
The girls were also sixth in the Marawood last year and trailed only league rival Chequamegon in the sectional meet.
The WIAA may not announce a postseason plan for cross country for another month and it remains to be seen if a conference meet happens in October. Marathon was scheduled to host it this year.
Whatever happens, the Hawks expect to take a familiar approach.
"The season will look different, but the goals are the same," Webster said. "First of all, we want the kids to have fun and work hard to improve their times. We want to be competitive and win some meets. We still want to peak at the end of the season, whether that be conference, sectionals or the state meet."
Continued from page 26