Posted on
Happy to be back, ready to succeed again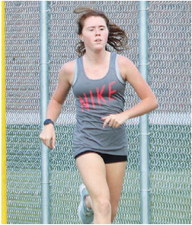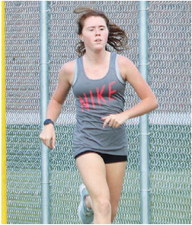 CROSS COUNTRY PREVIEW
Getting back to work has brought back some normalcy for members of Medford's cross country program, even if the 2020 season figures to be quite unique.
Smaller meets that are closer to home will be the rule this fall amid the coronavirus pandemic and how things will look at the end from a WIAA perspective is still unknown.
But the Raiders are running, and that's all that's mattered to athletes and coaches since they got back together Aug. 17.
"Monday and Tuesday, I was just giddy," eighth-year head coach Kevin Wellman said of last week's first days of practice. "I was just happy because this was the first really normal thing since March. We've had to make some changes here and there, but really our first workout, the 1K repeats, didn't change. The kids are out there, you're timing them. It was great. The kids have been happy all week because I think they're just like, 'finally something normal.'" "I have to say I really held my breath watching the WIAA meeting on Aug. 14," assistant coach Sherry Meyer added. "I was staying positive, as I train the athletes to. Always think the positive. When we got to meet on Monday morning for practice, it just felt really great. It just felt good. We've obviously been working on following our recommendations and bringing sanitizers and doing that. It's just great to see them out there."
After a solid first week and a half of practice, the Raiders will experience their first meet atmosphere today, Thursday, when they host Prentice-Rib Lake in a 4 p.m. scrimmage to be held on Medford's new course that traverses land on the north side of the high school property as well as the Kuse Nature Preserve.
On Tuesday, Medford will participate in the Mosinee Invitational at Nine Mile County Forest Recreation Area just outside of Wausau. That meet is set to start at 4:30 p.m.
For the Raiders, things do remain business as usual from an expectations standpoint. Again, this year's goals are to compete at a high level and get better as the season progresses.
For the girls, the graduation loss of Franny Seidel will hurt, but the rest of the group that produced Great Northern Conference and sectional championships and a fourthplace finish at last fall's WIAA Division 2 state meet is back. Some freshman additions will allow Medford to remain an extremely deep squad.
The boys bring back one of the state's top returning Division 2 runners in junior Joey Sullivan and are bringing in an exciting group of newcomers to add to a few returning veterans. The Raiders finished third in the Great Northern Conference and fifth at the WIAA's Colby-Abbotsford sectional last fall.
Wellman said the Raiders had an encouraging first week as several showed they put some time in during the summer getting ready for a season that wasn't even certain to happen.
"We had an excellent first week," he said. "Some of these kids are in ridiculously good shape. I think the one great thing is we have a bunch of kids that are going to be pushing each other in practice, in races, and it's going to be a battle to have seven on varsity. There's going to be a good battle for those last couple of spots. Then you always have the freshmen who seem to get faster and faster as the season goes on, so that's going to make it even a little more interesting. It's a great problem." Senior Alicia Kawa leads the pack for the girls. A three-time state participant, Kawa was 25th last year at Rapids out of 152 Division 2 runners, fourth out of 96 at the sectional and fourth at the GNC meet hosted by Antigo, giving her first-team All GNC honors for the third straight year. She should be joined at the front of the pack by several veteran candidates, who have all shown in the past they are more than capable.
Juniors Jennifer Kahn and Alexis Fleegel were second-team All-GNC performers last fall and are two-time state participants. Kahn had a huge day at the sectional last October, placing third between Seidel and Kawa. Fleegel was 12th at the sectional and 68th at state. Both were key runners in Medford's state championship performance of 2018.
Sophomore Bryn Fronk looks to build off a solid first season where she won the Timm's Hill Invitational, earned secondteam honors in the GNC and placed 14th at the sectional and 46th at state. Sophomore Brooke Rudolph was another key piece to last year's puzzle, finishing in the team's fifth or sixth spots in races at season's end.
Senior Ellee Grunwald seems poised to take a big jump, after finishing last year as the varsity's seventh runner. She and Kawa have been running together since May. Meyer said she saw a new confidence level in Grunwald right away last week.
"This year she's full force. She's 100%," Meyer said.
Junior Anya Apfelbeck is another returnee. The freshman class includes Meredith Richter and Ella Daniels, who were at the top of Medford's middleschool team last fall, as well as Joselyne Torres, Natasha Butt and Lydia Way.
"There is going to be a battle to be in the top seven," Wellman said.
The girls were part of a three-team battle last fall in the GNC with Lakeland and Tomahawk. They emerged as five-point winners over the T-Birds and seven-point winners over the Hatchets when it counted at the GNC meet.
Sullivan capped an outstanding sophomore year for the boys with a 31st-place finish at the state meet in a personal-best time of 17:03. He qualified for state with a fourth-place sectional finish and was second in the GNC race behind the graduated Eric Kordus of Mosinee. He enters 2020 as a definite favorite.
"I saw him running around town all the time," Wellman said of Sullivan's offseason. "You can tell from day one, he has not stopped running."
Logan Searles will provide the senior leadership for this year's crew. Searles is a two-time letter winner and three-year veteran in the program, who finished 18th in a tough GNC field last fall led by team champion Tomahawk and runnerup Lakeland. Sophomore Tristan Price is back after working his way into a varsity role last fall. His hard work earned him the team's 2019 Determination Award. Sophomore Lucas Borman is also back after steadily improving through his freshman year.
Senior Jackson Tlusty is an intriguing newcomer. He hasn't run cross country since middle school, but the coaches said he showed during voluntary summer runs that he has a shot to fill varsity role.
The freshman class is led by Tanner Hraby, Logan Gubser and Nick Steliga, who could push for varsity spots. Newcomers also include Andrew Krug, Ethan Mottle and Nathan Willman.
"Joey's good, Logan's good, Jack's good. Tanner Hraby, Nick Steliga, Logan Gubser," Wellman said of his boys group. "I knew (Gubser) was pretty fast, but he's been doing really good. Andy Krug is one of those freshmen that is going to run himself into pretty good shape. Tristan Price ran himself on to varsity last year. We're going to have that same problem. There's going to be like a good eight really solid runners and you've got seven spots. That means we're going to have some individuals win some JV races."
The coaches are excited to test out the new course today, plus they were glad just to find something to fill the hole left by the cancellation of the usual seasonopening Timm's Hill Invite, where the facilities didn't allow for adequate social distancing.
Medford is also scheduled to host meets on Sept. 17 and Oct. 1.
"We just really wanted to get a meet in the books right away because (this season) is day by day and you never know what might change," Meyer said.