Posted on
Running to state again?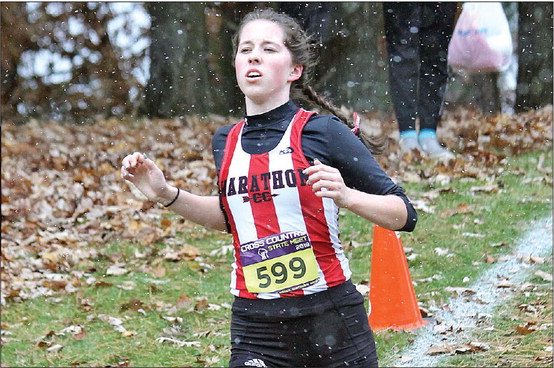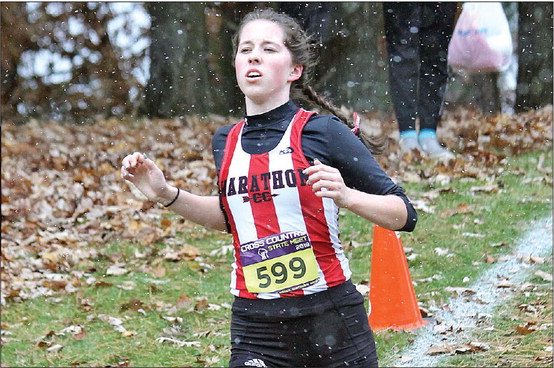 Marathon girls have plenty of talent returning
By Casey Krautkramer
Last year, the Marathon varsity boy's and girl's cross country teams enjoyed a magical season culminating in both squads running in the state championship race at the beginning of November.
Marathon's girls team created school history by qualifying for state in Wisconsin Rapids for the first time ever, while the boys ran at state for the first time since 2014. Both squads are vying for return trips to the state championship race this season.
The Red Raider boy's team lost many of its top competitors, including No. 1 runner Will Prihoda, to graduation. Meanwhile, the girls' squad returns a bevy of experience this season.
Junior runner Jada Prihoda had the luxury of experiencing what it was like to compete at the state championship meet with her older brother, Will Prihoda, last season. She was the Red Raider girl's No. 1 runner last year.
This season, Jada welcomes her younger sister, sophomore Kali Prihoda, to the varsity squad. Their parents are Craig and Cat Prihoda. Jada is hoping to also share the unique experience of competing in the state championship race with Kali this year.
"It would be great to show people our team can make it to state again this season," Jada said. "It was a super fun experience for me at the state meet last year so I want to go again this season."
Besides Jada, other top runners back this season are seniors Anna Cleven and Chen Phakitthong; juniors Laci Hoeksema, Kayla Radtke, Laila Smith and Camryn Sapinski and sophomores Brianna Hieronumus and Ava Buchberger.
Top newcomers to the varsity squad are junior Julianna Thurs, sophomore Kali Prihoda and freshmen Alicia Blenker and Paige Blount.
Thurs returns to compete for Marathon's cross country team this season; she spent one month attending Wausau West High School at the start of last school year. She shined in her state cross country race debut in her freshman season at Marathon by placing 17th in the D-3 race at The Ridges Golf Course in Wisconsin Rapids.
Jada is happy to have Thurs running again for the Red Raiders this cross country season, as the team's goals are to win the Marawood Conference championship and make a return trip to state.
"I think Julianna will play a huge part in helping us this year, because she is a really good runner who could help our girls team accomplish a lot this season," she said.
Marathon's girls team only lost its No. 2 runner last season, Katrina Fredrickson, to graduation. EJ Otto, who is the Red Raiders' veteran varsity head cross country coach, is eager to see how his talented runners that return do this season.
"It always feels good to have experienced student athletes back because they know what practices and meets are all about," Otto said. "The girls are in one of the top D-3 conferences in the state; Auburndale and Wisconsin Rapids Assumption are two of the better teams in the state. The kids have an awful lot of heart and with good focused practices, never say never to a return trip to state."
The Marathon boy's cross country team's top runners back include senior Cullen Krasselt and sophomores Jaron Gage, Owen Marks, Derek Scheiderer and Ian Blake. Top new runners on the varsity squad are freshmen Jacob Smith, Ed Hall and Brandon Getzlaff.
Otto explains how both Marathon's boys and girls cross country teams could make a return trip together to the state race this season.
"The runners need to work together and encourage each other, do the right things to stay healthy and know each good practice could turn into another trip to state," he said.
He's also happy Marathon is hosting the Marawood Conference championship meet at the end of this season, whenever conference commissioner is finished updating the regular-season meet schedule.
"We will be running the conference championship meet at Frey Farm in Spencer, because we'll no longer be running at Nine Mile in Rib Mountain," Otto said. "We have ran a lot at Frey Farm in past seasons, which is a great venue for a cross country race."