Posted on
Cross-country teams eager to hit the trails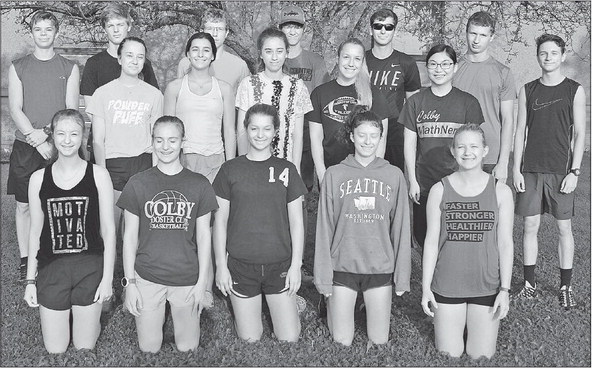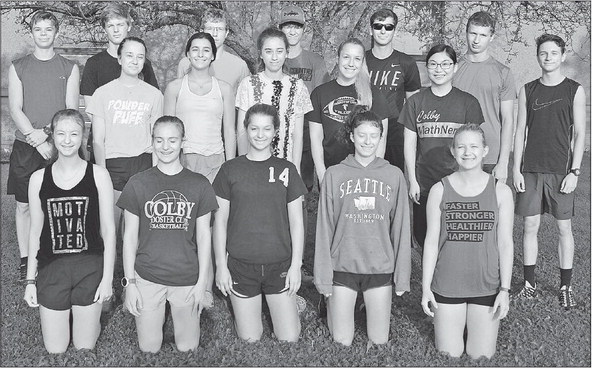 The meets will be smaller, there won't be award ceremonies, and the postseason is up in the air, but Abbotsford/Colby cross-country coach Bryon Graun speaks for everyone when he says it's best to focus on the here and now.
"As president of the crosscountry association . . . I'm telling coaches right now, focus on being with your kids and impacting their lives."
That's not to say that Graun and his runners aren't setting goals. For the girls team, the chance for a third straight Cloverbelt title is within reach. "If we get to that conference meet, I think we are definitely the favorite to win it," Graun says unabashedly.
There's nothing boastful about those words with the girls team bringing back almost every varsity runner from last year's squad.
"We lost Abbie Hediger and Hailey Voelker to graduation, but we've got a couple new freshmen that I think can contribute, along with some sophomores that are moving up."
The chance to three peat starts with junior Daisy Feiten and sophomore Willow Oehmichen, who each took All-Conference honors in the Cloverbelt Championships in Cadott last year.
"Daisy and Willow are going to lead the group, like they did last year," Graun states with confidence. "From there, we have a number of the girls who have put some miles in over the summer. We have no seniors on the girls team, so we got some big hopes we're working towards this year."
Those runners that seem best poised to make a jump into All-Conference are Mercedes Sarkkinen and Payton Roth, who finished 27th and 28th at last year's conference meet. But there are plenty of opportunities for other runners to make varsity.
"We're going to have some competition in there for that three, four, five, six and seven spot," Graun says. "Trinity Severson and Regan Schraufnagel will be there. Ella Halopka has been in that mix as well."
Graun is keen to see who will separate themselves from the pack, but he likes what he sees from his girls team so far. Colby's biggest competition will come in the way of Osseo-Fairchild and McDonald, who each bring back several talented runners.
In the end, Graun says, the conference title comes down to his runners doing the little things right.
"The biggest thing I told the kids, if you want to have a full season, take care of yourselves, keep your circles small, and hopefully we can get through to the end of a season and into October. Colby has never had a three-peat, and in fact, I don't think the Cloverbelt has ever had a three-peat."
That the girls team remains competitive is not a surprise, but there is still more things that haven't changed, like the fact that the girls will still be running as a WIAA D-2 team.
This comes in spite of a decision to drop the girls team coop with the Abbotsford School District, a decision made easier by the fact that the women's team has no members from Abbotsford High.
"We did not renew the co-op for girls, so we don't have any Abby girls on the team. We do have two boys from Abbotsford, so we do have the boys co-op. Against my wishes, the WIAA says the boys and girls team are married. But we'll bring that up in November . . . so we just need to focus on running the best times we can and go from there."
Boys
Graun has a clear frontrunner on the boys team, with senior Chase Oehmichen primed for a huge season. A three time All-Cloverbelt runner, Oehmichen and Graun have set their eyes on a big prize - the WIAA state meet, should that happen in October.
"Chase is the leader of the team, he's the only senior I have on the team and he is the kid I think about the most when we have conversations about seasons getting cut short. Chase almost made it to state the last two years, so he's chomping on the bit."
Behind Chase comes a solid nucleus of runners that starts with Abbotsford's Matt Mateer, who finished 23rd at the Cloverbelt Championships, just two spots shy of all-conference, with a personal best time of 19:33.
"I have a group of four that I think are going to be right together, with Richard, Talon and Matt. Behind that, freshman Matt Roth is right in with that mix as well. Braxton and Ryan have done a good job of staying active . . . I see improvements already just in the first week of practice."
Graun is keeping his goals for the boys team tempered and even-keeled, but he believes they'll finish higher than the eighth place result they had at last year's Cloverbelt Championships. If the team can work together during a race, and pace themselves and try not to push for too much too soon, Graun sees the boys team making a great leap forward in 2020.
"McDonald and Altoona are going to be tough to catch, but I think we're in a sold third spot, and maybe even sneak into that second spot. I think them working together as a unit, I think that is where the success is going to come in. On easy days they need to take it easy. They can't run hard every day in practice because otherwise they're going to be burned out on Saturdays. So that's one of the things I've really been working on."
Winning and medals and all-conference accolades are great, but Graun wants to give his runners skills for the race of life.
"I learn a lot about them and they learn a lot about me and we're able to influence each other's lives."