Posted on
IT'S GOOD TO BE BACK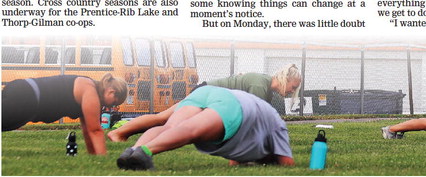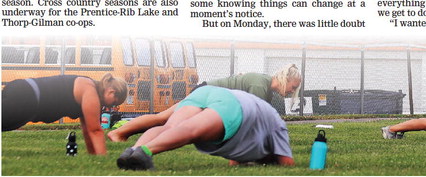 Student-athletes happy they're able to get fall season started
Bright and early at 6 a.m. on Monday, high school sports officially returned to Taylor County after a five-month hiatus.
Medford's girls swim team was the first to dive in, but by 8:30 a.m., the Raiders' boys and girls cross country teams and girls tennis team had joined them by starting their first practices of the fall season. Cross country seasons are also underway for the Prentice-Rib Lake and Thorp-Gilman co-ops.
Local football and volleyball teams and Medford's boys soccer team are anxiously awaiting their delayed opening dates of Sept. 7.
There's been a long period of uncertainty since the last WIAA tournament basketball games were canceled in March and the entire spring season was canceled in April due to the COVID-19 pandemic. And it wouldn't be wrong to say there's still an uneasy feeling for some knowing things can change at a moment's notice.
But on Monday, there was little doubt student-athletes were glad to be back.
"It's amazing," senior swimmer Erin Bergman said after her team completed day one with some outdoor dryland stretching and running which followed two hours in the water. "It feels super nice to be back in the pool."
"I'm just super grateful that we get to do it," senior cross country runner Alicia Kawa said. "So many people don't get to run because their schools are shutting everything down. I'm just grateful that we get to do it."
"I wanted a season so bad," senior ten- nis player Brooke Sommer said. "I just wanted to be able to play."
Viewed as lower-risk sports, the WIAA's Board of Control voted on July 23 to start the fall tennis and swimming seasons six days later than originally planned, while cross country was the one fall sport that got to start on its original date. During its most recent meeting on Friday, the Board of Control made no mention of straying from its fall start dates, instead focusing on the calendars for winter and spring and approving an alternate fall season in the spring for school districts that have decided they aren't ready to get sports started. Those decisions have been more common in southern Wisconsin and in bigger metropolitan areas. Sommer admitted she was among the interested viewers from across the state watching Friday's meeting to make sure the season was going to start.
"I'm so glad we can have practice," Sommer's teammate, senior Jordaan Clark said. "I was very nervous because with it being our last year (and the chance of) not being together as a team. It turned out we could, even though there are some rules."
When it comes to the "rules" Clark spoke of, everyone is aware things will be different this fall. Schedules and travel have been scaled back, social distancing and sanitizing guidelines are being enforced, there will be mask-wearing by participants on busses and on the sidelines and on many spectators and event workers. Medford's tennis practices this week, for example, are being split with juniors and seniors reporting for the first half and sophomores and freshmen coming in for the second half of the morning sessions. Cross country runners from Prentice and Rib Lake held separate practices the first three days.
"I think it is a step closer to being back to normal, but we'll never fully get there after this whole experience," senior cross country runner Ellee Grunwald said.
Normal or not, the biggest thing for student-athletes seems to be having the opportunity to compete. With many being multiple-sport athletes and having gone through the disappointment of losing spring, the chance to play is no longer something they are taking for granted.
"It's very important," senior swimmer Morgan Ball said. "I just wanted to know that I was going to have a senior season and get to have the meets with everyone and just get to make memories."
"Even though the bigger meets probably won't be on, it will be nice just to see other girls in our conference, even though we really can't get too close to them," Bergman said. "They're our friends too."
"It's fun to be doing stuff, socializing with people instead of just sitting at home watching time tick by," senior cross country runner Logan Searles said. Searles is a three-sport athlete who also participates in hockey. He lost his tennis season last spring. "It sucked because I thought I had a chance at some stuff. At least I'm better off than some of the seniors, losing their last year, their peak year. I'm just hoping that I don't lose all mine."
Some took it upon themselves during the long break to do what they could to be ready if they got the green light this week. The tennis players got together twice a week when schedules allowed during the summer. Medford's cross country members had their voluntary morning runs on the Pine Line Trail and others, like Kawa and Grunwald, put in miles on their own.
"Me and Alicia have been running since May," Grunwald said, noting they were motivated by the loss of spring. Kawa is a member of Medford's track program while Grunwald plays soccer in the spring.
"We haven't stopped since," Kawa said.
"So then we had to get more into shape for this," Grunwald said. "It would've been a huge letdown if we put in all that work and we didn't get to run."
The WIAA will determine later how fall sports will end. State tournaments aren't likely to be held, as participants and observers typically picture them, because social distancing figures to still be in play in late October and early November and several school districts have postponed fall to spring. And, of course, chances of coronavirus outbreaks will remain.
But generally speaking, the goals for most fall student-athletes won't change much from any other year.
"Winning isn't my top priority," Sommer said. "It's being with the team having fun. Especially senior year, you just want to play. Improve and have fun. Have fun with the team that we have a chance to play with."
"Right now our goal is to just perfect our swimming and have good technique," Bergman said. "We just want to have fun at the swim meets too," Ball added.
"They were saying that it's probably only going to be dual meets or triangulars, so you're only facing two or three teams," Searles said of the cross country season. "Hopefully if they're just smaller brackets like that, we have a chance at being somewhat successful with them."
"Varsity spots are still getting fought for, always will be," Grunwald said.
"Having a good season is basically (the goal)," Kawa said. "Just having a whole good season."
Not only are they glad to be back in sports, some even admitted getting back to class less than two weeks from now will be nice.
"At first (last spring) it was like, we can sit home and watch TV and do what we want," Clark said. "But then you kinda run out of stuff to watch on Netflix."