Posted on
How Long Have I Been Here??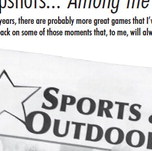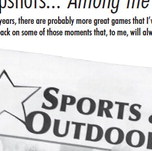 by Matt Frey, Sports Editor
Shutdown Snapshots...
Among the State's Elite
Having been at The Star News for 22 years, there are probably more great games that I've actually forgotten than I remember. During this COVID-19 crisis, I'll look back on some of those moments that, to me, will always stand out.
We all know things can change at a moment's notice in "the new normal," but with the start of the 2020 fall sports season finally upon us, the end of the Shutdown Snapshots series is on the horizon.
It only makes sense to close it this week and next by featuring the last two teams that were still competing when we were just getting familiar with the term "coronavirus" five and a half months ago.
The first weekend in March required two long days of work at the WIAA state gymnastics championships in Wisconsin Rapids. But those two days produced some of the finest performances Medford's gymnastics program has ever had.
Without a doubt, the 2019-20 season was the program's best. The Raiders easily earned a third Great Northern Conference Small Division championship in four years and won the program's first-ever WIAA Division 2 sectional championship Feb. 28 in Antigo.
Unlike their state appearance in 2019, the Raiders came into state in 2020 with all of their top gymnasts healthy –– well, as healthy as gymnasts can be in March –– and more confident they belonged.
The Friday portion of the state meet featured the team competition. The Raiders started on vault and, despite their confidence, had some of the jitters one would expect at the start of a state meet. Brooklyn Bilz earned a solid score of 8.5 to start the rotation. Makala Ulrich followed with one of the top moments of the year, coming through by sticking her tsuk vault on her second attempt. A year removed from a severe knee injury that took her out of the 2019 state meet, she completed just her second successful tsuk of the 2019 20 season, with the first one coming a week earlier at the sectional. She earned a solid 8.617 and gave her teammates a shot of adrenaline that carried through the day. "We were all really nervous before vault," junior Megan Wanke said. "Everyone was really nervous I think for Makala more than anything. When that happened, when she stuck that, we all just calmed down." Medford's team scores of 33.417 on vault and 32.3 on the uneven bars were just shy of season bests. The Raiders' 34.5 no-fall points on the balance beam was a season-best. By the time they finished on the floor exercise, they were flying high, earning 35.133 points, easily a season-best. "I feel like when we started we were super nervous right away, and then we just got more and more confidence, and I feel like by the time we went out on floor, we just had an amazing floor rotation," freshman Anna Wanke said.
When the scores were all added up, Medford had 134.901 points, breaking the school record for the third time in the season, earning fifth place in the team standings and announcing to anyone who follows gymnastics in Wisconsin that the Raiders had claimed their spot among the state's Division 2 elite. Favorites Mount Horeb (143.216) and Whitefish Bay (142.666) took home the gold and silver trophies.
Medford was right there with the next tier of teams that included annually strong programs from Elkhorn (135.601) and River Falls (135.416).
Among the season-best performances recorded on day one included Ulrich's 34.534 allaround points, the 8.217s earned by Bilz and Ulrich on bars, the 8.933 Ulrich got on beam, the 8.55 Anna Wanke got on beam and the 8.033 Avery Purdy earned on beam. Purdy didn't even know she was competing on beam until two days prior to the meet. Anna Wanke's 9.133 on floor was a personalbest and Ulrich earned a season-best 8.767 on floor. The momentum carried into individual competition Saturday, where the Raiders got a season-best 8.35 from Bilz on the bars and a superb 8.65 from Kate Malchow on the beam among other solid performances. The Raiders had at least three performers in every event, all of whom could be back in 2020-21.
"Fifth place, that's huge," head coach Steve Cain said in summing up the weekend. "First and second place are honored at state. We're not far away. Next year we have the potential to be even better. It's almost surreal."
Once Saturday's competition in Rapids was complete, The Star News had one winter team left to cover and, fortunately, the Rib Lake Redmen were set to compete in a boys basketball WIAA Division 5 regional final just an hour down the road in Wild Rose that night.
_____________________________
Game date: Friday & Saturday, Mar. 6-7, 2020 Who: Medford Co-op gymnastics team Where: Wisconsin Rapids Lincoln Fieldhouse What: WIAA Division 2 State Gymnastics Championships Result: Medford finishes fifth in team standings
____ _____ ______ _____ _____ ______ ____ ___ ______ _____ ____________________ ___________ ___________________ _________________________________________________ _______________________________ ____ ________ ______ ___________ ____________________ ________________ ______________________________________ _____ __________ _____ _______ ______ ___________________________________ ______________________________________ _______ __________________________________ ______________________ _______________ _________________ ____________________ _______________________________________ ___________________________________ __________________________________________________________ ________________________________________________________ "For me personally, once I stuck my tsuk that just ________________________________________________ __________________________________________________ _______________________________