Posted on
How Long Have I Been Here??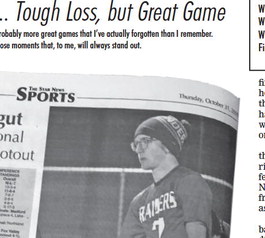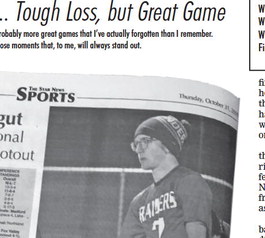 by Matt Frey, Sports Editor
Shutdown Snapshots...
Tough Loss, but Great Game
Having been at The Star News for 22 years, there are probably more great games that I've actually forgotten than I remember. During this COVID-19 crisis, I'll look back on some of those moments that, to me, will always stand out.
While out and about with the camera last Wednesday evening, one of my stops was Raider Field in Medford, where Chris Reardon was conducting a session of his first camp, which consisted of 10 two-hour sessions with 20-plus high school boys participants.
Times and health guidelines being what they are, the camp had a different look than originally hoped with small groups doing drill work and individual challenges rather than all-out scrimmages.
But, it was still good being out on the turf seeing kids working, sweating and laughing while kicking soccer balls around preparing for what they hope will be some kind of season starting with a first practice on Sept. 7.
The last official high school soccer game on the turf took place almost 10 long months ago. The drought could end Sept. 15 when Medford is scheduled to host Northland Pines. Keep your fingers and toes crossed.
While the result wasn't what Medford and its fans were hoping for, the last soccer game Raider Field hosted was one to remember and is certainly worthy of revisiting. A great game is a great game, no matter the outcome.
In Medford's first regional final appearance since 2015, the Raiders hosted a neverbefore- seen opponent in the program's 10-year history, Fox Valley Lutheran, in a matchup of three and two seeds in the teams' half of the Division 3 sectional bracket.
Medford wasted no time, drawing first blood on a Gage Neubauer goal just 2:19. It was the first of three one-goal leads the Raiders would hold. Neubauer struck again at 32:26 giving the Raiders a 2-1 lead that would hold until halftime. The Foxes' Gavin Rehberg answered with his second goal to tie it early in the second half.
At the 63:02 mark, Owen Wipf controlled the ball through midfield and dished to his right to Onyi Ekwueme, who centered a perfect ball to Neubauer for his second assist and Neubauer's third goal to put Medford back in front. Blake Maxwell countered off a Rehberg assist at 67:50.
Scoring chances from that point on went back and forth. As the intensity increased, so did the chippiness. After 90 minutes of regulation, the score remained stuck at 3-3, requiring two 10-minute overtime periods.
"It was an intense game," Medford's first-year head coach Nathan Bilodeau said. "That's how these games should be played. Everything's on the line and you're playing for the regional championship."
The Foxes struck first 3:39 into the first overtime. Medford goal keeper Brady Hupf made the initial save off a corner kick, but Hayden Block was the right man in the right spot, punching in the rebound. As time ticked off the clock in the second overtime, Medford head coach Nathan Bilodeau made a quick adjustment on the fly, moving junior Ty Baker up from the back line to the front. Within seconds it paid off with Baker punching in a loose ball off a Wipf throw-in, tying it at 4-4 with 3:26 left.
That's where it stayed through the rest of the overtime, forcing a five-man shootout to decide who advanced to the sectional semifinal against top-seeded Waupaca.
Fox Valley Lutheran's Collin Huza hit the upper left corner, while Neubauer's hot streak with goalie Nathan Hempel rejecting his shot to put the Foxes up 1-0. Hupf initially denied Dylan Cootway, but Hupf was ruled to have left the goal line early and Cootway scored on the re-kick. Wipf's shot went high, giving the Foxes a commanding 2-0 edge.
Hupf deflected Owen Selle's shot in the third round, but it still settled inside the post, meaning Medford had to make all three of its remaining shots and the Foxes had to miss their last two for the Raiders to keep hope alive. Senior Cooper Wild did his part, burying his shot to the right side of the net. But Fox Valley Lutheran's Addison Fett went the same direction to start round four and connected, clinching his team's victory in the shootout.
Fox Valley Lutheran went on to lose 2-0 at Waupaca in the sectional semifinals. Rice Lake won the sectional title game 3-0 over the Comets.
The regional final officially went into the books as a tie, Medford's fourth draw in the fall of 2019. The Raiders finished 11-6-4 overall in a breakthrough season that included a piece of Medford's first-ever Great Northern Conference championship, which it shared with Northland Pines. The Raiders were 7-1-2 in league play, resulting in an .800 winning percentage. Both ties came against Pines, who finished with the same winning percentage with its 6-0-4 GNC mark.
Hopefully, those two teams will get a full 2020 conference season underway in a month.
Page layout by Sarah Komarek.
Game date: Saturday, Oct. 26, 2019 Who: Fox Valley Lutheran vs. Medford Where: Raider Field, Medford What: WIAA Division 3 boys soccer regional final Final score: Fox Valley Lutheran 4, Medford 4 (2 OTs) Foxes win the shootout
" Fox Valley Lutheran, they're a great team," Medford head coach Nathan Bilodeau said after the team's solid 11- 6- 4 season ended. " But you know what? We're a great team too and it showed tonight. It was goal and then back and forth and back and forth. It was a roller coaster of emotion that's for sure."
It certainly can be argued there has never been a more thrilling game in Medford's 10-year history of boys varsity soccer than the one played at Raider Field Saturday night.
The only thing missing from the Raiders' perspective was a better result.
Medford's run toward the second WIAA Division 3 regional title in program history endedwhenthird-seeded Fox ValleyLutheran wonapenalty kick shootout in the fourth round, breaking what had been a 4-4 tie through 90 li re thrill h
F
Though he didn't score a goal, Bilodeau and assistant coach Chris Reardon called Saturday's performance Ekwueme's best of the season.
2020 2019 2018 2017 2016 2015 2014 2013 2012 2011 2010 2009 2008 2007 2006 2005 2004 2003 2002 2001 2000 1999 1998
_________________________________________________________________________ consolation to the Raiders, many of whom were reduced to tears when the minutes of regulation and 20 more minutes of overtime.
_______________________________________________________________ ________________ " He was at a different level," Reardon said. " Any ball that came to him would just stick. It was insane."
" It's going the long run us on the soccer
map.
added. " I think Medford. It
solid
a
build on
community."
put