Posted on
closed the first round with ….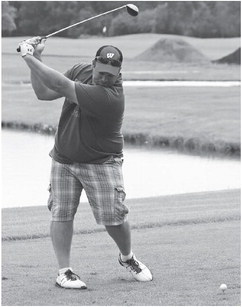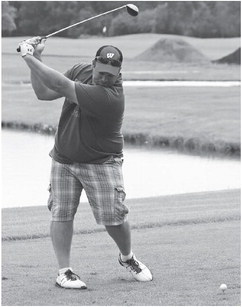 closed the first round with 35s, but only four of those teams survived the tie-breaking process and advanced to the championship flight. From there, Liske and Rau had solid rounds of 33 and 31 to easily secure the flight championship ahead of tournament veterans Ryan Waldhart and Troy Schroeder (105). Tony Kleifgen and Dave Pepper were third with their 106.
Trevor Dahl and Aaron Gilles shot a 105, highlighted by a closing round of 32, to win the second flight by three shots over Marshall Kleist and Chuck Schultz. Dan and Zach Boxx won the tiebreaker to claim third at 111 over Dwayne and Josh Boxx.
Mike Brandner and Jesse Clark carded a 114 to win the third flight by two shots over the teams of Brian Smola and Jeff Miller and Zak Rau and Sam Kleutsch.
Proceeds from the 2019 tournament were used to place a new flag pole at Black River Golf Course. The
34th annual tournament is scheduled for Saturday, Aug. 14, 2021.
33rd annual Larry Connor Memorial Scramble results Black River Golf Course,
27 holes, par 108
Championship Flight
1. Jordan Dahl/Dave Fuchs: 31, 32, 33 –– 96
2. Bill Connor/Jack Connor: 32, 34, 33 –– 99
3. Bob Connor/Chris Connor: 35, 35, 35 –– 105
4. Gary Graham/Ed Mohr: 32, 37, 37 –– 106
5. Bill Klinner/Jim Nayes: 35, 37, 35 –– 107
6. Jason Christianson/Jesse Kreiner: 35, 36, 36 –– 107
7. Rom Moscoso/Ben Gorichs: 35, 37, 36 –– 108 First Flight
1. Pete Liske/Tim Rau: 35, 33, 31 –– 99
2. Ryan Waldhart/Troy Schroeder: 36, 35, 34 –– 105 3. Dave Pepper/Tony Kleifgen: 35, 36, 35 –– 106
4. Bob Brandner/Dave Brandner: 36, 34, 37 –– 107
5. Matt Brey/Jeremy Brey: 36, 36, 36 –– 108
6. Perry Arndt/Mike Retterath: 35, 34, 39 –– 108
7. AJ Sayhouni/Dan Stong: 35, 40, 42 –– 117 Second Flight
1. Trevor Dahl/Aaron Gilles: 36, 37, 32 –– 105
2. Marshall Kleist/Chuck Schultz: 38, 34, 36 –– 108
3. Dan Boxx/Zach Boxx: 38, 38, 35 –– 111
4. Dwayne Boxx/Josh Boxx: 38, 38, 37 –– 111
5. Kurt Werner/Cubby Jentzsch: 38, 38, 36 –– 112
6. Neal Waldhart/Jim Elliott: 38, 36, 39 –– 113
7. Jason Viergutz/Shane Viergutz: 38, 36, 41 –– 115 Third Flight
1. Mike Brandner/Jesse Clark: 41, 36, 37 –– 114
2. Brian Smola/Jeff Miller: 39, 40, 37 –– 116
3. Zak Rau/Sam Kleutsch: 39, 41, 36 –– 116
4. Gary Albrecht/Zak Albrecht: 41, 37, 40 –– 118
5. Kurt Peterson/Nick Baumann: 45, 41, 41 –– 127
6. Ben Jahnke/Chris Hein: 46, 44, 40 –– 130