Posted on
Late Loyal summer school gets kids reacquainted with learning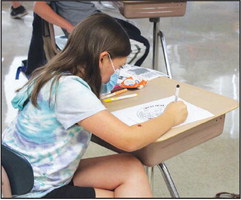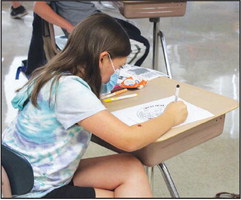 From the start of Loyal's s summer school session, elementary principal Nancy Popp has hoped to give returning students and staff a sense of normalcy that has been lost during the past several months. Now two weeks into their program, she is confi dent that when the school year officially begins, the district will be prepared, and the learning environment will be as close as it can get to what it was at the start of the last school year.
Elementary students at the Loyal School District will be finishing up their threeweek summer school program on Aug. 14. For many schools — which either chose to hold a two-week summer school session or none at all — three weeks may seem like a lot, but for Popp, it's just another step the district is taking for its students to feel like everything is normal.
"We had decided to hold it for three weeks, which is what our normal summer school was," she said. "It is going really well."
Numbers have also been as normal as they can be, Popp said. Typically, she said the school has more than 100 students in its elementary grades attend the summer school classes. Though there have been some restrictions, the numbers themselves haven't changed much.
"We have about 100 students from the elementary grades, incoming kindergarteners through sixth grade," she said. "It's the same. The numbers are down a little bit, but we did that on purpose. We wanted to keep class sizes smaller and practice social distancing."
Social distancing has been an important aspect to the students coming back to class. Before holding summer school, Popp said the staff worked hard to arrange classrooms in ways to meet health guidelines, and also worked out ways to keep individual class numbers low while still having similar numbers from years prior.
"We went through and started with one desk, we took out the extra tables and found a way to spread the desks apart," she said. "The janitors made sure to see that they're all six feet apart. We also limited the number of students, so there are 12 to 13 students per class. They all can get up and move around, but many of them are good about keeping their masks on. We haven't had to use the cafeteria or gym (for activities) but the students have been learning to practice putting space between each other."
Besides working on the physical requirement on getting the school back up and running, Popp said offering summer school also gave the administration the opportunity to talk to the teachers about concerns they had about opening back up. Without the teachers on board and without good dialogue, she said it would be impossible to be where they are today.
"We've had a number of meetings prior to getting this started," she said. "We talked with the summer school teachers, addressed concerns. This (COVID-19) is in the news, it's a concern for everyone. We had to make sure teachers were comfortable and bring up their fears. The teachers have been very good and very understanding." While there has been some additional instruction of core lessons in some of the classes at summer school, such as kindergarten readiness, Popp said yet another way the school has been making things normal has been to keep summer school lessons pretty much the same as they have always been: a fun way to learn. "Teachers have been good making the classes they teach more academic by adding enrichment lessons, they get a little more curriculum with math and reading," she said. "Kids are building Lego cars and racing them, some science experiments, classes in baking, learning things about measurement and that. Kindergarten readiness — that's super important because the kids missed out of the last few months of school — making slime, it's a wide variety. That's super important as we're coming back, to find out how much of a normal we can maintain" With summer school acting as a guide, Popp said she now knows a sense of normalcy is possible with schooling this fall. It may not look quite like what it was, but it will be good just to bring everyone back.
"Right now I am confident we can do it," she said. "Summer school has helped us to make sure that it can happen. I'm just looking forward to the kids coming back."
STAFF PHOTO
CHEYENNE THOMAS/STAFF PHOTOS