Posted on
Whittlesey routs River Bandits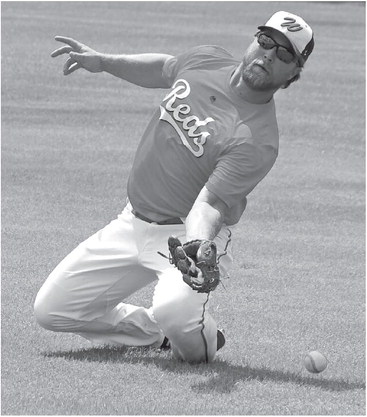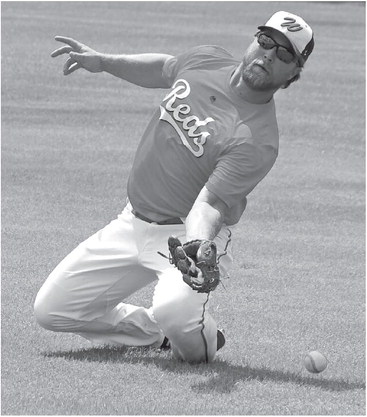 Mildbrand. Jason Kurth singled to reload the bases and Victor Gonzalez hit a sacrifice fly to rightfield.
The Reds responded with their best offensive inning against Peters. Brandon Loertscher led off with a double and McMurry reached on an infield single. Cody Loertscher blooped a double down the rightfield line to score his brother. Taylor Reinhardt's sacrifice fly scored McMurry and pulled the Reds within 3-2.
But Marshfield loaded the bases with no outs again in the bottom half. Thicke managed to get out of it by only allowing an unearned run on a misplayed infield fly.
A four-run fourth was damaging. Caleb Krommenakker and Wirtz led off with singles, ending Thicke's day. Brandl greeted reliever Cade Alexander with an RBI single and a throwing error brought in Wirtz to make it 6-2. Gonzalez later singled in a run and a two-out error extended the inning, allowing Isaiah Baierl to single in a run to give the Chaparrals an 8-2 lead.
Wirtz added an RBI double in Marshfi eld's two-run fifth. Mildbrand walked and scored on Jeff Kraschnewski's double to start the sixth for Whittlesey. Baierl singled in the game's final run in the eighth.
Baierl had a big day out of the ninth spot in Marshfield's batting order. He was three for three with a walk and two runs batted in. He was also hit by a pitch. Caleb Krommenakker, Wirtz, Brandl and Kurth had two hits apiece as the top six hitters in Marshfield's order went a combined 10 for 26.
Thicke allowed six hits and six runs, five of which were earned while walking three and hitting two. Alexander covered the final five innings. He allowed seven hits and five runs, two of which were earned, while striking out one and walking one.
McMurry had two infield hits for the Reds. Nick Meyer, Kraschnewski, Brandon Loertscher and Cody Loertscher had one hit apiece.
Reds 11, Pittsville 1
After a quiet first three innings against Pittsville's soft-tossing starter Joey Becker, the Reds got some runners on and took advantage of Becker's temporary loss of control in a six-run fourthinning rally that paved the way for their 11-1 win Saturday in the first round of the Dairyland League tournament.
Breaking a scoreless tie in the fourth, the Reds had three runs in before finally getting a ball out of the infield. Jeff Kraschnewski's sacrifice fly and a two-run single down the leftfield line by Brandon Loertscher put the finishing touch on the six-run frame that basically ended the suspense and assured the Reds of playing again Sunday at Marshfield.
It was Whittlesey's second lopsided win over Pittsville in two weeks. The Reds beat the River Bandits 12-3 on July 19.
Through the first three and a half innings, Pittsville left five runners on base and Whittlesey had stranded four. Things started to turn when John Mc-Murry led off the Whittlesey fourth with a bunt single. Cody Loertscher was hit by a pitch and Taylor Reinhardt sacrificed the runners into scoring position.
Becker hit Ben Meyer with a pitch to load the bases, then walked Jon Laher and Nick Meyer to force in the game's first two runs. Thomas Mildbrand was the third Red hit by a pitch in the inning to make it 3-0 before Kraschnewski and Brandon Loertscher made solid contact to bring in the last three runs of the inning.
From there, Whittlesey tacked on runs with smaller rallies to put away the sixth-seeded River Bandits.
In the fifth, Reinhardt doubled and scored on Ben Meyer's sharply-hit grounder up the middle that got through Pittsville shortstop Ben Buettner. Laher and Nick Meyer hit back-to-back singles to drive in Ben Meyer and make it 8-0. McMurry and Reinhardt singled in the sixth to set up Ben Meyer's RBI double to left-center that made it 9-0.
Nathan Dupee doubled and scored on Becker's two-out single in the seventh to get Pittsville on the board. But Whittlesey ended things via the 10-run rule in the bottom of the eighth. Cade Alexander drew a leadoff walk. Cody Loertscher and Reinhardt singled with Reinhardt's hit knocking in Alexander. A throwing error on Ben Meyer's fielder's choice brought in Loertscher with the clinching run.
Brandon Loertscher threw five shutout innings to pick up the victory for Whittlesey. He struck out four and walked one while allowing four hits. Nick Retterath finished up. In three innings, the right-hander allowed a run on five hits. He struck out seven, including three straight in the eighth, walked one and hit two.
Reinhardt went three for three at the plate for the Reds and added a walk and a sacrifice. Nick Meyer and McMurry added two hits apiece.
Becker threw all 7.1 innings for the River Bandits and was touched up for 12 hits and 11 runs, nine of which were earned. He struck out four but walked five and hit three, with most of that trouble coming in his rough fourth inning. Becker went two for four at the plate, while Ryan Parkinson was two for three with a walk.
Pittsville will visit fifth-seeded Minocqua Saturday at 1:30 p.m. in the league's fifth-place game.