Posted on
Team gets what it could out of unusual summer of 2020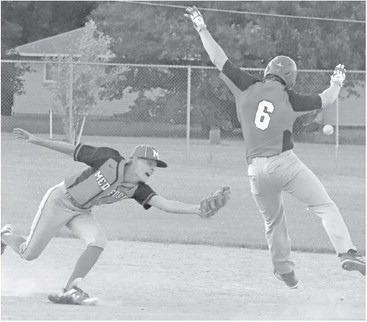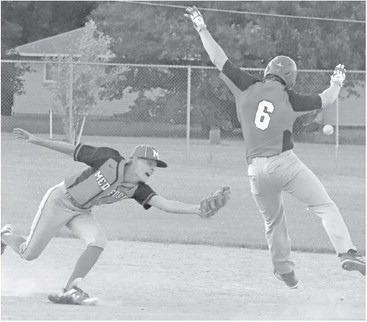 MEDFORD SUMMER BASEBALL
It wasn't the baseball spring and summer they wanted, but members of the Medford Raiders' squad finished a successful makeshift season Monday with a doubleheader split against Marathon at the city diamond.
In the game-one main event, Medford broke a 2-2 tie with a run in the bottom of the sixth, but Marathon responded with two runs in the top of the seventh to take a well-timed only lead of the game in its 4-3 win.
Medford took out its frustration in the five-inning second game against Marathon's younger players, scoring 11 firstinning runs en route to a 16-2 blowout victory.
Without high school and Legion seasons, both canceled amid the coronavirus pandemic, the team picked up nine wins in non-school affiliated summer play over the past six weeks.
"It was very unfortunate that these boys were not able to play this spring," coach Justin Hraby said. "I really think we would have competed for a conference, regional and sectional championship. Doing something in the summer was the least we could do to get these guys together to play some baseball.
"I saw a lot of good things from some of our younger guys," he added. "Some guys proved to me that they will be ready to play at the varsity level next year. Seth Mudgett, Aiden Gardner and Blaine Seidl really took a huge step forward with the bat. All three also proved to be very crucial parts of our defense. Behind the plate for Aiden, in a utility role for Seth and in centerfield for Blaine. Spike Alexander picked up where he left off his sophomore season. Guys like Logan Baumgartner, Nate Retterath, Joe Gierl and Brigham Kelley made some huge strides forward this summer too and will play some major roles on our 2021 team. Nate Doriot and Emett Grunwald also proved that their athleticism is something that we will be able to make good use of next year."
Monday's game-one loss was a tough one to take. Bryant Konieczny added to his list of solid summer outings, pitching into the seventh, but Medford wasn't quite able to slam the door on the visitors.
The home team scored in each of the first two innings to grab a 2-0 lead. Mudgett singled to lead off the bottom of the first and John McMurry reached on an error. Alexander struck out and Mudgett was caught trying to steal third, but Gardner came through with a double to deep left-center that scored McMurry.
Retterath's groundout scored Baumgartner in the second.
Marathon pitcher Jaden Koeller shut Medford down over the next four innings, and the guests tied things up in the fourth when a two-out pop-up in shallow left couldn't be caught and Marathon pulled off a double steal.
Medford broke the tie on Kelley's clutch, two-out RBI single in the sixth off Marathon reliever Hunter Seubert. But the inning ended with two runners left on base.
Marathon's number-nine hitter Kolby Koeller walked to start the top of the seventh. Alexander relieved Koniecnzy at that point. The first batter he faced, Mitchell Kurtz, got a good bunt down. Not only did he move the runner, but an errant throw put runners on the corners with no outs. Jaden Koeller hit a bouncer up the middle that glanced off Alexander's glove, then it deflected off Kurtz and into centerfield, tying the game. Because the ball hit Alexander first, Kurtz was not out when he was hit by the ball. Brock Warren followed with the go-ahead sacrifi ce fly.
Retterath hit a leadoff single in the bottom of the seventh, but that was all Medford would muster.
Konieczny scattered six hits in six innings, struck out five, walked two and hit one. Logan Baumgartner had two hits of Medford's seven hits.
In between games, the three seniors who chose to play during the summer season –– Tristan Haenel, Konieczny, and John McMurry –– were honored.
"I was happy that Bryant, John and Tristan had that last chance to play and put on the Raider uniform one more time," Hraby said. "They were all very appreciative of that opportunity and made the most of it. It was hard for me to see all of our players not have a season, but especially those three and two others who didn't get the spring season (Austin Waldhart and Austin Schultz). Those guys are quality people and good ball players and will be missed going into the 2021 season. With that said, if they continue to display those high character qualities that I saw for four years, they will be successful in whatever it is they do."
Haenel celebrated Senior Night by pitching all five innings in the game-two rout. He struck out five batters and only allowed four hits in the winning effort. He walked five. Marathon's runs were scored in the fifth long after the issue had been decided.
That basically happened in the bottom of the first. Konieczny led off by reaching on an error, stealing second and scoring on Haenel's single. McMurry crushed a long single to deep left-center and Gierl banged a two-run double to deep center. Grunwald walked to set up Doriot's RBI single. Seidl, who hit two homers over the fence in Marathon back on July 6, lined a laser over the centerfielder's head for a three-run inside-the-park homer to make it 7-0.
McMurry later added a two-run double and two more runs scored when Gierl's two-out fly ball was dropped, making it 11-0.
Baumgartner hit a second-inning sacrifi ce fly. Medford finished the season with a four-run fourth that included five singles, a walk and a hit batter.