Posted on
Medford flies by Wood Ducks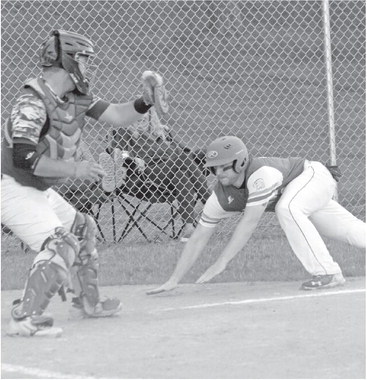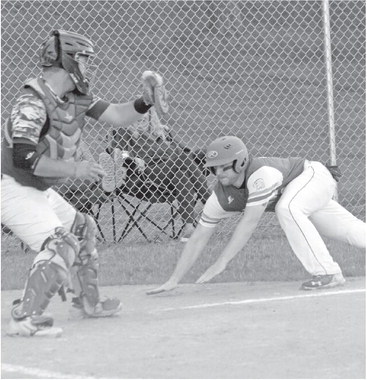 ground balls to the left side of Everest's infied.
Everest will play at Marshfield Sunday at 1 p.m. for the Dairyland League tournament championship. Medford was to play at Whittlesey in the third-place game, but the teams mutually agreed to call the game off.
Playing as the home team at Medford's Jaycee Field city diamond, Everest wasted no time taking control of Sunday's game in the bottom of the first inning. Nielsen doubled over the head of rightfielder Kole Karaba and Heinrich Walder doubled on the game's first two pitches. Ryan Hubacek lined a single to left-center to score Nielsen. A passed ball put the runners at second and third. After Josh Nielsen lined out to shortstop Mikel Delzer, Brock Warren singled to center to score both runners and make it 3-0.
Matt Witter singled, Connor Langbehn walked and Logan Langbehn dropped in a two-run single to give the Merchants a 5-0 lead.
Walder doubled in Sam Nielsen in the fourth. Sam Nielsen singled in a run and Walder drove in another with a sacrifice fly in the fifth to extend the lead to 8-0. Josh Nielsen singled in Everest's ninth run of the game in the seventh.
Number-nine hitter Seth Mudgett had Medford's only hit, an infield single in the third inning, until Brent Mueller singled with two down in the top of the seventh. In the eighth, Brett Paul drew a leadoff walk and Austin Davies singled up the middle. Davies was eliminated on Mudgett's fielder's choice. Mudgett went to second on a wild pitch. Aiden Gardner sharply singled to rightfield to score Paul and break up Breske's shutout bid. Mudgett later scored on a wild pitch.
Brady Sendlebeich doubled and scored on Logan Langbehn's bloop single to cap the scoring in the bottom of the eighth. Tom Fish closed things out by pitching a three-up, three-down ninth.
Walder, Hubacek and Logan Langbehn had two hits apiece in Everest's 14hit attack. Langbehn also drove in three runs.
Trenton Woebbeking took the loss for the Moondogs. In five innings, he allowed 10 hits and eight runs, six of which were earned. He walked four and struck out two.
After throwing nine innings Friday, Brett Paul covered the last three frames. He allowed four hits and two earned runs while walking two and striking out one.
Medford 7, Minocqua 1
Brett Paul pitched one of his finest games as a Moondog and Medford rode a five-run second-inning rally and a tworun third to a 7-1 win over fifth-seeded Minocqua in Friday's tournament opener at the city diamond.
Paul went the full nine innings, allowing no earned runs, just six hits, two walks and two hit batters while striking out 14. Minocqua posed just one serious threat, loading the bases with no outs in the top of the eighth. But Paul got out of it by sandwiching two ground balls around a strikeout, surrendering Minocqua's lone run on the first grounder by Dakota See.
Medford had just five hits, but it wound up being more than enough for the Moondogs to earn their second win of the season over the Wood Ducks.
Minocqua stranded a runner in scoring position in each of the first two innings. Medford, on the other hand, got runners on in the second and got them in, with some help from the Wood Ducks.
Karaba drew a leadoff walk and Mueller pulled a single to right to move Karaba to third to start the rally against Minocqua starter Trevor Roszczewski. With one out, Ryan Paul's groundout scored Karaba. Gardner then came through with the big hit, barely hitting the chalk just behind the third-base bag with a hard-hit bouncer for an RBI double. An error on a ball hit up the middle by Davies scored Gardner to make it 3-0.
Delzer walked and Woebbeking singled to load the bases for BJ Wiegel, who lofted a fly ball that was dropped in centerfi eld to bring in two more runs.
In the third, Brett Paul, Ryan Paul and Gardner drew consecutive one-out walks to load the bases. Davies singled off lefthanded reliever Alex Fortier to score one, but Ryan Paul was cut down at home plate for the second out of the inning. An error on a chopper hit by Delzer scored Gardner to make it 7-0.
After that, neither offense did much. Minocqua's Trevor Koritz was cut down trying to stretch a leadoff double into a triple in the fifth. Wiegel tripled for Medford in the sixth but was stranded.
Fortier and Peter Aerts were solid in relief for Minocqua. Fortier went 2.2 innings, striking out three and walking three while allowing a hit and one unearned run. Aerts covered the last three innings, striking out four, walking one and allowing one hit. Roszczewski lasted just 2.1 innings, allowing three hits and six runs, three of which were earned. He struck out two and walked four.
Leadoff hitter Nate Abrams went two for five with a third-inning triple for Minocqua and was the only batter in the game to record multiple hits.
Minocqua will host Pittsville Saturday at 1:30 p.m. in the tournament's fifthplace game.