Posted on
How Long Have I Been Here??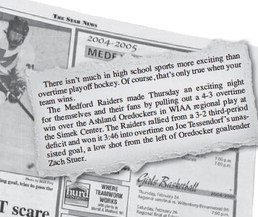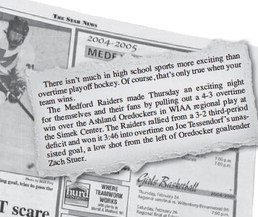 by Matt Frey, Sports Editor
Shutdown Snapshots...
Hockey's High Point
Having been at The Star News for 22 years, there are probably more great games that I've actually forgotten than I remember. During this COVID-19 crisis, I'll look back on some of those moments that, to me, will always stand out.
Game date: Thursday, February 17, 2005 Who: Ashalnd vs. Medford Where: Simek Recreation Center, Medford What: WIAA Boys Hockey Regional Final Final score: Medford 4, Ashland 3 (OT)
It can be argued the most sudden of moments in high school sports is an overtime goal in post-season hockey. With the quick flick of a wrist or a sudden deflection, one team is in a state of euphoria, while the other wonders what just happened before realizing its season and its seniors' careers are over.
In 30 years of hosting boys hockey, Medford's Simek Recreation Center has been host to two such finishes, both in favor of the good guys. The first was in 2002 when Medford beat Merrill 6-5 on a Blake Austin goal just 11 seconds into overtime in a regional semifinal between nine and eight seeds. While exciting, the win only prolonged the inevitable for two days as the Raiders were pounded 12-0 by topseeded Wausau West in the regional final.
The second occurred three years later and served as the high point in the most prolonged run of success Medford's hockey program has ever experienced.
Medford began its 2005 tournament play by hosting a five/four regional final for the second straight year. The 2004 contest was a bitter pill to swallow as the Raiders let their best-ever chance to beat Wausau West get away in a 6-4 defeat. West lost in the next round to eventual sectional champion Northland Pines, who Medford had recently beaten 6-5 in overtime.
A sectional switch brought a different foe to Medford for the 2005 regional final as Lumberjack Conference rival Ashland came to town. The Raiders (8-6) finished just ahead of the Oredockers (7-6-1) to finish fourth in the league standings. Ashland came in 12-7-1 overall, while the Raiders were 12-8. Medford swept the season series, winning 6-2 at Ashland and 8-1 at home 16 days earlier.
Third-year head coach Jason Rappe spent the week leading up to the game warning his guys to not overlook the Oredockers.
"The previous two times we played Ashland, they for some reason just didn't play very well," he said. "We knew this time would be different."
With a sectional berth on the line, the first half of the game actually wasn't much different. Freshman goaltender Landon Peterson was pitching a shutout. The Raider skaters got a first-period power-play goal from their Wisconsin Mr. Hockey candidate Nick Clark, who rebounded a shot from Jesse Nehls, and a second-period goal on a pretty play where the puck crisply went from Thomas Mildbrand to Jon Perrin to Joe Tessendorf to take a 2-0 lead.
However, in hockey sometimes all it takes is one break to change momentum. Ashland finally got its break 12:54 into the second period when Tyler Cameron scored on a breakaway wrist shot from the face-off circle to Peterson's right. Ashland followed with more offensive pressure and got a rebound goal from Cody Hanson just 1:32 later to suddenly tie the game.
The now-confident Oredockers took the lead 2:12 into the third period on a Dan Putnam goal. But they hurt themselves moments later with a penalty, which Medford took advantage of with a Nehls goal at 5:31, assisted by Tessendorf and Perrin.
This was the last season of 15-minute periods in WIAA hockey and the last 9:29 of regulation featured scoring chances for both
overtime playoff hockey. Ofcourse, that's only true when your team The go as far as we can.
have to keep
teams, but Peterson and Ashland goalie Zach Stuer denied them all.
In overtime, Stuer stopped four more shots and Peterson had two saves before Tessendorf controlled the puck behind Ashland's net, thought about passing but instead skated out and zipped a low shot from Stuer's left side that ended it at the 3:46 mark.
"It feels great," Tessendorf said after the game. "I got the puck behind the net. I saw Jon (Perrin) but he was signaling no, so I stayed with the puck. For an instant, I saw an opening where I thought I could get it through, shot and then I saw it hit the back of the net."
With the win, Medford tied the single-season program record with 13 wins, a mark it hit the previous year and was tied again this past winter, and advanced to its first and only sectional semifinal appearance. Five days later, the Raiders traveled to Hobbs Ice Arena in Eau Claire and gave the top-seeded Eau Claire North Huskies a good battle, taking leads of 1-0 and 2-1. They were down just 3-2 to start the
There isn't much inhigh school sports Thursday an exciting night wins.
Medford Raiders made for themselves and their fans by pulling out a 4- 3 overtime WIAA regional play at Oredockers in a 3- 2 thirdperiod Ashland win over the Raiders rallied from the Simek Center. The ______________________________________________________ _______ sisted goal, a low shot from the left of Oredocker goaltender Zach Stuer.
previo d und ous games we mi h poi "In the previous games, we might have cracked a little under pressure, but the guys tonight were poised and kept their composure," Rappe said.
" They handled it well."
third but ran out of gas and lost 7-3 to finish 13-9.
Medford's run of winning records in Lumberjack Conference play ended the next year at three with a 5-7-2 mark, but the Raiders still finished over .500 overall at 11-9-2. That marked four straight winning seasons in Rappe's first four years as head coach. In that time, the Raiders were 48-36-3 overall and 29-24-3 in the Lumberjack, including the rare 2004 win over Northland Pines, the last one a Medford team has gotten against the Eagles.
Two years after the 2005 sectional run, Medford and Ashland faced off in the playoffs again, this time in a nine/eight regional semifinal in Ashland. In another thriller, Alex Niznik tied it in the final seconds of regulation and Kyle Coyer got the game-winning goal in a 3-2 double-overtime victory that stands as the program's last WIAA post-season victory.
Page layout by Sarah Komarek.
"This was huge forus," Tessendorf said. "Wewant to
working our butts off."
We have the team to do it.
We just
more exciting than