Posted on
Spencer FFA lands another member on state officer team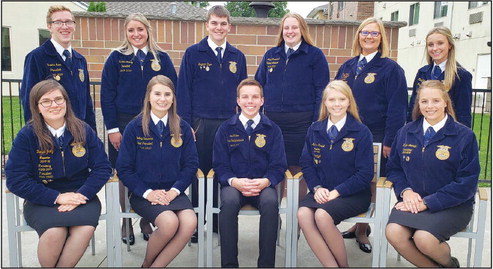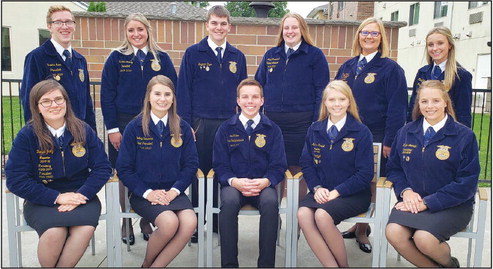 Ever since she was in middle school, Cortney Zimmerman has had powerful examples of what it means to be a leader, especially in the FFA. In the past 10 years, she has watched and learned from the likes of Aaron Zimmerman, Leeah Luepke, Ashley Zimmerman, and most recently, Daniel Clark. All have been Wisconsin State FFA officers during that time, and now Cortney is continuing their legacy.
At the conclusion of the Online State FFA Convention held from July 6-10, Cortney was one of 11 new officers elected to the State FFA Officer Team. She will be replacing fellow Spencer native Daniel Clark as representative of the Section 7 district for the next year, and will be working out ways to maintain communication with fellow FFA members as everyone deals with uncertainty around the COVID-19 pandemic.
Cortney has a long history of participation with the Spencer FFA. A member since middle school, she said she has watched the Spencer Chapter have some notable achievements in recent years and has seen the chapter produce several state officers. Those officers, she said, were an example to her, showing her what good can come from being an FFA member and inspired her to set her bar high.
"Our chapter has had so many successes," she said. "I saw Daniel's love for agriculture and the enthusiasm he brought to the members (as a state officer). It made me want to do it, even though the bar is set high."
Fulfilling all the requirements, it was just a matter of time before Cortney would see whether or not she would be chosen as an officer. Because of the pandemic, Cortney said state officer hopefuls weren't notified about the judge's decision at the State FFA Convention and brought up on stage like officers in the past. Instead, she was notified in a way that was much more meaningful.
"Well when I first learned (she was chosen as a state officer) was when our past state officer (Daniel Clark) came to our doorstep with a sign saying I was elected," she said. "That was the best experience. It's been really cool to have two officers in a row."
The unusual notification of her achievement has been just one of the many procedures that have changed in the FFA in response to the pandemic. Since March, when students were taken out of school classrooms and into their homes, Cortney said there have been a lot of events in the FFA that have either been cancelled entirely or moved to an online format, such as the State FFA Convention.
"I feel like we were pushed out of school and put onto a computer," she said. "I feel like I'm back in Marshfield waiting for a contest to happen, but it won't because it was cancelled."
Despite the challenges that came with the end of the school year, Cortney said there have also been blessings in disguise that have come along as well. During the Online State FFA Convention, she said the interview process for state officer candidates changed to have only one panel of judges interview the candidates, giving her a chance to really express herself to the judges in ways previous candidates couldn't do. "The interview process was not at all normal," she said. "We had four interviews … it was the same panel of judges for the whole thing. It allowed me to share my story and have connecting points that I wouldn't have with the judges normally, it allowed for a deeper conversation. The judges who helped us, they were accomplished and very qualified, we know they did what was best for the members and organization."
After Cortney was chosen as a state officer, the next step of the process was to meet the other members of the offi cer team and choose which positions they would fill. Until they were able to meet face-to-face for training, she said it was a difficult challenge to get to know everyone, but once they met, they connected. "Training has been a lot of fun, we're not meeting in exactly the same way, but it's still pretty cool," she said. "We really didn't know each other until we got the chance to walk into the same room. We have been in training for two weeks. It has really given us a chance to bond as a team."
During her tenure as a state officer, Cortney will be filling the role of vice president on the team. But, from her experiences in the FFA, she said such titles aren't important, it's what you do as a leader that really counts.
"The position and title don't matter, it's more about the opportunities that are given," she said. "A person once said leadership is not a position, it's action. It's something I have held with me since middle school. Just because we didn't have a picture perfect year, doesn't mean we can't have a good year."
As an officer team, this year's group of young FFA leaders will have the unique challenge of communicating with other FFA members and chapters throughout the state. In the past, this was done through state officer visits to schools and participation in FFA events. Now, with a lot of those options off the table, Cortney said the FFA has to learn to adapt to change and keep the organization strong.
"It's kind of learn along the way in a new land of normal," she said. "Ask ourselves, How we can make it feel normal for chapters? Whatever we can do to connect with members will be good. Obviously this is not normal, but we are definitely making the best of the situation."
CONTRIBUTED PHOTO
Cortney Zimmerman