Posted on
Halopka takes care of business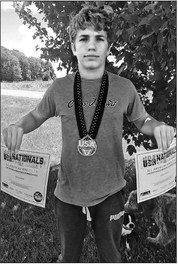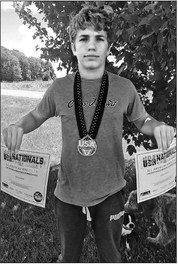 Local wrestler becomes 4-time All-American
Tanner Halopka isn't quite sure how many times he's made his way to the podium after a tournament. Nor can he tell you how many times he's finished first, and he truly has no idea how many times he's wrestled his way to Junior All-American status.
"I've gotten that status a bunch of times, quite a bit, so I couldn't really say how many times in a row for sure," Halopka says as he thinks about it, but he still can't come up with an answer.
His mother, Colleen, swears Tanner has won All-American honors four straight times, his most recent coming on July 26 at the USA Nationals in Bettendorf, Iowa. Halopka, an incoming freshman at Colby High this year, wrestled for Team LAW and took third in the team duals and placed second in the 144 pound division after going 3-1.
What Tanner can say with certainty is that his latest All-American title might be his most memorable.
"This one feels real great because it's just so good to be back since it was one of the first tournaments back this year."
It's been a long time since Tanner was able to compete in a wrestling match. Going into nationals he had just one tournament under his belt - the Cheesehead Apocalypse in Wisconsin Dells in June.
Due to COVID-19, its been months since Halopka was on the mats on a consistent basis. That time away was hard on Tanner, who along with older brother River, who tend to wrestle year round.
"It was tough to be away for so long, but I guess everyone else had to deal with the same thing," Tanner says in his matter of fact way of speaking.
When he did return to action earlier this summer, the meets had a different feel and look to them. There were hardly any people in the stands, with COVID-19 limiting attendance, and it was more quiet than a usual meet, especially one the size of a national competition.
"It was a little bit different [from other tournaments] but not really because it's still just wrestling," Halopka says. "It looked different though because a lot of people were wearing masks."
The accolades pile up
Tanner's trip to Iowa last month has added meaning and importance, and not just because it's a great launching pad for his future varsity career.
When it comes to that, Tanner doesn't beat around the bush. After seeing his brother River compete and place fourth at the WIAA D-2 state meet in 2019, he wants to do the same thing.
"I expect to place pretty high at state," Halopka says with confidence.
There's no trace of ego when he talks about his wrestling career. Why should there be when he's the reigning Wisconsin Wrestling Federation (WWF) Kids Folkstyle and Greco-Roman state champion?
Then there's the small matter of picking up the 2018 WWF Freestyle Kids championship, the 2016 Greco-Roman and Freestyle championships and the 2015 Folkstyle championships. You get the idea - the kid's good.
So is his competition, and his trips all across the country have prepared him for big things at the next level.
"Well, winning at nationals and all these other tournaments, it just makes me think I can compete with anyone that I wrestle."
Halopka isn't afraid to battle anyone, anywhere. More often than not, he's come out on top. But if there is anything that could stop him, it might be injury. But he's faced and defeated that too.
Road to recovery
There's a pattern one often sees in sports these days, in this era of highlight clips and YouTube and Instagram pages, and that's to put aside everything else and focus on one sport.
Tanner isn't interested in specializing on wrestling. A talented football player, the contact sport appeals to Halopka, but playing football came with a price.
In his first game of the 2019 middle school season, Halopka took a handoff and sprinted down the sideline before being pushed out of bounds.
"When it happened my adrenaline was rushing so high I thought I was going to be fine," Halopka says about the injury. "I stood up and tried walking it off and I knew something was wrong."
Tanner was later diagnosed with a dreaded ACL tear. Thankfully a family friend was able to refer the Halopka's to a doctor, and the surgery to repair the ACL was successful - though it meant months of therapy.
"I was in therapy for three months after," Tanner recalls. "I was going there three days a week and then two days a week through the last month. It was very painful, all that therapy."
Halopka approached the injury like a wrestling match - you just roll with the bumps and bruises. He worked hard on his therapy and his hard work was rewarded when he took first in his weight class in the Cloverbelt Middle School Championships in early February.
Looking to the future
Halopka is looking forward to the 2020-21 season. He's not sure if there will be a state tournament, with the coronavirus continuing to throw a wrench in his plans.
But Tanner isn't overly concerned. He knows there will be other tournaments that will take the place of the WIAA if the season is cancelled.
So he continues to train, continues to attend practices twice a night in Eau Claire under the instruction of Jordan Crass of Crass Trained Weight.
And when his moment does come, you can be sure Tanner will be ready.
"I'm just really looking forward to it," Tanner says about this year. "I want to get to state and I want to get the title."
Lofty goals to be sure, but as the saying goes - dream big or go home.