Posted on
sible. Following guidelines but then ….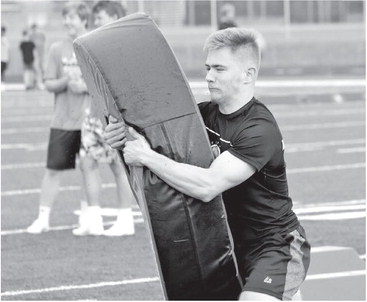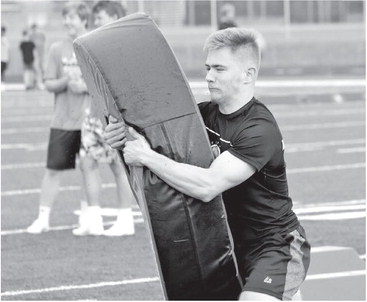 sible. Following guidelines but then also trying to put some common sense into it. Keep it as normal as we possibly can. If that means kids have to wear face coverings and they can only work in pods of 10 at the time, then that's what that means. At least we can still play."
Guden and his counterparts from the Great Northern Conference met Monday and formed a fairly detailed set of recommendations regarding fall sports that they're passing on to their administrators, who are scheduled to meet this coming Monday.
General recommendations are for face coverings to be required for all spectators, coaches, workers and participants who aren't in the game or meet at the time and very limited use of locker rooms. If there is some kind of interruption of the season and it has a direct impact on the conference championship, a team championship will not be awarded in that sport.
"We did leave it up for discussion based on specific details and the specific sports, but that's just a general rule," Guden said. "We didn't want to penalize a team. That's the main idea behind this. We didn't want to penalize a team because they couldn't somehow either play or their opponent can't play."
As for specific sports, a full double round-robin schedule is still possible for boys soccer, while single round-robins are proposed for girls swim, girls tennis and volleyball. In volleyball, the top four teams after the round-robin would be grouped for more matches as would the bottom three teams. For those programs that have four levels of teams, no more than three will play on a given night.
It's proposed that six weeks of the original seven-game GNC football schedule be played. What would have been week five of the season (Sept. 18) is off the schedule for now because it, coincidentally, featured the four southernmost schools playing the four northernmost schools. Medford was to be at Rhinelander.
"We just thought we could do our part to eliminate as much travel because we are so spread out," Guden said.
The only all-conference meet that stays as planned is the cross country championship, set for Oct. 17 in Tomahawk. The meet will likely use staggered starts, per WIAA guidelines, and face covering requirements are expected for spectators and even runners at race starts.
The proposals also include limits on fans. It's recommended that no fans be allowed for swim meets due to the small pool deck sizes but each school will set up live streams of those meets. The recommendation for football is four tickets per participant and for volleyball it's 100 per school. Soccer and tennis have no limits.
Guden said Medford's annual fall sports parent meeting has been pushed back from Aug. 3 to Aug. 11 and it will be held virtually at 6:30 p.m.
Phelps said Cloverbelt Conference athletic directors were in agreement during a Tuesday morning Zoom meeting that fans would not be part of athletic events if seasons started now.
"That's going to be one of the big questions," Phelps said. "First and foremost I think everyone needs to remember if we go back to sports, the number-one reason we're going back to sports is for the kids. This isn't about fans getting in to watch the games. I guess places can do live streaming and such. But, I think it's really important that everyone remembers that the number-one reason we have sports is it's because it's good for kids. If we can get the kids out there and interacting and get them back into activity and doing stuff, those are good things. You learn a lot from it. But, is it safe? That one I don't have an answer for you."
Phelps said the Cloverbelt Conference schedule would only require rescheduling one week of conference volleyball matches, so that shouldn't be difficult to adjust. Football rescheduling also might not be too complicated for Gilman, which only had five Central Wisconsin Conference West games on its docket with its move to eight-player football this fall.
Wudi said the Marawood Conference athletic directors during a Monday meeting threw out several ideas for volleyball, which is starting three weeks later than normal, but it will take time to actually put something to paper. Under the circumstances, it's likely the big multi-team weekend tournaments won't be happening in most cases. Competition may center for each team around their North or South Division rivals.
"Everybody is anticipating that it could be very difficult to play full schedules, get full seasons in, play a full round of conference games," Wudi said. "Is there going to be a conference championship? What does it look like if everybody doesn't get to play? A lot of strange territory here we're dealing with."
Each director agreed with the stance many took during the Board of Control meeting that it's more important to give their students opportunities to be active again and get back into their cocurricular activities than to worry about what championship opportunities may exist. As Phelps noted, with the Big 8 Conference in the southern part of the state canceling its fall conference seasons and the WIAA trying to create opportunities for schools that don't participate in fall sports to compete in spring, there won't be true state champions anyway.
"My number one thing as a teacher is I want to get kids back in school and be engaged with them," Phelps said. "Distance learning works for some, but not for the majority."
"The spring kids that had nothing, they didn't even have a chance," Wudi said. "I see all these D-III college conferences are shutting things down. These kids have worked for years for a senior season or a chance to compete. The biggest thing is to get them going somehow, get them back on the field, in the gym, compete as best we can, whatever that's going to look like and just go from there."
Coaching updates
While dealing with all the changes related to the pandemic will be challenging, athletic directors, so far, luckily aren't bogged down with too many coaching changes heading into the new year.
Wudi reported Rib Lake has none at the varsity level thus far, while Gilman has one with the recent resignation of boys basketball coach Wade Hendricks. Hendricks held that post for two seasons. Phelps said a job change made it difficult for Hendricks to keep the coaching job.
The same holds true for Medford's girls head basketball coach Jessica Faude, who announced to her team last week that she needs to step down after three seasons of leading the Raiders. That includes a solid 17-7 season last winter.
Medford's girls soccer head position remains open as well after Chris Reardon's resignation at the end of the 2020 season that never happened.