Posted on
Moondogs win twice to earn a first-round home game Friday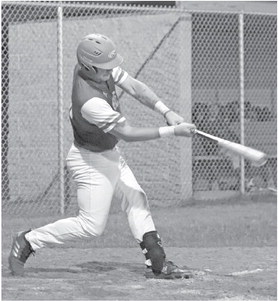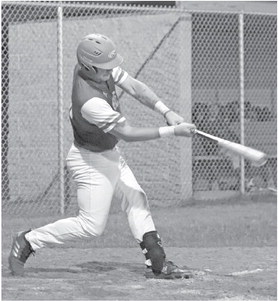 MEDFORD FINISHES 3-3
Brayden Boie drove in six runs in his last three at-bats and picked up the pitching win in relief Saturday night as the Medford Moondogs beat the weather and the Pittsville River Bandits 13-5 to secure the fourth seed in the upcoming Dairyland Baseball League tournament.
With its second win in three days, Medford finished 3-3 in the league's shortened regular season. The Moondogs will host fifth-seeded Minocqua (2-4) Friday at 7:30 p.m. to open the tournament. The winner will face top-seeded Everest Sunday at a time to be determined.
Medford beat Minocqua 7-3 and lost to Everest 7-5 in their regular-season matchups.
Saturday's game with Pittsville lasted just six innings. It was halted for a halfhour in the fifth inning due to a passing thunderstorm, then additional rain in the sixth inning eventually made the infi eld unsafe to continue.
A four-run rally in the bottom of the fourth inning put the Moondogs in position to make the game official after four and a half innings. Down 3-1 to start the inning, number-nine hitter Logan Kroeplin led off with a base hit and Trenton Woebbeking blooped a one-out single to right to put runners on the corners. An error on a potential double-play ball hit by Mikel Delzer loaded the bases for Boie, who walked to drive in Kroeplin. Brent Mueller's looper to left just eluded the glove of Pittsville's Hunter Ladick, tying the game at 3-3. After Ryan Paul lined out to second, Ben Lindgren dumped a blooper into no-man's land to score two runs and put the hosts up 5-3.
With lightning and rain bearing down on Jaycee Field, the Moondogs' efforts to make the game official were hampered by two errors that allowed the River Bandits to tie the game before the umpires stopped play with two outs in the top of the fifth. After the delay, Boie took over on the mound for Woebbeking and struck out Pittsville's Codi Fox.
Medford then took the lead for good in the bottom of the fifth. Kroeplin reached on an error and Woebbeking drew a one-out walk. Delzer's base hit scored Kroeplin. The runners moved up to second and third on stolen bases and Boie cashed them in with a base hit to make it 8-5. After Mueller singled and Ryan Paul walked, Ben Lindgren hit a sacrifice fly to right for a four-run lead.
Boie pitched a scoreless top of the sixth. The Moondogs put it away with their fourth straight four-run inning, keyed by Boie's three-run triple. Mueller added a sacrifice fly.
Boie finished two for three with two walks in his six-RBI night in the third spot of Medford's batting order. Lindgren was two for two with three RBIs. Mueller was two for four.
Boie allowed a hit and a walk while striking out one in 1.1 innings. Woebbeking allowed four hits, two earned runs and five walks while striking out six in 4.2 innings.
Eric Hahn was two for two with a run batted in for Pittsville (1-5). Sawyer Ladick was the losing pitcher, giving up nine runs, five of which were earned in 4.1 innings. He allowed 10 hits, six walks and hit a batter. Ben Buettner only allowed one hit in 1.2 innings, but it was the three-run triple by Boie.
Pittsville is the sixth seed in the tournament and visits three-seed Whittlesey (4-2) Saturday at 1:30 p.m.
Medford 6, Merrill 3
Playing as the guests on Thursday night, Medford scored in five of nine innings and earned a 6-3 win over winless Merrill in the makeup of a July 11 postponement at Jaycee Field.
Kole Karaba threw 5.1 solid innings to get the win, while BJ Wiegel finished up to collect the save. Wiegel entered the game with Medford holding a 4-1 lead in the bottom of the sixth. Merrill had the bases loaded with one out, and Wiegel got the Moondogs out of the jam by getting the top man in Merrill's order, Clay Schutt, to hit into a 4-6-3 double play.
Medford stretched its lead to 6-1 in the top of the seventh on RBI singles by Delzer and Wiegel. Merrill made things interesting in the bottom of the ninth, scoring on two-out singles by Spencer Schneider and Casey Hoffman before Wiegel got Chris Grunenwald to ground out to end it.
Karaba singled in runs in the first and third innings. Seth Mudgett singled one in in the fifth and Wiegel's bloop single drove in a run in the sixth. Woebbeking, Karaba and Wiegel each went three for five at the plate. Karaba scattered eight hits, struck out six and walked five. Wiegel struck out four and walked two while allowing two runs and three ninth-inning hits.