Posted on
Athens throttles Abby Heat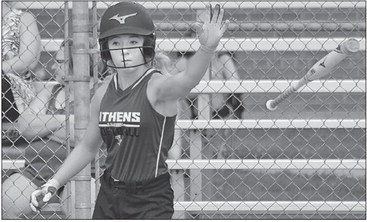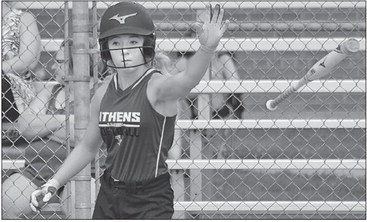 Wolf plays after losing spring high school year
By Casey Krautkramer
Allison Wolf missed her Athens High School senior softball season in spring, because of the coronavirus pandemic; therefore she relishes any opportunity she has to play with her teammates this
summer. She partook in the Athens High School graduation ceremony on Saturday and then she finished the weekend by helping the Athens SD Ellenbecker softball team beat the Abby Heat, 20-0, and Marshfield Columbus, 3-1. Both games lasted five innings at the Athens downtown softball diamond.
"It feels great; I love being on the softball field with these girls," Allison said after her team's dominating win against Abbotsford. "I know the younger Athens players on this team are going to be great when they get older."
Allison is the daughter of Mike and Julie Wolf, and she plans to attend the UW-Stevens Point at Wausau campus this fall.
She was hoping to play college basketball with Athens native Brittany Ange for the Huskies, but their season has already been canceled because of the coronavirus pandemic. Allison plans to eventually transfer to the main UW-Stevens Point campus, where she'll major in elementary education.
Her Athens SD Ellenbecker softball team scored runs early and often against Abbotsford on Sunday. Athens leadoff hitter Grace Johnson hit a ground ball and she was safe at first base. Johnson then stole both second and third bases. Catcher Shauna Belter walked and stole second base. Starting pitcher Siarra Hart followed with a two-RBI double to give Athens an early lead.
Jazelle Hartwig reached first base on a bunt single and then Elle Gauerke walked to load the bases. Addison Lavicka followed with an RBI single. Celina Ellenbecker and Sydney Coker both drew walks to score two more runs. Sophia Coker was hit by a pitch, which scored another run to give Athens a 5-0 advantage with no outs. Teams are only allowed to score five runs each inning, therefore the top of the first inning ended.
Hart dazzled in pitching against Abbotsford. She got three straight outs in the bottom of the first inning, and then Paige Westaby of Athens walked to begin the second inning. Wolf singled as Athens batted through its entire 11-player order. Athens scored another five runs in the second inning to take a commanding 10-0 lead against Abbotsford. Hart, meanwhile, struck out the side in the bottom of the second inning.
Hartwig relieved Hart in the pitching circle in the fifth inning. Although Hartwig ran into some trouble, she was able to tag out an Abbotsford player attempting to score a run to finish the 20-0 victory. Tigers also win both games
Stratford's summer high school softball team shut out Abby Heat, 6-0, and then edged Marshfi eld Columbus, 5-4, on Sunday in Athens.
Maria Schoenfuss, who'll be Stratford's ace pitcher next spring, executed a double play by catching the ball and then throwing it to first baseman Delany Dennee to catch an Abbotsford player leading off the base. Schoenfuss then struck out the next batter in the fifth inning to preserve Stratford's 6-0 win.
"Getting the double play was pretty exciting, like I could feel our team's energy coming back again," Schoenfuss said after the game.
She will be a senior in school this fall, but for now she's concentrating on improving her pitching this summer.
"I'm working on getting my speed back up pitching the ball and being more accurate with my pitches," Schoenfuss said.