Posted on
Medford earns split with game-two win; defeats Abby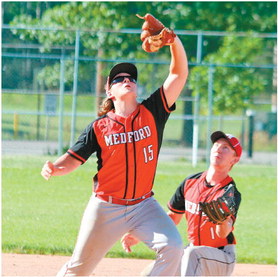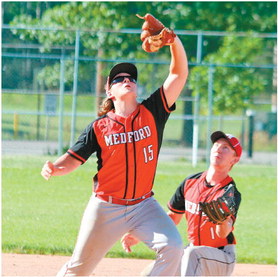 MEDFORD SUMMER BASEBALL
Medford's varsity summer baseball team rebounded from its most lopsided defeat of the season in game one with a three-run rally in the fourth inning that produced a 3-1 win over Edgar and a split in Monday's doubleheader on the Medford city diamond.
John McMurry broke Medford out of its slump by crushing a long double to the fence in left-center that drove in Nate Retterath with the tying run. Retterath had led off the inning by drawing a walk against Edgar starter Konnor Wolf and moving to second base on a passed ball.
After Aiden Gardner's infield single, which deflected sharply off Wolf, Mc-Murry and courtesy runner Emett Grunwald perfectly executed a double steal to bring in the go-ahead run. After a wild pitch put Grunwald at third, Brigham Kelley drove in an insurance run with a sacrifice fly to right.
Reliever Bryant Konieczny set Edgar down in order to seal the win in the second five-inning game of the night. He got the win, pitching two scoreless innings, striking out three and walking one.
Edgar took the lead in the third when Austin Miller doubled with two outs to deep rightfield to drive in Kyle Brewster, who had singled with one down.
Spike Alexander started for Medford and covered the first three innings. He allowed a run on three hits, struck out two and walked one.
Wolf went four innings for Edgar, allowing three earned runs on three hits. He struck out four and walked three.
Miller was perfect through three innings, then Edgar broke open game one with a five-run top of the fourth. The visitors won the opener 9-3.
Down 9-0, Medford finally got something going in the bottom of the fourth. Seth Mudgett drew a leadoff walk to become the team's first base runner of the game. McMurry broke up the no-hit bid with a solid single and Alexander walked to load the bases. Mudgett scored on a wild pitch. After Blaine Seidl walked to reload the bases, Brigham Kelley hit a two-out RBI single. With Joe Gierl at the plate, Alexander tried to score on a pitch that went to the backstop, but Brewster got the ball to Miller in time to cut the runner down at the plate.
McMurry hit a two-out RBI single in the fifth, scoring Gierl, who had led off the inning with a walk.
Edgar jumped ahead 4-0 with tworun rallies in the first and third innings. Drew Guden and Miller singled and both scored on Austin Dahlke's double in the first. Jordan Bunkelman and Kaden Goodwin hit RBI singles in the third.
The fourth started with Brewster getting hit by a pitch, stealing second and scoring on Guden's single. After two errors, Tyler Westfall singled in a run, Brayden Baumgartner hit a sacrifice fly, Bunkelman doubled in a run with a drive that just stayed fair down the rightfield line and a run scored on a third-strike wild pitch.
McMurry went three innings and took the loss, but he was two for three at the plate. Mudgett pitched the fourth and Retterath pitched a scoreless fifth, aided by a double play turned by his infield.
Edgar outhit Medford 8-3 with Guden and Westfall collecting two hits apiece.
The split left Medford at 8-4 for the summer. A doubleheader at Merrill is next on the schedule, planned for Monday at 5:30 p.m. The team ends its summer July 31 with a 6 p.m. home doubleheader against Marathon.
Alexander struck out 12 while throwing a three-hitter in Medford's 6-2, sixinning win at Abbotsford Thursday.
Medford made the most of its four hits, building a 5-0 that gave Alexander more than enough cushion.
Retterath and Alexander opened the game by reaching on errors. With one out, Tanner Hraby singled to load the bases for Konieczny, who reached on another Abbotsford error to drive in Retterath. Abbotsford avoided further damage by getting Gierl to hit into a forceout and Tristan Haenel to line out.
A three-run third broke it open. Alexander doubled and McMurry singled to put runners on the corners. Hraby reached on an error, scoring Alexander. Konieczny walked to load the bases. Gierl and Haenel drove in runs with ground balls to make it 4-0.
Grunwald walked and eventually scored on a wild pitch in the fourth. In the bottom half, Abbotsford got its two runs on a walk, an error and a double. Nate Doriot walked to start Medford's fifth, stole second, went to third on a wild pitch and scored on an overthrow to the pitcher. Hraby went two for three at the plate. Alexander walked only one and the runs he allowed were unearned.