Posted on
Edgar hands Medford worst loss of summer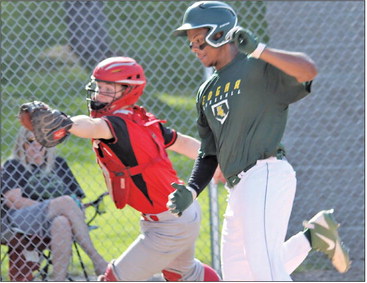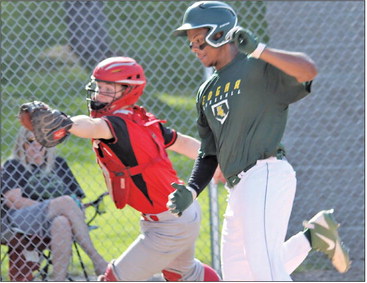 Miller is lights out at pitching
Edgar senior pitcher Austin Miller tossed a gem while leading his team to a 9-3 win against Medford in the first game of a road doubleheader on Monday night. Both games consisted of five innings each.
Miller struck out four Medford batters while only giving up three hits and three earned runs to earn the pitching win.
Edgar gave Medford its most lopsided defeat of the season in the opening game. The team jumped ahead of Medford, 4-0, with two-run rallies in the first and third innings. Drew Guden and Miller singled and both scored on Austin Dahlke's double in the first inning. Jordan Bunkelman and Kaden Goodwin hit RBI singles in the third.
The team's offense broke the game open by scoring five runs in the top of the fourth inning. The fourth inning started with Kyle Brewster getting hit by a pitch, stealing second base and scoring on Guden's single. After two Medford errors, Tyler Westfall singled in a run, Brayden Baumgartner hit a sacrifice fly, Bunkelman doubled in a run with a drive that just stayed fair down the rightfield line and a run scored on a third-strike wild pitch.
Edgar outhit Medford, 8-3, with Guden and Westfall collecting two hits apiece in the 9-3 victory.
Miller pitched a perfect game for Edgar through the first three innings of the first game. Medford's Seth Mudgett drew a leadoff walk in the fourth inning to become the team's first base runner of the game. Miller then lost his no-hit bid when John McMurry singled.
Edgar catcher Kyle Brewster saved a run-scoring attempt by Medford in the fourth inning when Spike Alexander tried to score on a pitch that went to the backstop. Brewster quickly got the ball to Miller in time to cut the runner down at home plate. The team's offense didn't support starting pitcher Konnor Wolf in the second game of the doubleheader, resulting in a 3-1 defeat to Medford. Wolf pitched four innings but he still took the loss on the mound. He struck out four Medford batters while surrendering three hits, three walks and all three earned runs.