Posted on
Chaps stay perfect with 12-2 win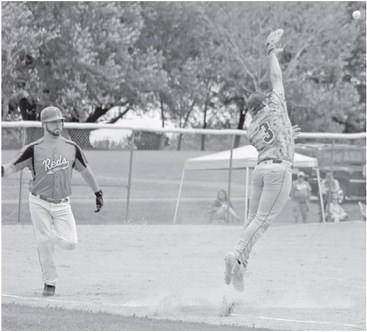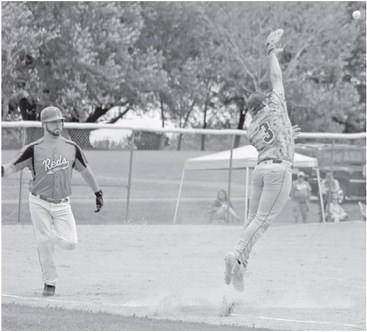 DAIRYLAND LEAGUE BASEBALL
A tough day for the Whittlesey Reds got really tough in the sixth inning Sunday when the Marshfield Chaparrals struck for seven runs and pulled away for a 12-2 win in Dairyland League play.
The Chaparrals improved to 4-0 in league play and remained in a first-place tie with Everest, who beat Minocqua 11-3 Sunday. The Reds fell to 2-2 and stayed stuck in third place in the abbreviated regular-season portion of the schedule.
The Reds had chances to put up crooked numbers in the first two innings, but the bats fell mainly silent after that. The Chaps slowly but surely built on their lead before breaking it open with their big sixth inning.
The Reds left two runners on the first inning. Down 2-0 in the bottom of the second, the Reds got something started when Ben Meyer reached on an error and John McMurry dropped a single into shallow rightfield. Walks to Nick Meyer and Cade Alexander forced in a run and kept the bases loaded for Jeff Kraschnewski.
But Marshfield starter Donovan Brandl induced a ground ball that ended the threat and kept his team ahead 2-1.
Marshfield widened the lead to 4-1 in the third on a deep sacrifice fly with the bases loaded by Victor Gonzalez and an RBI single by Luke Wirtz. The Chaps tacked on a single run in the fourth.
The disastrous sixth inning started with walks to the top two hitters in Marshfield's order, Caleb and Nathan Krommenakker. Brandl singled in a run. Jason Kurth was hit by a pitch to load the bases. A wild pitch brought in a run. A misplayed pop-up re-loaded the bases. Cade Alexander relieved Spike Alexander and got Wirtz to pop out, but Sean O'Connell and Will Lee singled in runs, Isaiah Baierl was hit by a pitch to force in a run and Caleb Krommenakker singled in a pair to make it 12-1.
Taylor Reinhardt singled in Whittlesey's final run in the seventh, but that wasn't enough to prevent the 10-run rule from ending the game early.
McMurry had two of Whittlesey's four hits. Nick Retterath and Reinhardt had the others in the seventh. Cade Alexander walked three times. Brandl went five innings to get the win for Marshfield, striking out five and allowing an unearned run and two hits. He walked five and hit one.
Caleb Krommenakker, Brandl and O'Connell had two hits apiece for Marshfi eld. Every starter for the Chaps had at least one hit.
McMurry started and went three innings for Whittlesey, allowing four runs, three of which were earned on six hits. Spike Alexander went two-plus innings in relief and Cade Alexander finished. The three pitchers walked five batters, hit two more and allowed 12 hits.
Whittlesey is at Pittsville this Sunday for a 1:30 p.m. first pitch. Everest visits Marshfield in a game that will break the first-place tie atop the standings.