Posted on
bases loaded and Baumgartner hit ….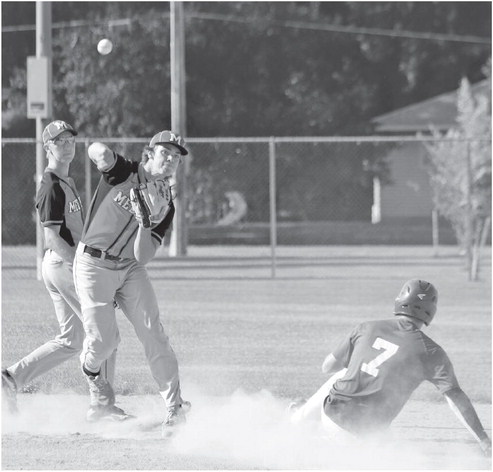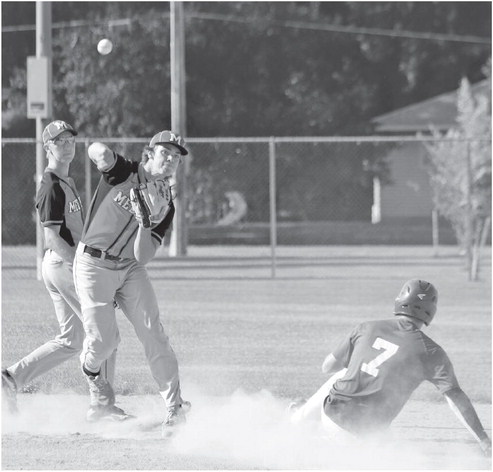 bases loaded and Baumgartner hit a sacrifice fly for the second out and a 9-0 lead. Gierl's bad-hop single on the infield drove in a run, an error on a ball hit by Retterath scored another and Kelley singled in a run to make it 12-0.
Rib Lake's best offensive inning was the third. Matthew Siroin singled with one out and Logan Blomberg got a base knock with two down. After Nick Gerstberger walked, Scheithauer cleared the bases with a long double to right.
But the home team got those three runs back in the bottom of the fourth against reliever Jake Matyka. Walks to Retterath and Tristan Haenel sandwiched a single by Kelley and loaded the bases. Singles by Mc-Murry and Alexander and a Gardner fielder's choice brought in three runs.
Kelley was three for three with three RBIs at the bottom of Medford's order. McMurry was three for four, Gierl went two for two and Alexander was two for four. Baumgartner drove in four runs and pitched three innings, striking out four and allowing four hits. Retterath retired all six batters he faced with a three-pitch fourth inning and three strikeouts in the fifth.
Konieczny took a no-hitter into the fifth inning of game two and settled for a two-hitter in Medford's 10-2 win. Eleven of the 15 outs he recorded were by strikeout. He walked three and hit one. Luke Blomberg and Jordan Yanko walked to start the fifth and Ryan Patrick broke up the no-hitter with a clean single to left. Michael Borchardt's infield single drove in a run. Michael Quednow was hit by a pitch to drive in the second run.
Medford scored in each of its four offensive innings to build a 10-0 lead. Gardner hit a sacrifice fly in the first. Baumgartner and Nate Doriot roped back-to-back doubles in the second.
The big third inning started with walks by Rib Lake starter Logan Blomberg to Emett Grunwald and Mudgett. McMurry singled to load the bases. Alexander drove in a run with a sacrifice fly and Gardner followed by crushing a line drive over the fence in left-center for a three-run homer. Baumgartner later hit an RBI single to make it 7-0.
Medford got three unearned runs off Siroin in the fourth.
McMurry and Baumgartner both went two for two.
Medford was scheduled to play a single game at Abbotsford tonight, Thursday, and a pair of five-inning games at Edgar Monday.
Rib Lake is at Marathon tonight for a doubleheader.
Rib Lake at Park Falls
On Thursday, Rib Lake earned a solid 6-4 win over Park Falls in game one but had nothing go right in a 15-1 loss in game two.
In the win, Rib Lake did all of its offensive damage in the top of the third inning.
With Rib Lake trailing 2-0, Logan Blomberg reached on an error to start the rally and Gerstberger doubled. Scheithauer and Luke Blomberg followed with singles, Yanko walked and Patrick doubled. An error helped capped the scoring.
Luke Blomberg picked up the pitching victory, going 4.1 innings. He struck out two, walked three and allowed six hits.
Park Falls nearly erased its four-run deficit in the bottom of the fifth. Two singles and an error with one out loaded the bases. A walk and a wild pitch brought in runs.
Scheithauer relieved Blomberg and induced a fielder's choice, getting the second out of the inning at home plate. After a walk re-loaded the bases, Scheithauer got a big strikeout to end the game.
Rib Lake made the most of its four hits, getting all of them in the third inning.
Things didn't go nearly as well in game two as Park Falls scored early and often to coast to victory. Rib Lake's only score was an unearned run in the final inning.