Posted on
Kaldunski's slam is significant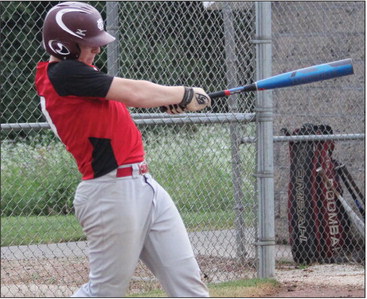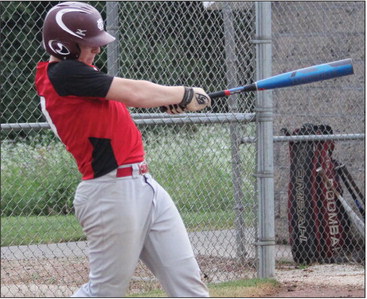 Kole homers over fence with Andy's number
By Casey Krautkramer
Kole Kaldunski always looked up to his older cousin, the late Andy Kaldunski, while growing up in Marathon. After all, Andy was one of the best hitters in the history of Marathon High School and American Legion Post 469 baseball.
Andy was only 25 years old when he passed away on April 3, 2015, after a three-year courageous battle with brain cancer. Kole, who is the youngest of Andy's cousins, played on the Marathon American Legion Post 469 squad in the summer of 2016 when a ceremony was held to retire Andy's No. 32 Red Raiders baseball jersey.
During that summer, a round sign was placed to the right of Marathon's 2008 WIAA Division 3 state championship banner in left-center field that has a red and white pinstriped jersey with Andy's jersey number centered between his name. Andy was a captain on the 2008 state title team.
It's only fitting Kole's first home run in his high school career was a grand slam over the fence with Andy's retired jersey number on it. Kole's grand slam in the third inning helped Marathon beat Medford, 6-4, on July 6. Kole's blast over the left-center field fence scored his teammates Jaden Koeller on third base, Carter Hanke on second and Hunter Seubert on first. "It felt great," Kole said after smacking a grand slam over the fence with his cousin's retired No. 32 Marathon baseball jersey.
Kole's parents, Doug and Ellen Kaldunski, and his grandmother, Donna Kaldunski, watched Kole belt the grand slam. Doug Kaldunski is a Marathon assistant baseball coach.
Jaden Koeller was the winning pitcher in Marathon's win against Medford and Hunter Seubert earned the save. Jaden Koeller batted two for four with a double.
Medford won the nightcap, 11-0, as Kyle Hollenbeck was the losing pitcher for Marathon. Brock Warren hit two for two at the plate and Mike Hahn doubled.
Marathon began its summer baseball season with a doubleheader split on the road against Thorp. Marathon won the first game, 13-3, against Thorp as Mitchell Kurtz earned the pitching victory.
Carter Hanke led Marathon by hitting two for three with a homerun and two RBIs in the win against Thorp. Jaden Koeller batted three for four with a double, Kolby Koeller doubled and had two RBIs, Kole Kaldunski added a pair of RBIs and Mike Hahn doubled.
Marathon fell, 10-8, in the second game as Hector Pintor took the pitching loss. Jaden Koeller hit a triple. Marathon easily beat Abbotsford, 13-0, at home on July 2. Brock Warren struck out 11 hitters to earn the pitching win. Mitchell Kurtz batted two for two with a pair of RBIs. Jaden Koeller doubled while Mike Hahn and Kolby Koeller collected two RBIs each.