Posted on
Alexander provides the fireworks for Reds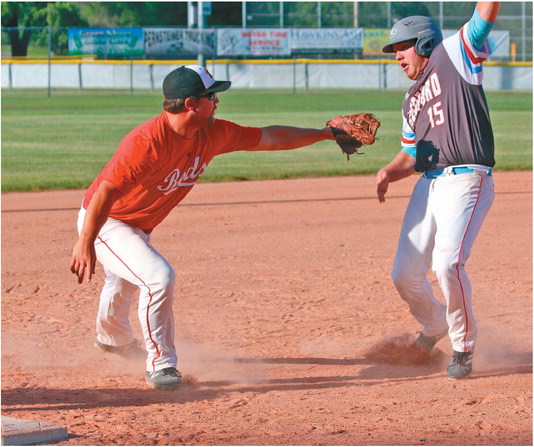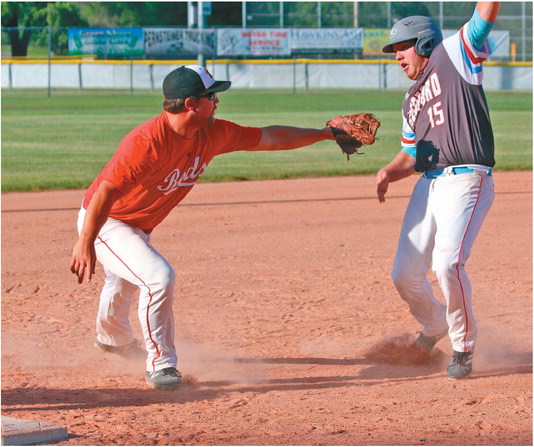 WHITTLESEY 3, MEDFORD 0
Clutch pitching and hitting in 3-0 win
Picking a player of the game was an easy task following Friday's pre-fireworks Dairyland League baseball game in Medford.
Cade Alexander not only knocked in all of the game's runs, but he was also the winning pitcher with five strong innings of relief work in Whittlesey's 3-0 win over the Medford Moondogs.
The win put Whittlesey at 2-1 in league play, a game behind unbeaten co-leaders Everest at Marshfield. Medford played its fourth solid game of the league season but has just a 1-3 record to show for it.
Pitching took center stage on a warm evening at the city diamond. Three Reds pitchers combined on the shutout for Whittlesey, while Brett Paul's seven-inning performance for Medford certainly qualified as a quality start.
The game was scoreless until the top of the seventh. Whittlesey's Cody Loertscher dropped in a leadoff single to leftfi eld and moved to second on John Mc-Murry's groundout. Darren Leonhard battled back from an 0-2 count to draw a walk. Spike Alexander was retired on a tapper along the first-base line, setting the stage for his older brother, who hit a bullet that hit the chalk on the leftfield line for a two-run single. Nick Meyer followed with a double to put runners on second and third, but Medford shortstop Trenton Woebbeking made a tough running catch on a pop fly to shallow center by Thomas Mildbrand that, at first, seemed headed for no-man's land.
In the ninth against Medford reliever Brent Mueller, McMurry drew a leadoff walk, Spike Alexander poked a one-out single to left and Cade Alexander went the opposite way this time, tucking a liner inside the rightfield line for an RBI double. Mueller avoided further damage. After intentionally walking Nick Meyer to load the bases, he struck out Jon Laher and got Derek Nichols to fly out.
But Reds closer Tyler Thicke set Medford down in order with two strikeouts in the bottom half to preserve the shutout and the win.
Cade Alexander was the only player in the game to have multiple hits, going two for four. The two teams combined for 13 hits, only three of which went for extra bases.
Medford turned two double plays in the first three innings and had scoring chances in each frame early on. Whittlesey starter Brandon Loertscher hit two batters in the first inning, but a strike 'em out, throw 'em out double play with Nichols easily cutting down Ben Lindgren at second, killed the Moondogs' rally.
Ryan Paul singled with two down in the bottom of the second, but Whit- tlesey rightfielder Ben Meyer threw out Moondog Kole Karaba as he tried to go from first to third on the hit.
Aiden Gardner hit an infield single and Lindgren reached on an error to start the bottom of the third, but Loertscher stopped the threat by inducing two fly balls and a ground ball.
Whittlesey didn't put up an offensive threat until the fifth. Taylor Reinhardt doubled off the base of the fence in left-center and moved to third on a fly ball to right by Cody Loertscher. Brandon Loertscher walked, but the Moondogs retired Leonhard on a bunt attempt and Brett Paul got Ben Meyer to ground out to first baseman Ryan Paul to keep the game scoreless.
The Moondogs got out of a two-on, one-out jam in the sixth when Brett Paul got Jeff Kraschnewski to fly out to deep right and struck out Reinhardt.
Paul allowed five hits, two earned runs and five walks while striking out three. Mueller allowed two hits, a run and two walks (one intentional) while striking out three for the home team.
Brandon Loertscher allowed two hits, while striking out two and walking one in the first three innings for the Reds. Cade Alexander struck out five, walked one and allowed four hits in his five innings.
Whittlesey hosts the Marshfield Chaparrals in a key mid-season showdown this Sunday at 1:30 p.m. Medford's Saturday game with Merrill has been postponed.