Posted on
doubled to centerfield, scoring courtesy ….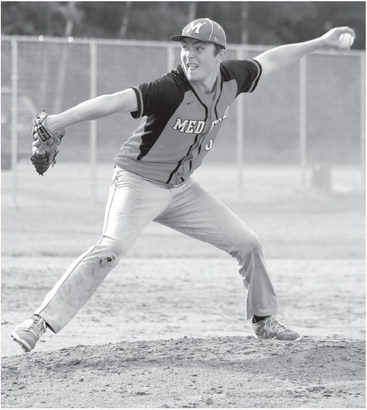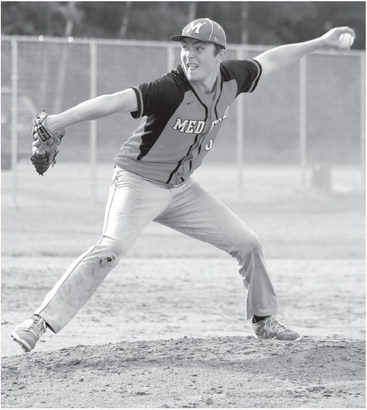 doubled to centerfield, scoring courtesy runner Emett Grunwald, but Seidl was thrown out at the plate, trying to score from first.
Mudgett shut down Merrill in order in the seventh to pick up the relief win as he retired all four batters he faced.
Alexander struck out three, walked one and allowed eight hits. Two of Merrill's runs were earned as Medford overcame some defensive hiccups to get the win. Seidl doubled and Mudgett singled him in to get the home team on the board in the second. Merrill tied it in the third on Piersen Pyan's sacrifice fly. Alexander doubled and Gardner singled in courtesy runner Jackson Tlusty to make it 2-1 in the bottom of the third.
Merrill took the lead on an RBI double by Schneider and RBI single by Casey Hoffman in the fifth. Cody Depies singled in a run in the sixth, but Medford got a key out on the play, tagging out Isaac Sutton in a rundown between third and home.
Medford collected 13 hits with Alexander, Seidl and Mudgett getting two apiece. Alexander doubled twice.
Brigham Kelley got the start in game two and shut out Merrill for three innings before the visitors broke through in the top of the fourth. Kelley walked two hitters with one out. Tlusty relieved him and gave up a walk before a Depies single, a walk to Peyton Becker and a single by Hoffman gave Merrill its runs. Kelley, playing first base, snared a line drive hit by Pyan and completed an unassisted double play to prevent further damage. That was one of three double plays turned by the defense in game two.
But the offense got just two against Merrill's Zach Kriegel, who struck out one and walked one. McMurry and Seidl each hit singles and McMurry drew the walk.
Kelley struck out three, walked six and allowed three hits and two runs in his 3.1 innings. Tlusty walked three, struck out one and gave up two hits and run in 1.2 innings.
With 11 games still on the schedule for July, including five doubleheaders, Medford's players plan to make the most of their time on the diamond after they lost their spring high school season.
"Oh my gosh, it's amazing," said Mc-Murry, who graduated this spring. "Back in April, May, I was just going crazy just sitting there. It feels good to be playing again. I'm just having as much fun as I can. Just get at-bats, get a little bit of pitching in, but just have fun. I won't be able to play with these guys again after this year. Unless there's Dairyland and stuff. We've got a good group of guys. It's just having fun."
"This is the best thing ever," Alexander said of baseball's return. "After all this sitting on our butts for two and a half months, obviously some guys were going to the field and working, but there's just nothing like it. It makes it even better."
Reds win
On June 24, Medford played the Whittlesey Reds and were defeated 9-3. Mudgett went three for three, Gardner was two for three, including a long double to the fence and Joe Gierl smacked a tworun homer off Reds pitcher Nick Retterath.
Tyler Thicke was three for four for the Reds, while Thomas Mildbrand, Taylor Reinhardt and Brandon Loertscher had two hits apiece. Thicke homered and doubled and Loertscher drove in four runs.