Posted on
A split decision in Monday twinbill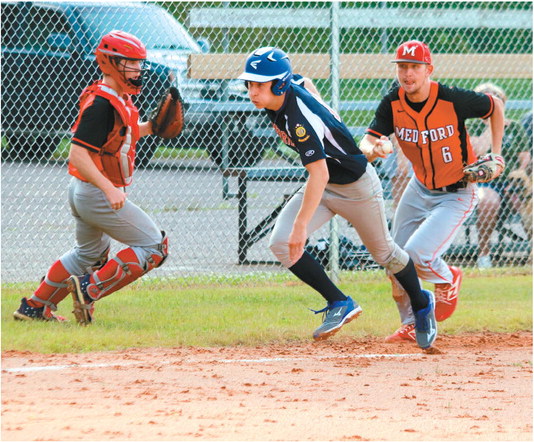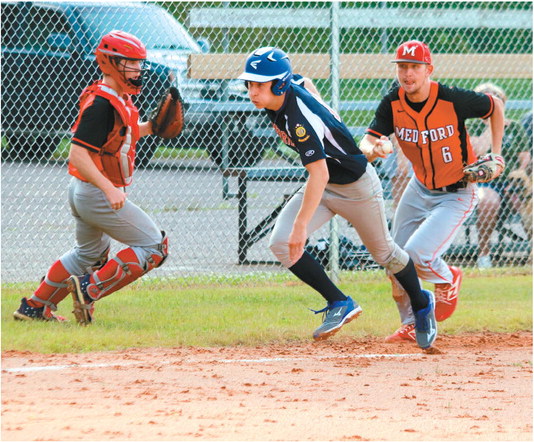 MEDFORD SUMMER BASEBALL
After getting overanxious in an earlier at-bat with the bases loaded, John McMurry wasn't about to let it happen again.
With his team trailing 4-2 in the bottom of the sixth inning Monday night, McMurry waited for his pitch and, when he got it, slammed a three-run double to the gap in the left-center to lift Medford's summer baseball team to a 6-4 win over Merrill in game one of a good, competitive doubleheader at Jaycee Field.
Merrill won the five-inning second game 3-0 to earn a split in the twinbill.
The results put Medford at 3-2 heading into a 6 p.m. doubleheader Monday at Marathon.
The game-one win was certainly the most exciting of the three Medford's group has recorded so far in the strange summer of 2020.
"Our team, we always play to win," pitcher Spike Alexander said after a solid 5.2-inning outing. "Obviously at the end of this season there's no championship or no hardware we can take home. But we'll always play to win. We got one out of two tonight. Played hard. Johnny Mac came through. We hit the ball hard today. Just playing baseball again, it feels good."
Medford led 2-1 through three innings in game one but fell behind after allowing two runs in the top of the fifth and another in the sixth. Through five innings, Medford had left eight runners on base.
Tristan Haenel hit an infield single behind third base with one out to get something started against Merrill pitcher Spencer Schneider in the bottom of the sixth. Logan Baumgartner lined a single. Both runners advanced on an errant pickoff throw and Alexander walked to load the bases for Mc-Murry.
With two outs in the fourth, Mc-Murry grounded out with the bases loaded. He said being more patient was the key to his at-bat in the sixth, where he smacked the double that cleared the bases.
"I gotta go back to the at-bat before," he said. "It was 2-0 and I'm like, all right I like the ball middle in. So I was looking for my pitch and there was a ball down and away and what do I do? I swing at it and hit a little spinner to second. I was just like, 'you idiot.' "The next at-bat, I said, 'I gotta be patient here and look for my pitch.' I laid off some outside pitches that were probably the same pitch that I hit the last time up and they were all balls. Luckily I was patient, got my pitch to hit and I didn't miss it. It feels good to square it up."
The hosts tacked on an insurance run before the inning ended. Reliever Alex Gehrke walked Aiden Gardner. After Blaine Seidl's ground ball drew a force-out at third, Seth Mudgett doubled to centerfield, scoring courtesy runner Emett Grunwald, but Seidl was thrown out at the plate, trying to score from first.
Mudgett shut down Merrill in order in the seventh to pick up the relief win as he retired all four batters he faced.
Alexander struck out three, walked one and allowed eight hits. Two of Merrill's runs were earned as Medford overcame some defensive hiccups to get the win. Seidl doubled and Mudgett singled him in to get the home team on the board in the second. Merrill tied it in the third on Piersen Pyan's sacrifice fly. Alexander doubled and Gardner singled in courtesy runner Jackson Tlusty to make it 2-1 in the bottom of the third.
Merrill took the lead on an RBI double by Schneider and RBI single by Casey Hoffman in the fifth. Cody Depies singled in a run in the sixth, but Medford got a key out on the play, tagging out Isaac Sutton in a rundown between third and home.
Medford collected 13 hits with Alexander, Seidl and Mudgett getting two apiece. Alexander doubled twice.
Brigham Kelley got the start in game two and shut out Merrill for three innings before the visitors broke through in the top of the fourth. Kelley walked two hitters with one out. Tlusty relieved him and gave up a walk before a Depies single, a walk to Peyton Becker and a single by Hoffman gave Merrill its runs. Kelley, playing first base, snared a line drive hit by Pyan and completed an unassisted double play to prevent further damage. That was one of three double plays turned by the defense in game two.
But the offense got just two against Merrill's Zach Kriegel, who struck out one and walked one. McMurry and Seidl each hit singles and McMurry drew the walk.
Kelley struck out three, walked six and allowed three hits and two runs in his 3.1 innings. Tlusty walked three, struck out one and gave up two hits and run in 1.2 innings.
With 11 games still on the schedule for July, including five doubleheaders, Medford's players plan to make the most of their time on the diamond after they lost their spring high school season.
"Oh my gosh, it's amazing," said Mc-Murry, who graduated this spring. "Back in April, May, I was just going crazy just sitting there. It feels good to be playing again. I'm just having as much fun as I can. Just get at-bats, get a little bit of pitching in, but just have fun. I won't be able to play with these guys again after this year. Unless there's Dairyland and stuff. We've got a good group of guys. It's just having fun."
"This is the best thing ever," Alexander said of baseball's return. "After all this sitting on our butts for two and a half months, obviously some guys were going to the field and working, but there's just nothing like it. It makes it even better."
Reds win
On June 24, Medford played the Whittlesey Reds and were defeated 9-3. Mudgett went three for three, Gardner was two for three, including a long double to the fence and Joe Gierl smacked a tworun homer off Reds pitcher Nick Retterath.
Tyler Thicke was three for four for the Reds, while Thomas Mildbrand, Taylor Reinhardt and Brandon Loertscher had two hits apiece. Thicke homered and doubled and Loertscher drove in four runs.