Posted on
Obstacles to challenge horses in July 12 Pleasure Riders event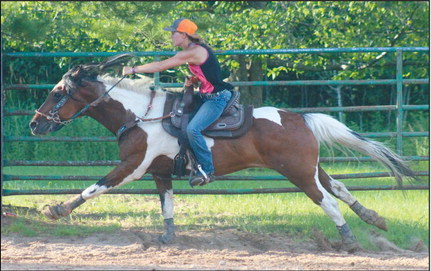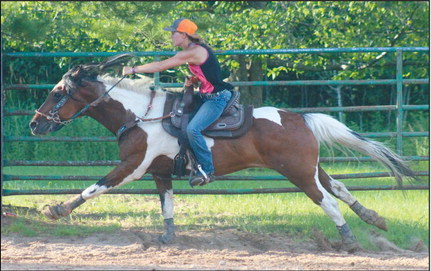 When the Clark County Mounted Search and Rescue Team (CCMSR) was established last summer with help from the Clark County Sheriff's Department, it was hoped that the program would be able to expand and improve as time went on. On July 12, the CCMSR will have the opportunity to improve their program through a fundraiser with the Clark County Pleasure Riders.
The Clark County Pleasure Riders will be holding an equine obstacle course event beginning at 9 a.m. on July 12 at their facility at Rustic Road just south of Greenwood for horse enthusiasts and riders of all ages. The event will be a fundraiser for the CCMSR, with the funds raised from the event going towards the purchase of equipment for the group.
Since its inception, CCMSR has grown to include almost a dozen horseback riders from across Clark County, many of whom have ties to horseback riding clubs like the Clark County Pleasure Riders. One of these individuals is Cindy Rasmussen, who is both a member of CCMSR and secretary for the Clark County Pleasure Riders. Her personal connection to the organization and knowing of the group's needs drove the Clark County Pleasure Riders to help.
"The Clark County Mounted Search and Rescue is a growing organization and has equipment and training needs and we want to support their efforts," she said. "CCMSR will be able to use the money to equip horse and rider with items that assist with navigating thick forests and safely moving down roads when searching for lost children, hikers, hunters and such. Some examples are reflective gear for nighttime visibility, bags for carrying first aid, and potentially some radios or other types of devices to aid communication in remote areas."
Having connections throughout the horse-riding world, Rasmussen said she had heard about another obstacle course event that had taken place last year in western Wisconsin. That event was really popular among riders, so the Clark County Pleasure Riders made plans to hold their own.
"This is our first year so we aren't really sure," she said on how she hopes the event will turn out. "A similar event in western Wisconsin last year had over 200 entries so we were thinking it would be something like that until coronavirus hit."
Unlike the speed shows and other events held at the group's grounds at Greenwood each week, Rasmussen said an obstacle course is very different and required extensive planning and organization beforehand to make it happen. For one thing, she said there is a lot more space involved with an obstacle course, making it necessary to reach agreements with immediate neighboring organizations in order to hold the event.
"Our obstacle course is being set up over about 80 acres of land," she said. "This is not an in-arena event like our shows. The Black River Bowmen's Club is graciously allowing us to use their beautifully maintained 3D archery course for setting up our obstacles."
In total, Rasmussen said there will be between 15 to 20 different obstacles scattered across the 80 acres. These obstacles will range from the simple — such as bridge crossings and open riding — to hard obstacles such as river crossings and life-size animal models. These obstacles will also give participants some insight into the work CCMSR does during its rescue operations, as they have to face many of these same obstacles while on the job.
"Riders will be challenged with some normal obstacle course items like a bridge crossing and opening and riding through a gate," she said. "But due to our course location we have some extra surprises in store with many life-size 3D animals and an optional crossing of the Black River. We also are setting up obstacles that horses may encounter while camping or riding along a road, which may be scary to a horse."
Because of the amount of land involved in the course, Rasmussen said each rider is expected to take between two to three hours to complete the course. Riders will be judged on their performance by volunteers, with riders doing the best receiving a prize at the end of the event. "We have donations coming in from local businesses and individuals that will be used as prizes for obstacle course winners," she said. "And we have volunteers who have stepped up to judge and help with setup and registration. Without them this wouldn't be possible." Starting times for riders will be staggered for small groups between 9 a.m. and noon to make sure that the course can be navigated by the riders as safely as possible. Because the event will be held outdoors and on horseback, where riders are naturally spread out, Rasmussen said she doesn't expect the COVID- 19 virus to be a concern, but will have hand sanitizer available and reminders to social distance placed at the grounds.
"These events are a great place to work with your horse to navigate these types of things in a safe setting," said Rasmussen. "With this event being outside, familyoriented, and spread out over a large area, I think it's one of the safest types of events still happening. Being on a horse in the outdoors naturally puts you at a safe distance from others."
The cost to participate in the event will be $25 per rider, with the proceeds of the event going to CCMSR. There will also be a 50/50 side pot at the event, where participants can enter for $10 for a chance of a cash prize if they perform well on the course. Half of the money raised from the side pot will also go towards CCMSR.
"There are no special rules for this event," said Rasmussen. "As always we expect riders to bring horses that are trained and ready for this type of event so it is safe for all."
Registration for the event will begin at 9 a.m. on July 12. For more information about the event, check out the Clark County Pleasure Riders Facebook page or contact Clark County Pleasure Riders president Kris Hamm or Cindy Rasmussen with any questions.
TRG FILE PHOTO