Posted on
Lost softball season convinces Mudgett to keep on playing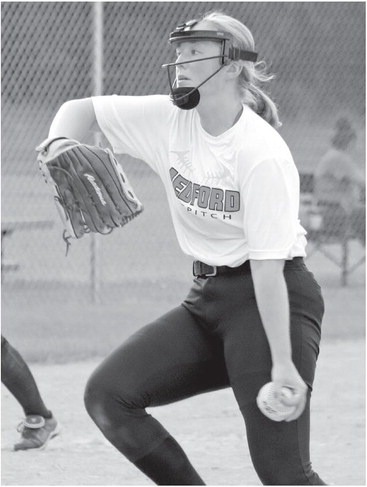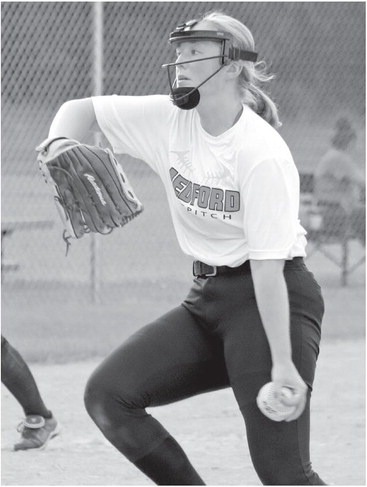 The loss of the spring high school sports season hurt all who were involved, but some student-athletes felt the sting more than others.
Fortunately for Medford's Rachel Mudgett, another opportunity awaits for a more appropriate finish to her softball career.
Mudgett put her entire athletic focus during the 2019-20 school year on softball, looking to lead the Medford Raiders back to prominence in the Great Northern Conference and build individually off her 2019 season, which ended with second- team All-GNC honors.
That chance, of course, was eliminated amid this spring's sports shutdown due to the coronavirus pandemic.
"I worked so hard in the off-season and I was really looking forward to my senior season," said Mudgett, the Raiders' projected top pitcher to start the season and the team's top first baseman when she isn't pitching. "I thought I was going to really come back nicely after last year. Throughout the (2019) summer I played with the Medford team and in all those tournaments. Before we started with open gyms in the fall, I got together with Ron (Fisk) and I would go to throw in the gym before anyone else was there. That was really nice that we had that opportunity together."
The lost season, however, made a choice that had been a little murky for Mudgett much clearer. While she had decided early in the school year she would be attending Wisconsin Lutheran College in the fall of 2020, now she knew playing softball there would have to be part of the experience.
"I had been contemplating it for quite awhile since I made my decision and I didn't become certain of it until after I found out I wouldn't be going back to school and softball," Mudgett said. "I've been having Zoom meetings with my teammates and coaches and it's been fun getting to know them."
Wisconsin Lutheran College is an NCAA Division III school of about 1,200 students located in Milwaukee. The Warriors' athletic programs compete in the Northern Athletics Collegiate Conference, which consists of 13 private colleges and universities from Wisconsin and Illinois, with Lakeland University, Marian University, Milwaukee School of Engineering, Edgewood College and Concordia University being examples of Wisconsin schools in the league.
Under first-year head coach James Flegel, the softball team was 5-5 when its 2020 season ended in March. Flegel, a graduate of the school and former basketball player, spent the previous seven seasons as the program's associate head coach and 10 more before that as an assistant. The team went 23-17 in 2019.
"I'm very excited," Mudgett said. "I'm very blessed to have this opportunity since I didn't get a senior season for softball. I'm also very happy I have a chance to play during the summer to get ready for college softball."
Mudgett is playing with Medford's travel team this summer, where she will get the chance to stay sharp and she'll get an opportunity to be a leader on a team consisting mainly of incoming juniors and sophomores who lost an important season in their development.
A member of the varsity roster since her freshman year, Mudgett posted an 8-9 record with a solid 3.11 earned run average in 19 appearances, which included 17 starts. She also hit .325 (26 for 80) with a team-high six doubles, 16 RBIs, a triple and 22 runs scored. Her .938 fielding percentage was the best among the team's regular infielders. She threw a five-inning perfect game in a 13-0 win at Rhinelander on May 7, 2019.
The Raiders were 5-7 in the GNC and 11-12 overall in 2019 under head coach Virgil Berndt.
"It was really hard for me in the beginning," Mudgett said of losing her senior season. "As it went on I was able to come to accept it a little bit more, but I really haven't come to fully accepting it yet. It still doesn't seem for real.
"I thought we were going to do a lot better than last year," she said. "I loved my team last year, but I had higher hopes for this year that we could build off of it because our team was so young last year. We had a lot of freshmen and sophomores coming up too and I thought this was really going to be our year. I wanted one last chance to beat Mosinee, but I guess I don't get that."
One thing Mudgett did get in her three seasons in the varsity lineup was confidence, something she said became invaluable. Mudgett hit .257 as a sophomore and had a "bad luck" year in the circle where a strong 3.24 earned run average only resulted in a 2-8 record.
"I think I've gained so much confidence from freshman year," Mudgett said. "I was very timid and terribly scared when I was playing first base as a freshman. But I've gained so much self confidence and softball knowledge and it's really come to help me. Confidence is everything for me and how I'll perform. I still want to keep working on pitching. I don't know if I'll be pitching at WLC but I hope to, if not my first year, maybe my second year."
At Wisconsin Lutheran, Mudgett will major in nursing and plans on becoming an orthopedic surgical nurse before furthering her education and becoming an orthopedic nurse practitioner.
"It's a great campus," she said. "I loved the nursing program. I loved the Christian atmosphere."
Mudgett said her time as a Raider will always be remembered.
"My favorite memory is easily my perfect game," she said. "Getting to know all of the upperclassmen and now the underclassmen and playing with all of them was great. Playing for Virg and Ron has been amazing. I've loved them, they were my favorite coaches. I learned so much throughout these four years."