Posted on
Happy to be back on the diamond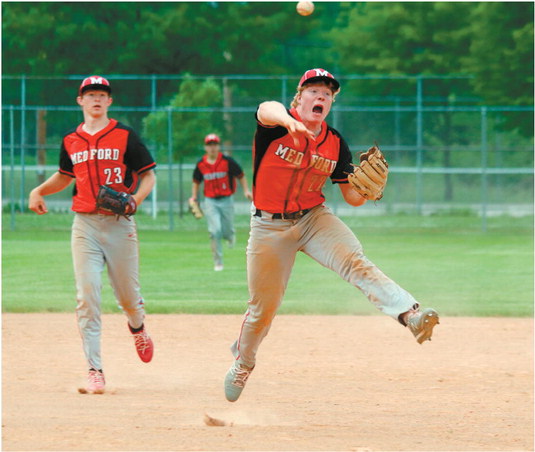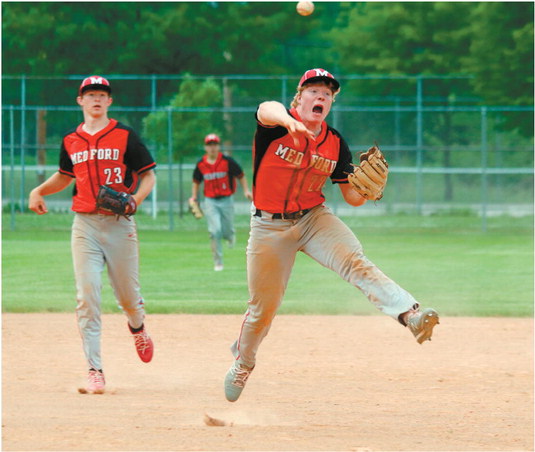 MEDFORD SUMMER BASEBALL
Medford's 2020 summer baseball team launched its season with a bang Friday, sweeping a doubleheader with Edgar 4-0 and 13-4 on the city diamond at Jaycee Field.
Game one was highlighted by a combined one-hitter pitched by Spike Alexander and Bryan Konieczny. In game two, the offense set the tone by scoring five first-inning runs and then piled runs on late after Edgar had pulled within 5-3 in the bottom of the third.
In the game one shutout, Alexander covered the first five innings, striking out eight and walking two. Drew Guden had the only hit against him. Koniecnzy struck out three in the final two innings and pitched out of a sixthinning jam while Medford was holding a tenuous 2-0 lead.
An error and two walks loaded the bases with one out, but Konieczny got Austin Dahlke to pop out to catcher Aiden Gardner and induced an inning- ending groundout from Brayden Baumgartner.
Medford put it away in the bottom of the sixth. Joe Gierl singled and Seth Mudgett walked. Nate Doriot slapped an RBI single the opposite way to leftfi eld. With two down, Mudgett scored when Edgar misplayed a ball hit by Logan Baumgartner.
John McMurry gave Medford the lead with a two-run single in the third, knocking in Logan Baumgartner, who had reached on an error, and Alexander, who had walked.
Medford's three hits all came in those scoring innings. Playing as the visitors in game two, Medford used four hits to score five runs right off the bat. Logan Baumgartner led off by reaching on a third-strike wild pitch, moved to second on another wild pitch from Edgar starter Konnor Wolf and scored on a McMurry single. Konieczny reached on an error and Blaine Seidl crushed an RBI double to deep centerfi eld. Gardner slapped a two-run double to left. Mudgett's two-out single scored courtesy runner Jack Tlusty.
Edgar scored single runs in the each of its first three at-bats, but Medford answered with a three-run top of the fourth. Consecutive singles by Doriot, Logan Baumgartner and Alexander scored the first run. Konieczny added an RBI single and Gardner hit a sacrifice fly to make it 8-3.
It was 10-3 when Medford sealed things with a three-run seventh. Nate Retterath and Tristan Haenel started the inning with singles and moved to third and second on a wild pitch. Both scored on an error on a ball hit by Logan Baumgartner. Tlusty and Brigham Kelley then singled, scoring Logan Baumgartner.
Konieczny allowed an unearned run the first. Mudgett got the win with three relief innings. He allowed two runs, one earned, and two hits. He struck out two, walked two and picked a runner off first base. Logan Baumgartner pitched the last three frames, striking out five, walking three and allowing a run and two hits in the seventh.
Thirteen different players collected a hit for Medford. Koniecnzy had two singles.
Medford played the Whittlesey Reds Wednesday night. The team hosts Merrill for a varsity doubleheader on June 29 starting at 5:30 p.m. The JV team opens its season at Pittsville July 2.