Posted on
Koffler eager to tackle full store ownership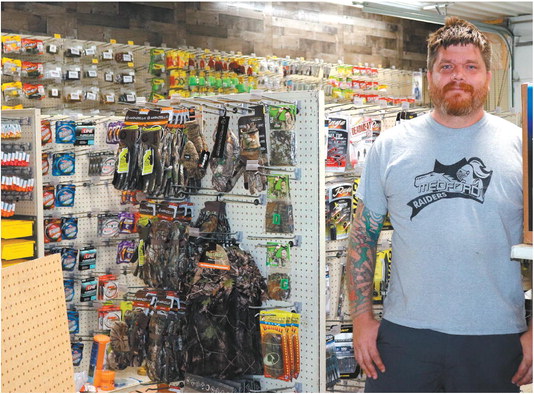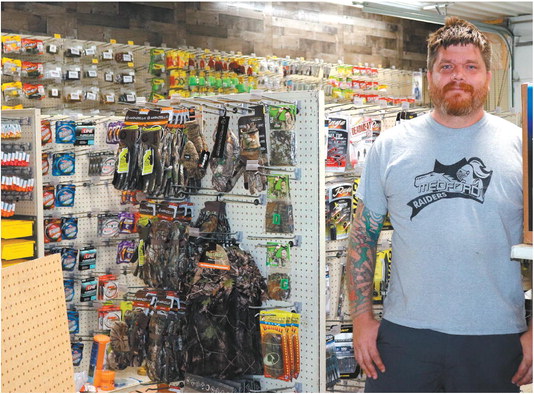 AK OUTDOORS OPENING MONDAY
Whether customers called it Z's Sports Shop, Shane's Outfitters or Shay Creek Sports, an outdoor sporting goods store has been a fixture on Medford's north side for just about as long as they can remember.
Allan Koffler is making sure it stays that way.
On Monday, June 15, Koffler will open the doors to his new business, AK Outdoors, completing a two-month transition following the closing of Shay Creek Sports. AK Outdoors is still located on Hwy 13 but is now a half-mile further north than the location outdoor enthusiasts flocked to for so many years. Koffler has bought and converted the former Handel Automotive sales building at N3637 Hwy 13 into his new venture.
The first step in a two-step process is just about complete. That is getting the inventory and equipment moved and set up well enough to get the new store open. For Koffler, the opening will occur on the perfect date.
"I was actually going to try to do it (June 8) but, coincidentally enough, June 15 is the day that I joined the Marine Corps way back when so I thought, you know what, that was kind of a cool day," Koffler said. "That's when I joined the Marines, that's when I'm opening up the store. I figured that was kinda cool and neat."
The new building is considerably smaller than the previous one. But step two will alleviate that when Koffler gets the anticipated go-ahead to expand the building, adding another 1,500 square feet on the back (west) end.
Currently about a quarter of the size the Shay Creek building was, Koffler said customers should still find the fishing, shooting and archery/crossbow equipment they need when the store opens next week as well as the live bait and DNR license sales that was always offered in the past.
"I'll be running a lot more lean and mean," he said. "When I had 12,000 square feet, that was a lot more building that people really understood. It takes a lot of inventory to fill it. Now since I'll be able to run a lot smaller, I'll be able to run nearly the same amount but just have more of the quality that people need."
Koffler worked for 10 years at the old building, which transitioned from Shane's to Shay Creek in 2011. That building reached its end as a sporting goods store when longtime owner and former Medford resident Terry Patrick sold it to Kwik Trip, which will be opening one of two new Medford stores on the property.
Making sure a sporting goods store remained in Medford was a no-brainer for Koffler.
"I knew essentially I did not want to go work in a factory. This is what I enjoy doing," he said. "I knew I wanted to have a store for awhile, so that wasn't a hard decision. The hardest part was just finding the location."
Once that location was determined, Koffler made it a point to be as secretive as possible until the sale became official. He did have some fun with it with some tease videos on his business Facebook page, including an April Fool's Day post that hinted he was moving to the old Kmart building.
He formally announced the new location on May 12, the new outdoor sign and logo went up for all to see and so far, he said, reaction from his customer base and the community has been overwhelmingly positive.
"I actually was more shocked than I thought with how much customers, friends, everybody were definitely backing me saying they're very happy that I'm starting the venture off on my own," Koffler said. "There was a good chunk of people that knew I didn't own the old store. They knew essentially, for lack of a better term, an outsider owned it. They're really happy that somebody from Green Bay doesn't own the place anymore. It's right here. It's me in Medford. I've been getting a lot of great feedback and everybody's very happy that this is happening and we'll keep things rolling."
Unfortunately, the timing of the transition meant there wasn't a dedicated bait shop, so to speak, in Medford in May for the opening of the fishing season, but Koffler hopes to make up for that with a stronger focus on fishing gear as well as archery in the first few months of business.
"I just actually started making orders for new items so I'll be increasing fishing once I get the expansion in the store for the new part," he said. "I will be expanding my archery line. I'm definitely planning on hitting fishing and archery way more than the old store."
The expansion project is waiting for approval from the state. If all goes according to plan, Koffler would love to see it completed by late summer just in time for the archery and crossbow rush.
"In that expansion there will be a small spot to shoot archery," he said. "That 30-yard indoor range (at Shay Creek) I won't have, but I will have a small spot that you can test shoot bows, you can paper tune your bows and try them out. I bought two acres, so I plan on having a target somebody can grab and I'll have fenceposts out there saying 10, 20, 30, 150 yards people can go outside and sling an arrow as far as their hearts desire."
Adding to the archery theme, Koffler said he has a veteran bow technician lined up to help him part-time in an afterhours role as fall draws near.
New store hours will be 8 a.m. to 5 p.m. Monday through Saturday. The phone number will remain the same as it was in the old building, 715-748-2855. While the business will certainly keep him busy six days a week, Koffler said a day of rest on Sunday and closing things an hour earlier than the old store did will hopefully give him just enough time to do what got him interested in owning a sporting goods store in the first place.
"I've always had an interest in the outdoors, always enjoyed fishing as a kid," Koffler said. "My mom bought me my first bow and I kinda was more selftaught. It was something I always had the craving to do. My mom wasn't a hunter but she loved to fish. Then it just kinda started growing from there. I took my time out when I was in the Marines and when I came back and just naturally always flowed back towards it. One day I was like, 'why don't I work in this?' To me it was a no-brainer. I started off parttime and went to full-time to now owning."