Posted on
Emmaus views Petkau as key piece in new recruiting class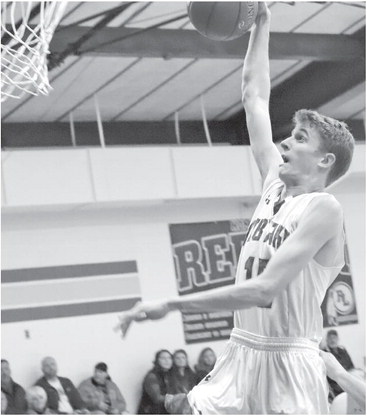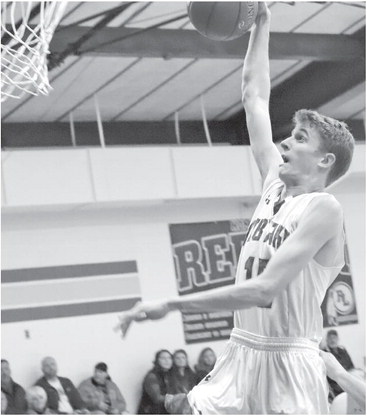 ON TO THE NEXT LEVEL
About six months ago, Steven Petkau wasn't thinking about playing college basketball. Now the 2020 Rib Lake graduate is seen as a program-changing recruit after committing Friday to play for Emmaus Bible College.
A tiny four-year college of about 250 students located in Dubuque, Iowa, the Emmaus Eagles compete in the Midwest Christian College Conference (MCCC) and in Division II of the National Christian College Athletic Association (NCCAA).
The men's basketball program is rebuilding under Kyle Graw, who has just filled a new position of assistant athletic director/head men's basketball coach. Graw secured the commitment after the 6-5 Petkau reconsidered a verbal commitment to play for Crown College of St. Bonifacius, Minn.
"I kind of committed to Crown but then after second thought I just didn't feel great about going there," Petkau said Monday. "I don't know what it was. So I kinda de-committed and then opened my options again and the coach at Emmaus was really looking to recruit me. He wants to kinda build the team around me, which is obviously a plus and more intriguing. I'm not just going there for that reason obviously, but I liked that it's a little smaller. It's only about 250 students. It's a small school, but it's right in the middle of Dubuque. It's not far from anything, whereas Crown is a half an hour from anything. You're kind of removed a little bit. I just felt like Emmaus was a little bit better fit for me."
Petkau was leaning toward Emmaus for about two weeks before making it offi cial after a visit to the school Thursday.
"I told the coach Thursday night on the way home that I'll commit tomorrow," he said.
Graw expressed his excitement in a news release posted on the team website Friday.
"This is big time. From the basketball standpoint we have gotten better today," Graw said. "Steven is a program changer. As a 6-5 guard he has the ability to drive and fly with a side business in creating posters. His uncanny athleticism and length will make him a premier defender and you can expect to see many deflections and transition dunks. We are going to be a very exciting team to watch next year."
When his senior season with the Rib Lake Redmen began, Petkau said his intention was to attend UW-La Crosse after graduation. But that changed as he earned second-team All-Marawood North honors by averaging 11.4 points, 6.2 rebounds, 2.8 assists, 2.2 steals and 1.7 blocked shots as one of the team's co-captains. A memorable season ended with the team's second North Division title in three years, a regional championship and a 22-4 overall record.
"As the season went on, I was like, 'man I am going to miss it. I enjoy working at this and I just love basketball,'" Petkau said. "As the season went on, I wanted to play in college more and more. Then especially with how our season ended, getting it cut short, I feel like I have more to give and more to prove yet as a player. That's been a huge motivation for me."
Rib Lake's season ended with a 61-45 win over Pittsville in a WIAA Division 5 sectional semifinal game March 12. The WIAA canceled the rest of the postseason tournament later that night as the coronavirus pandemic quickly swept across the state and country, leaving the Redmen one win shy of their dream of playing in the state tournament.
"I was just driving the other day and out of nowhere I just thought, we were so close to playing at the Kohl Center," Petkau said. "It kills me knowing how close we were because that had been a dream for so long. It's not going to go away either. That's probably something I'll take with me for the rest of my life. We were playing so well too. That's what's so frustrating. We were going into that sectional final game so confident."
Also an accomplished track and field athlete at Rib Lake, Petkau heads to Emmaus as a much-improved basketball player compared to when he hit the varsity level full-time at Rib Lake as a sophomore. He feels that improvement is most evident on the defensive end of the court.
"My wing span has grown which has helped a lot and I've grown too," he said. "I've been able to really help the team defensively. I think that's been one of my biggest areas of improvement. That was really helpful to have throughout the season to be able to help the team in that aspect because with Nick (Gerstberger) and Levi (Ewan), I don't really need to be scoring 20 points a game. I looked for other ways to help the team more. In zones and in man-to-man, especially on the top of that 1-3-1 zone, I know that caused a lot of turnovers this year, even if it was just a tip to a teammate."
Petkau joins his older brother and sister as college student-athletes. Sarah helped get the new softball program at Crown College off the ground from 2013-16 and Daniel long and triple jumped at UW-La Crosse in 2012 before playing two seasons for the University of Northwestern- St. Paul basketball team and punting in 2016 for its football team.
Steven Petkau feels he's in an advantageous position by joining a program that has nowhere to go but up after a 2019-20 season that ended with an 0-8 record in the conference and 2-19 overall.
Graw, an Emmaus graduate and a former three-year point guard for the basketball team, turned around the women's program while coaching it from 2013-19, leading it to three conference titles and a deep NCCAA national tournament run in 2018. Petkau said he and Graw were connected through a mutual friend that Petkau had met through Forest Springs Camp and Conference Center in Westboro, where his dad, Pat Petkau, is the executive director.
"(Graw) really turned that program around, which is what he's hoping to do for the guys program," Petkau said. "If you look at last year, they were 0-8 in conference and, I think, two wins overall, so they weren't great. But that's in the past and this is going to be a new year because he's done a lot of work bringing in a bunch of new recruits that look really good, so that will be fun."
At this point, Petkau said he's undecided on a major but hopes to figure that out during his first two years of general classes.
"(Petkau is) exactly the type of student athlete that we want here to help build this program up," Graw said in last week's news release. "His character and faith in his Lord and Savior Jesus Christ is what drove me to put so much effort into recruiting him. We put a huge premium on character and living for Jesus in our program. Steven also excels in the classroom with a 3.7 high school GPA so we are expecting great things from him in that regard."