Posted on
Kunze tapping her full potential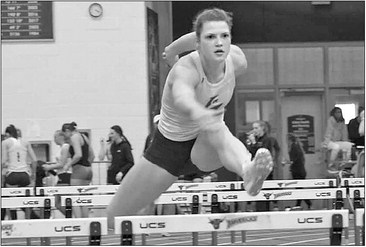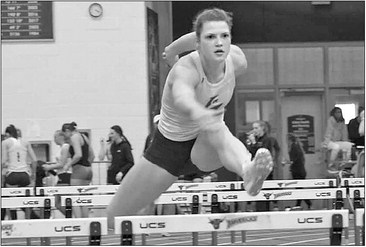 It didn't take very long for Abbotsford High's Melanie Kunze to realize she had a promising future in track and field. The Class of 2019 product reached the WIAA state meet her freshman year, then did it again, and again and again.
It wasn't just that she reached the state meet four years in a row, Kunze also found the podium three straight years, including a pair of third place performances in the 100-meter and 300-meter hurdles her senior season.
She set multiple school records for the Falcons, and was a multiple Marawood - North conference champion and a two time Marawood - North girls MVP. So it wasn't a surprise that Kunze was in high demand as a college prospect.
Offers from colleges in Wisconsin and Minnesota came in, but Kunze had little intention to continue her athletic career after high school. That is, until she had a sudden change of heart after the last race of her prep career. She realized she wasn't ready to be done with track just yet, that she might have just been scratching the surface of her talent.
"I did not want to do track after high school, but then after my senior season of track I said 'You know what? I think I am going to miss this,'" Kunze said.
Small school standout
Tall, strong and fast, Kunze excelled in every sport she tried her hand at during her four years with Abbotsford.
In volleyball, Kunze was a three time Marawood - North conference recipient, including back to back nods at First Team her junior and senior years. She led the Falcons to deep post-season runs, and recorded over a thousand kills in her career. In basketball Kunze was a First Team selection her senior year, and recorded several triple-doubles, one of the hardest feats to accomplish in basketball.
But it was in track that Kunze had her best results, where her natural athleticism allowed her to dominate small school meets. Even in large, indoor meets that attracted D-I high schools, Kunze more than held her own.
As a junior she placed fourth at the state meet in the 300-meter hurdles, and she soon began to be approached by schools in the Wisconsin Interscholastic Athletic Conference (WIAC), along with offers from several NCAA D-II programs.
But it was UW - La Crosse where she felt the strongest connection. The thought of spending four more years in the very place where she had made her mark as a prep athlete was simply too much to pass up. "I really loved the campus since I got to see it every time I went to state, so it was a little bit more familiar to me," Kunze said.
She reached out to several local area runners who were already on the team, and liked what they told her about their experiences with the Eagles.
"Iheardgoodthingsabouttheprogram through Spencer's Rachel Zastrow and Colby's Carley Elmhorst, and they gave me good feedback about how they liked it there," Kunze said during her FaceTime interview. "It made it a lot easier to say yes since other athletes from our area were there and liked it."
A storied program
An offer to wear the uniform of the Eagles and compete for UW - La Crosse is no small matter. Few NCAA D-III teams have enjoyed success as much as the Eagles. The womens team is a 55 time WIAC champion, and has won five NCAA championships.
That reputation and sustained level of success intrigued Kunze, who felt that perhaps the Eagles could be the ones to help her tap her full potential. Kunze had high praise for her coaches at Abbotsford, who did the best they could to help their student-athletes achieve their goals, but the coaching Kunze received at La Crosse was on another level.
"Our coaches at Abbotsford are awesome, and they do a wonderful job to learn and go to seminars to help kids get better," Kunze explains. "But they still do not have that track background. I was blown away in just the first couple of weeks with how much they know, and I was curious to see where my potential actually is."
Kunze's choice to attend and compete for UW - La Crosse proved a wise decision. Just as she did in Abbotsford, it did not take long for her to achieve great things in a short time span.
Finding a groove
As the 2020 indoor season wore on, Kunze worked on her conditioning and perfecting her form. It was hard at first, and different from high school, where she was often able to win meets through raw talent alone.
But Kunze knew part of the reason she never won a state title during her high school career came down to minute
FULL POTENTIAL tweaks to her technique.
"It was just the little things that I had to fix about my hurdle form, especially with my arms," Melanie says. "The coaches try not to throw too much at you, but I was so eager to learn. I think they did a great job on focusing on the little things that I could fix."
Those small tweaks began to pay off as the indoor season progressed. Her personal times soon dropped, with Kunze placing 13th in the 200-meter dash in a personal best time of 27.03 seconds, and 9.54 seconds in the 60-meter hurdles.
But it's an event she hated in high school that Melanie has seen her best results. Her length and size and stamina made Kunze a natural in the 400-meter dash, and her 4xx400 relay team took third at the UW - Stout Open.
She ran a new personal record in the 400-meter in 1:00.44 at Wartburg College in Iowa, finishing in sixth place. Kunze, was a hurdler in high school, and while she still sees herself as a hurdler, she has slowly come around to the 400-meter. She still doesn't like the race, but even she admits it might be the best race for her.
"I always thought I would have success as a short sprinter and hurdler and now I think I have more of a knack as a 400," Kunze said about her transition. "I had to figure out where I fit best and that took a couple of meets to figure out. I do have potential in the short sprints but I think I was most successful in the 400 my freshman year."
Champion once again
In the past, Melanie would have looked to win every event she took part in, but in college, Kunze says, you have to look for a different kind of victory.
"You have to change your mindset completely," Kunze says. "In high school if I didn't place high in a meet I was really disappointed. In college you can't really look at the places and finishes that much . . . you just have to focus on your training and getting better each time and trust that you'll get there."
At the end of February the indoor season was drawing to a close. After a season of solid results, Kunze came into the WIAC Championships just looking to compete and test her limits.
The Eagles won another conference crown, defeating UW - Eau Claire 230 points to 127.5 points. Not that this was much of a surprise. What was a surprise was how well Kunze performed.
When the meet was over Kunze and her teamates had won the distance medley relay, making her a conference champion. It was a rewarding and thrilling moment for someone who had doubts about a future as a college athlete.
"A lot of times people think that if you are just from a small school the competition is not that great. So, to be able to come from a smaller school and showcase that ability at a big stage, I think that's pretty cool and sends a good message to others that they can do this."
Ready for more
Kunze was chosen as an alternate for the UW - La Crosse 4x400-meter relay at the NCAA D-III Indoor National Championships in Winston-Salem, N.C. in March. What should have been a fun and thrilling experience ended on a sour note due to COVID-19.
"It was an emotional roller coaster to say the least," Kunze says. "First we were told we couldn't go because of a travel ban, then it was lifted, and then we were told it was cancelled. So that was crazy."
Melanie dearly wanted to see what the 2020 outdoor season might have held, but with every day the disappointment fades. Now she's preparing for next season, where that old champion's mentality is coming out once more.
"I knew I had a talent for it but I never saw myself as more than a high school athlete for this sport. But now I want more. I want to be more competitive and I'm ready for more at the next level."