Posted on
Nagel transitions to coaching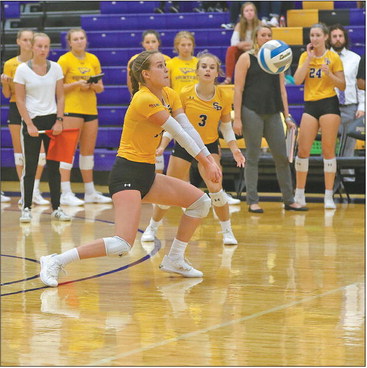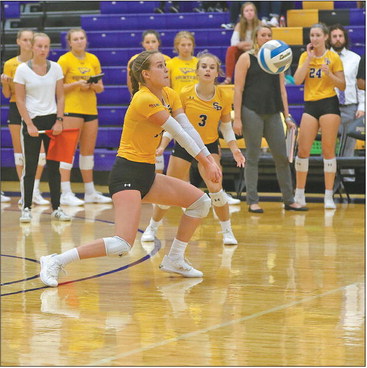 Volleyball star is done playing the college sport
By Casey Krautkramer
Mazie Nagel led the Stratford High School volleyball team to consecutive appearances in the WIAA Division 3 state tournament, including a state runners-up finish in her senior 2018 season.
She then took her volleyball talent to the next level by playing for UWStevens Point last fall, but now she's ready to help coach Stratford's varsity volleyball team this year. Her younger sister, Lauryn, will be a senior on the Tigers' squad this upcoming season.
At first, Mazie enrolled at UW-Oshkosh but she changed her mind to attend UW-Stevens Point so she could be close to home and watch Lauryn's high school volleyball matches.
Lyndsay Kooi, who is UW-Stevens Point volleyball head coach, persuaded Mazie to try playing college volleyball for the Pointers. Mazie didn't perform well at outside hitter in college, so Kooi moved her to a new starting position on the volleyball court.
"Mazie is a true competitor; she found her way on the floor for us as a defensive specialist," Kooi said. "She finished the season as our top servereceive passer. Mazie stepped up in big moments for us, especially during the postseason run."
Mazie said college volleyball was much more intense compared to high school, for example players would get penalized for letting balls drop on the court. It also took a large amount of commitment, which didn't allow Mazie time to watch her sister play in high school volleyball matches. SPORTS
She no longer wants to play college volleyball and instead help coach Stratford's volleyball team. Mazie admits she didn't allow herself to process her team's great accomplishments during her high school volleyball career. "It was a really good time in my life but I just wish I would've cherished it more," she said.
Mazie was Stratford's physical and vocal leader in guiding the Tigers to win two straight Marawood South Conference championships, three WIAA Division 3 regional titles, two sectional championships and a state runners-up finish during her senior season. Stratford's volleyball team achieved its best match record, 44-1, in school history in her final 2018 season.
For the time being, Mazie will continue working as a cook and waitress at Miss Jen's Tiger Stop Café and purchase 50 cent pink Fla-Vor-Ice giant ice pops at Telschow gas station, both in her hometown of Stratford. "I've been buying those pink popsicles at Telschow's since I was a child, so I've probably spent over $100 on them during my lifetime," she joked.