Posted on
Guided by hope and heritage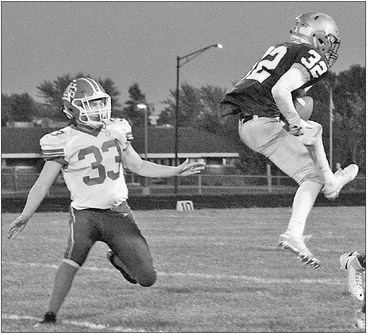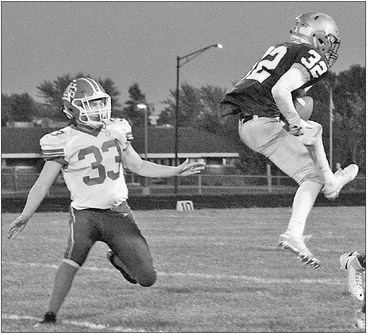 Lopez lands new home with Pointers
As a player, if you're judging Gavino Lopez by his height or his size, you just made a grave mistake. Odds are you won't have a chance to regret it since he's probably already tackled you.
Lopez has been one of the best and most reliable defenders during his years with the Colby Hornets football team, and when he talks about the sport it's clear to anyone that his love for the game runs deep.
"It's always been the sport that has been closest to me, and I feel it's just different from all the other sports I've done since I even enjoy every day of practice," Lopez says during a FaceTime session. "Football is so different from the other sports I played because I feel like I can just leave it all on the field."
It's that feeling of freedom that Lopez loves and craves the most. On the field he's not judged by his height, or his last name or his Hispanic heritage. On the field his play does all his talking, where his bone rattling tackles speaks far more forcefully than anything he would have to say anyway.
So, don't dare judge Lopez by his size or his name. Judge him by his numbers, by his production and by the way his teammates looked to him for leadership.
Judge Lopez for his accomplishments, with none bigger than his latest as Lopez can now add "college athlete" to his resume having recently committed to the University of Wisconsin - Stevens Point, where he will play football in the fall.
HeightmightnotruninGavino'sblood, but athleticism certainly does. Standing a modest 5'9", and with a weight around 150 pounds, Lopez won't wow you from a purely physical standpoint.
Of course, this isn't exactly news to Lopez, who's fought stereotypes most of his life, struggling just to get playing time on the CUDA (Colby, Unity, Dorchester, Abbotsford) youth football league.
"Ever since CUDA I was always the smallest out there," Lopez recalls. "I almost didn't play my first year at CUDA for being underweight, but I've kinda made a name for myself being the small guy who can make the big plays."
Lopez doesn't have the height, but what he does have is a ton of speed, a good deal of bounce and plenty of heart.
Not that this is shocking to most Colby fans. The Lopez family has left an indelible mark on Hornets' athletics, with Gavino's older sister Vanessa a member of the first Colby Hornets girls basketball team to win conference and sectional titles and advance to the state tournament.
Gavino never got to play in a state tournament during his time with Colby, but if Stevens Point continues their upward trajectory, he could be the first in his family to play for a national championship.
"It's what every football player lives for, to be in big positions and in important games," Lopez says during his interview. "You always dream about winning championships and making plays."
Playing for titles is definite motivation, but Gavino is playing for something greater than a national championship. It's pride, family and heritage.
"There's not a lot of Hispanics that play football, and I have a lot of little cousins. I hope I'm a role model for them," Lopez says. "I can show them that you can be Hispanic, be from a smaller place like Colby and also be a college athlete."
If you were to watch Gavino play you'd see he has an uncanny knack for always being near the ball, making a play or coming up with a tackle. He's been critical to Colby's game plan these past three years, and has blossomed as a player under Hornets' head coach Jim Hagen.
Lopez doesn't really care how he gets on the field, just that he's there. In many ways he's been Colby's Swiss army knife, playing on offense, defense and special teams after being pressed into action as a sophomore.
Playing varsity as an underclassmen might have been intimidating to some, but Lopez shrugged it off. He's played against taller, bigger opponents all his life. So when injury struck the Hornets in 2017, Lopez was more than ready to go.
"Sophomore year I was the third string running back and both running backs above me got hurt," Lopez says about his early playing time. "So I was put in some positions to play and I proved myself and I started getting more involved. It just went up and up from there."
Lopez scored his first touchdowns that year and racked up ten tackles, including one for a loss. It was a strong start and only the beginning for Lopez. The following season his numbers, along with his game, took a huge leap forward.
He only put up modest numbers on offense, but Gavino was OK with that, finishing his junior campaign with a career high in tackles, recording 58, in what was his breakout season. He made 38 solo tackles and also recorded his first two interceptions.
"I always watch the quarterbacks' eyes and I've always been able to see the flow of the routes easily," Lopez said, describing his ball hawk abilities. "I know where the ball is going to be and I love to jump routes and pick off a QB. When you play in the secondary, and get an interception, it feels as good as scoring a touchdown."
Senior standout
Lopez earned his first post-season award after his junior year, and he received an honorable mention nod for his skills in the secondary.
With one more year under his belt, and knowing that coaches and colleges would be watching him, Lopez spent the summer of 2019 working out with his teammate Connor Jeske.
He put on some extra muscle, and knowing 2019 would be the last ride with his friends and coaching staff, Lopez gave his senior year everything he had.
"Senior year I feel like I didn't hesitate at all - I just went for it on everything," Lopez said. "Senior year, everybody gets ready for what they hope will be the biggest year of their career. I came into that season wanting to win every game."
As any coach will tell you, you can analyze and plan for a player, but the film doesn't lie and that year Lopez put together a compilation of numbers that would make any highlight filmmaker rub their hands with glee.
Colby didn't quite win every game during the 2019 regular season, but they did make a 13th consecutive trip to the postseason and picked up a playoff win. And Lopez got it done at all three levels.
After handling limited reps in the backfield his junior season, he exploded for nearly 1,000 yards his senior season, averaging seven yards a carry. and scoring ten touchdowns.
He turned in another excellent result on defense, recording 49 tackles, including five for a loss, and a team high four interceptions. Lopez was awarded First Team honors at defensive back at the end of his senior year.
With his prep career in the rearview mirror, Gavino turned his attention to his next big decision - playing football in the NCAA.
Playing college ball was always a dream for Lopez, but that dream went from a hope and prayer to reality when he received his first offer shortly finishing his junior season.
"I never really thought about it much until I had Minnesota - Moorhead reach out to me. Then my senior year there were other schools that were interested in me, and I realized I couldn't give up football after high school."
HOPE & HERITAGE More offers poured in, with nearly every school in the WIAC (Wisconsin Intercollegiate Athletic Conference) requesting that Gavino visit their campus.
"It makes you feel real good about yourself because you don't know who's watching you," Lopez says about all the offers. "You don't know who sees you make that solo tackle, so it's great when someone does recognize you."
Lopez took multiple trips to schools across Wisconsin - visiting the campuses of Eau Claire and Stout and Platteville and Stevens Point. All programs gave a great pitch, but each time he thought about college, Lopez kept coming back to Stevens Point.
"Their coaches seemed the most interested in me, and they even broke down my highlight reel. I don't know if other coaches even watched it," Lopez said. "Their coaching really impressed me and they really seem like they are going in the right direction."
With their combination of academics and athletics Lopez knew becoming a Pointer was the right decision. When the time came to sign his name on the dotted line, it felt better than even picking off a quarterback or scoring a touchdown.
"When I finally got that paper I was going on a hunting trip to South Dakota with my grandpa," Lopez said. "When he gave it to me, it was such a great feeling. So many people never thought I'd play football, or make varsity. To be here, it means I did it. It means I'm a college athlete."