Posted on
Switching football positions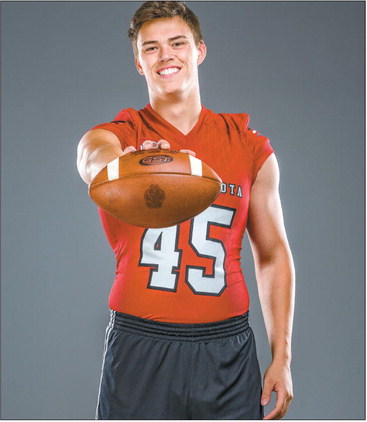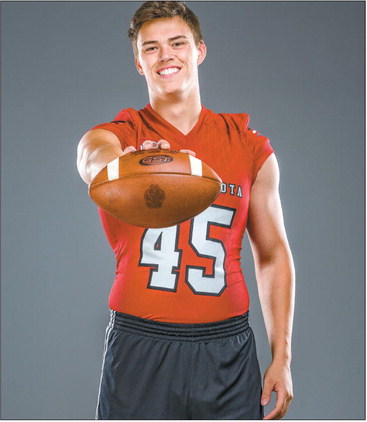 Stoffel will now play defense for South Dakota
By Casey Krautkramer
Marathon native Nathan Stoffel will switch college football positions, from playing tight end to defensive end, for the Division 1-FCS South Dakota Coyotes this year.
He was recruited by South Dakota's coaching staff to play tight end in college, which he did during his first two seasons in the program as a redshirt freshman in 2018 and as a freshman in the 2019 season. He only played tight end in one of the Coyotes' football games last season.
Stoffel said his college's coaching staff asked him after last season if he'd be willing to switch from playing offense to defense, so he could potentially receive more playing time as a sophomore this season.
He would've been in a crowded tight end group again this coming season with senior starter Brett Sampson of Oconomowoc, junior Austin Goehring of Kiel and sophomore Ryan Mazurek of Eden Prairie, Minn. High school senior tight Zach Witte of Sioux Falls, S.D., will also join the Coyotes this fall after making his commitment during the early college football signing day in December.
Stoffel was looking forward to spring football so he could learn his new college playing position of defensive end and compete for a starting job on the special teams unit this season. Unfortunately spring camp was canceled because of the COVID-19 pandemic.
He still believes playing defensive end will be easier for him than tight end in college, because it can be tough when a linebacker jams college tight ends at the line of scrimmage so they can't get a head start on running their receiving route on the field. Stoffel has experience playing both tight end and defensive end while attending Marathon High School.
"In high school, I would be given a clean break off the line of scrimmage and only have a defender following me down the field," he said. "I've learned in college how to get out of being jammed by defenders at the line of scrimmage so I can get a good break into my receiving route. While playing defensive end this fall, I'll watch to see how the offensive linemen react when the ball is snapped to know whether I need to defend a passing or running play."
Stoffel has added 30 pounds to his body frame and even grown one inch while in college. He's now six feet, six inches tall and weighs 250 pounds. He'll play for South Dakota defensive coordinator Travis Johansen, who improved the defense's play in his first season in 2019 after installing a multifaceted defense that's both fundamentally and schematically sound.
The Coyotes coaching staff will look to Stoffel and other players to provide some stability on the defensive line this upcoming season, after defensive tackle Kameron Cline signed a free agent contract with the NFL's Indianapolis Colts shortly after the conclusion of this year's NFL Draft.
Last year's South Dakota football team finished with a 4-4 record in the Missouri Valley Conference under the guidance of head coach Bob Nielson, who led the University of Minnesota-Duluth to a pair of Division 2 national football championships before joining the Coyotes. Stoffel is confident Nielson will also turn South Dakota into a consistent winning football program.
North Dakota State University is currently the cream of the crop in the Missouri Valley Conference and in Division 1-FCS. Spencer native Hunter Luepke plays fullback for the Bison, which won their eighth Division 1-FCS national championship in the 2019 season.
Stoffel was a Wisconsin Football Coaches Association first-team allstate selection in the tight end/fullback category during his senior season playing at Marathon High School. His father, Todd Stoffel, was the Red Raiders' head football coach throughout Nathan's high school career. Todd retired as the Red Raiders' head football coach after his son's senior season so he could watch him play in college.
He also made the WFCA all-Northwest Region team as both a defensive lineman and in the tight end/fullback category. Wissports.net ranked him as the No. 2 tight end in the 2018 Wisconsin high school class of football players.
Stoffel was a unanimous Marawood Conference first-team selection at both fullback/tight end and as a defensive lineman. He won the conference's lineman of the year award. He averaged 18-1/2 yards per catch while hauling in 55 passes from 1,018 yards and 12 touchdowns during his senior high school season.
He caught a total of 107 passes for 17 touchdowns and nearly 1,700 yards during his football-playing career at Marathon High School. Stoffel has switched his college major at South Dakota to sports marketing and media with a minor in business. His college friend's father works in Stoffel's future job career field as president of fan operations for the NBA's Minnesota Timberwolves.
South Dakota begins its 2020 football season at Division 1 Iowa State in Ames, Iowa, on Saturday, Sept. 5, should there still be a college football season during the COVID-19 pandemic.