Posted on
Shot to play with Pointers is chance Ewan can't pass up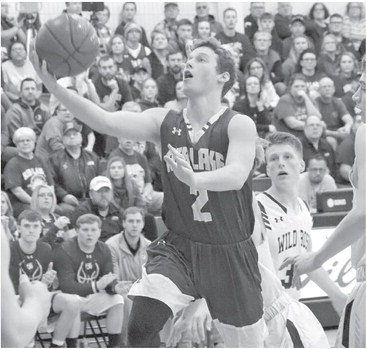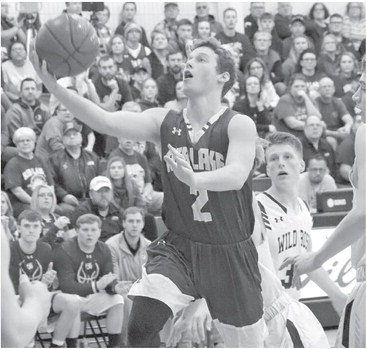 ON TO THE NEXT LEVEL
His high school basketball career came to an unexpected and unfortunate end, but a new beginning is on the horizon, and Rib Lake's Levi Ewan couldn't be more excited.
In April, UW-Stevens Point added the two-time All-Marawood North Player of the Year, three-time first-team all-conference choice and honorable mention choice to the 2019-20 Wisconsin Basketball Coaches Association All-State team to its recruiting class for next year.
It was a process that came as a bit of a surprise, but for Ewan, it couldn't have worked out any better.
In fact, Ewan isn't sure if any members of the Pointers' staff actually saw him play in person this past season, when the 6-foot guard averaged 16.5 points, 5.6 assists, 3.2 rebounds and 1.9 steals per game for the Redmen, who went 22-4 and won Marawood North and WIAA Division 5 regional championships.
"I think they were planning on coming to watch my next game or even the one in Everest, but then that got cut down," Ewan said. "It was pretty bad timing."
The bad timing he speaks about, of course, was the abrupt cancellation of the WIAA boys basketball tournament just before the sectional final round. The game at D.C. Everest was the sectional semifinal against Pittsville, which Rib Lake won 61-45 in front of a crowd basically limited to the teams' family members. The Redmen were scheduled to play Wabeno-Laona in Pulaski March 14 for a berth in the state tournament when the season ended.
But the Pointers didn't lose interest.
"It started by an email I guess," Ewan said. "Then it went to a phone call with an assistant coach. Then I had a Zoom meeting with the head coach (Bob Semling). It went really fast actually how it all came up. This was all after the season."
At that point, Ewan's search for a college home was still in progress.
"I wasn't sure (where I was going to go)," he said. "I had talked to UW-River Falls and also talked to an NAIA school in North Dakota that I could've went to. But I didn't think I wanted to go that far.
"(Getting the email) was exciting because I had already applied to that school, that was one of my choices. When the basketball thing came up, that was really nice to see."
UW-Stevens Point's men's basketball program is rich in history, which is something Ewan said was attractive to him. In 15 seasons under Semling, the Pointers have won two NCAA Division III national championships (2010, 2015) and have compiled 320-100 and 167-50 overall and Wisconsin Intercollegiate Athletic Conference records. The school has four NCAA titles overall, including back-to-back titles in 2004 and 2005. UWSP's 29 conference titles are the most in WIAC history.
The Pointers were 15-11 overall and 7-7 in league play in 2019-20. The team graduated five seniors, including first-team All-WIAC guard Ethan Bublitz.
In his four years with Rib Lake's varsity, the Redmen went from 12-11 overall and just 4-8 in the Marawood North in 2016-17 to 22-4 this past season and 12-4 in conference play. The team won two North championships in that time and two regional championships. Driven by a tight-knit, four-member senior class, this year's team had the school's first state berth since 1986 in its sights when the pandemic ended the season.
Ewan is excited to see how his game progresses at the next level.
"Obviously my strength and quickness is going to be getting better with being in the weight room every day," he said.
At UW-SP, Ewan plans to major in business and room with life-long friend and teammate Nick Gerstberger. Both have been major contributors to the basketball and baseball teams since their freshman year at Rib Lake High School.
Ewan is still holding out hope of playing in this summer's Wisconsin Basketball Coaches Association All-Star Game at Wisconsin Dells, which has been postponed from June 20 to Aug. 6.
Limited to shooting hoops in his yard since the coronavirus shutdown began, count Ewan among the many who are ready to get the sports world back up and running and to get started with his new team.
"It's nice to know I haven't played my last basketball game yet," he said.
If there are more Taylor County seniors planning to compete at the college level, we'd love to hear about it. Call sports editor Matt Frey (715-748-2626) or email [email protected] if you haven't already been contacted.